As Controversy Grows, Firecrackers Emit Toxins 200 to 2,000 Times Above Safe Limits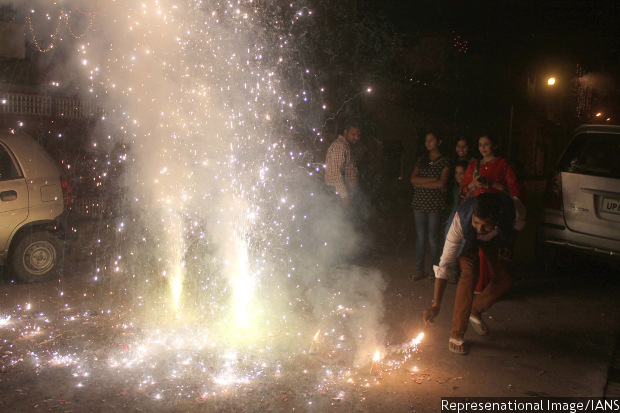 While a Supreme Court decision to ban the sale--not the use--of firecrackers for the 2017 Diwali season is proving contentious, the pollution generated by popular fireworks ranges between hundreds and thousands of times above safe levels.
Popular firecrackers, such as fuljhadis (sparklers), snake tablet, anar (flower-pot), pul pul (string sparkler), ladi or laad (strings of 1,000 crackers) and chakri (spinning firecracker) emit particulate matter (PM) 2.5 in levels 200 to 2,000 times the safety limit recommended by the World Health Organization (WHO), IndiaSpend reported on October 29, 2016.
The ban generated opposition, as this tweet from writer Chetan Bhagat illustrated.
Diwali is 1 day, 0.27% of year. pollution comes from 99.6% days of poor planning and regulation. Fix that. Not make 1 religion feel guilty.

— Chetan Bhagat (@chetan_bhagat) October 9, 2017
Some saw it an issue of religious freedom, as this tweet from Tripura Governor Tathagata Roy indicated.
??? ??? ?????,?? ????? ,?? ?? ?? ???? ?? ??????? ?? ????? ???? ???????? ?? ?????? ????? ???? ?????? ?? ???? ????? ?? ?? ?????? ??? ?? !

— Tathagata Roy (@tathagata2) October 10, 2017
(First Dahi handi and now firecrackers, maybe next time the 'candle marching' and 'awards wapsi' gang will cite the excuse of pollution and file a petition against lighting of pyre by Hindus.)
Some ridiculed the narrative to make it about preserving religious customs, as this tweet from Abhijeet showed.
Tweet from 1818: "Sati burning is part of our culture. Why are these ppl, with the help of outsiders are destroying our Hindu religion?"

— Abhijeet (@abhic4ever) October 10, 2017
Others, such as Puducherry lieutenant governor Kiran Bedi welcomed the ban.
Feeling very relieved for a noise and smoke free Diwali.
No doubt hurts business of crackers but good health does not come without a price

— Kiran Bedi (@thekiranbedi) October 9, 2017
The Supreme Court ban was pronounced on October 8, 2017, across the national capital region ahead of Diwali (until October 31, 2017) over concerns of growing air pollution in what is now the world's 11th-most polluted city, according to the WHO.
India has set a 24-hour mean standard of 60 µg/m³ (micrograms per cubic metre) for PM 2.5, while the WHO has a lower standard of 25 µg/m³.
PM 2.5 are particles 30 times finer than human hair; they accumulate in human organs and blood stream, increasing the risk of sickness and death.
"The extremely high levels of air pollutants generated during the burning of firecrackers causes worsening of asthma, allergic diseases of the eyes and nose, respiratory tract infections, pneumonias and heart attacks," said Sundeep Salvi, director of the Chest Research Foundation of India, an independent research institute.
Children with weak immune and respiratory responses are especially vulnerable. "Children, in particular, burn the fuljhadi, the pul-pul and the snake tablet barely a foot or two away from them, and in doing so, (they) inhale a large number of smoke particles that reach deep into their lung," Sneha Limaye, senior scientist at the Chest Research Foundation of India, told IndiaSpend.
In assessing the pollution caused by firecrackers, this 2016 study by the Chest Research Foundation of India, and students from the Interdisciplinary School of Health Sciences of the University of Pune measured particulate matter emitted by each firecracker from the distance they are usually lit; for example, the sparklers at a foot from the user.
The snake tablet produced the highest levels of PM 2.5, followed by the ladi, pulpul, fuljhadi, chakri and anar. Although the snake tablet burned only for nine seconds, it produced the highest peak PM 2.5 level of 64,500 µg/m3--2,560 times above WHO standards--while the ladi produced peak PM 2.5 levels of 38,540 µg/m3, 1,541 times over WHO standards.
Pollution From Popular Firecrackers: Duration & Peaks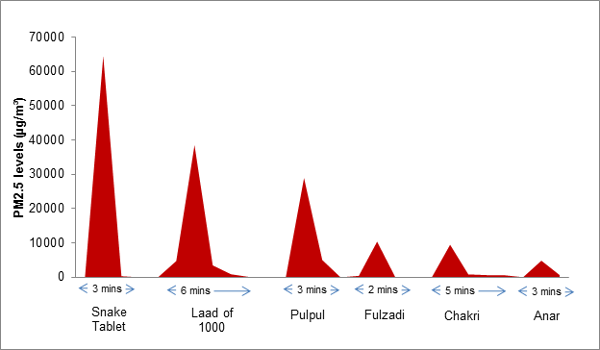 Source: Study by the Chest Research Foundation, Pune, and students from the Interdisciplinary School of Health Sciences of the University of Pune
(Yadavar is a principal correspondent with IndiaSpend.)
We welcome feedback. Please write to respond@indiaspend.org. We reserve the right to edit responses for language and grammar.
__________________________________________________________________
"Liked this story? Indiaspend.org is a non-profit, and we depend on readers like you to drive our public-interest journalism efforts. Donate Rs 500; Rs 1,000, Rs 2,000."