As 7 Hindu Pilgrims Die, 164% Rise In Terror-Related Civilian Deaths in J&K Over A Year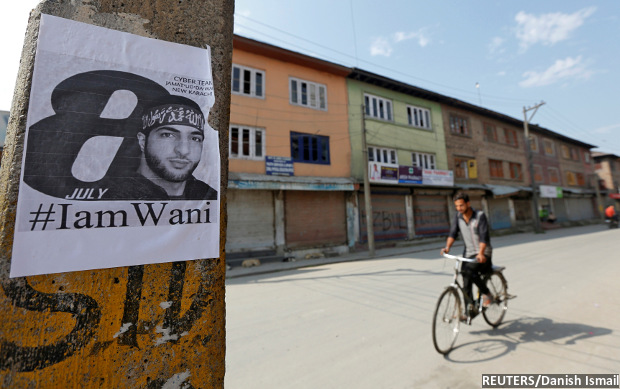 A man rides his bicycle past a poster of Burhan Wani, a commander of the Hizbul Mujahideen militant group, during restrictions on the occasion of Wani's death anniversary, in Srinagar July 8, 2017.
The killing of seven Hindu pilgrims in southern Kashmir enroute from the holy cave of Amarnath is the latest bloody statistic in Jammu & Kashmir (J&K), which has witnessed a 45% rise in terrorism-related deaths--and 164% increase in civilian deaths alone--over the year ending June 30, 2017 according to an IndiaSpend analysis of data from the South Asian Terrorism Portal, run by the New Delhi-based Institute for Conflict Management, a nonprofit.
Unidentified terrorists reportedly opened fire on a police vehicle at around 8 pm on July 10. When police retaliated, the terrorists fired indiscriminately, and a bus full of pilgrims returning from Amarnath was caught in the crossfire, according to the police. Others said there was no crossfire and the pilgrims were targets, with later reports saying the bus was attacked twice in three minutes.
The Kashmir Police blamed the Laskhar-e-Taiba (LeT), a terror group, for the attack, alleging it was masterminded by Pakistani terrorist Abu Ismail. LeT spokesperson Abdullah Ghaznavi, however, denied the charges and blamed "Indian agencies" for the "highly reprehensible act", the deadliest on Amarnath pilgrims in 15 years.
Pained beyond words on the dastardly attack on peaceful Amarnath Yatris in J&K. The attack deserves strongest condemnation from everyone.

— Narendra Modi (@narendramodi) July 10, 2017
Kashmiris, including separatists, were quick to condemn the attack.
#Hurriyat activists join HR groups civil society members & students to condemn killings ofYatris & express solidarity withBereaved families pic.twitter.com/a5zPE2cdjg

— Mirwaiz Umar Farooq (@MirwaizKashmir) July 11, 2017
Widespread criticism of the terrorists in Kashmir drew a reaction from India's home minister, Rajnath Singh.
The people of Kashmir have strongly condemned the terror attack on Amarnath yatris. It shows the spirit of Kashmiriyat is very much alive.

— Rajnath Singh (@rajnathsingh) July 11, 2017
Over 18 years, 52 pilgrims killed in five attacks
Over the past 18 years, at least 52 Amarnath pilgrims have been killed in five terrorist attacks. The deadliest attack was mounted by LeT terrorists on August 1, 2000. That attack left 21 pilgrims dead in Pahalgam.
Source: News Reports
The latest attack comes hours after a curfew and social-media ban was lifted in the Kashmir Valley after restrictions were imposed in anticipation of a possible attack to mark the death anniversary of Hizbul Mujahideen leader Burhan Wani.
Wani was gunned down by security forces a little over a year ago on July 8, 2016. What followed were violent protests, several months of curfew and an overall deterioration in J&K's security situation.
Death toll of security forces, civilians up in 1 year
The number of security personnel killed in terrorist violence has nearly doubled from 51 in the year preceding Wani's death to 98 in the following year, according to an analysis of data compiled by SATP.
The SATP compiles data on fatalities due to terrorism from media reports. The data are provisional and compiled as on July 10, 2017.
On July 8, 2017, Pakistan Prime Minister Nawaz Sharif and Pakistan army chief Gen Qamar Javed Bajwa paid tributes to Wani on his first death anniversary. Sharif said Wani's death "infused a new spirit in the struggle for freedom" in the Kashmir Valley.
First @ForeignOfficePk read frm banned LeT's script. Now Pak COAS glorfs Burhan Wani. Pak's terror suprt&spnsr'p need 2b condmnd by 1 & all

— Gopal Baglay (@MEAIndia) July 9, 2017
Source:South Asia Terrorism Portal
The 45% increase in deaths of civilians, security personnel and terrorists from 216 in 2015-16 to 313 in 2016-17 is the highest year-on-year percentage increase over the past five years.
Civilian deaths have increased 164%, as we said, from 14 in 2015-16 to 37 in 2016-17 while terrorist deaths have risen 18% during this period to 178 in 2016-17.
There has been a 42% increase in terrorism-related deaths in J&K since the Narendra Modi-led Bharatiya Janata Party government (BJP) came to power in May 2014, compared with the last three years of the second term of the Congress-led United Progressive Alliance (UPA-II), IndiaSpend reported on May 27, 2017.
India has had successes against terrorism - both on the security and diplomatic front.
On May 27, 2017, Wani's successor Sabzar Bhat was killed in an anti-terrorist operation by security forces.
On June 27, 2017, United States designated Hizbul Mujahideen chief Syed Salahuddin a "global terrorist," ahead of Modi's meeting with American President Donald Trump in Washington, DC.
Salahuddin also leads the United Jihad Council, an umbrella organisation for anti-India terrorist organisations such as Lashkar-e-Taiba and Jaish-e-Mohammed, known to operate out of Pakistan-Occupied Kashmir.
Salahuddin has openly admitted to carrying out attacks against India, including on an Indian Air Force base in Pathankot, Punjab, on January 2, 2016.
(Sethi is a Mumbai-based freelance writer and defence analyst.)
We welcome feedback. Please write to respond@indiaspend.org. We reserve the right to edit responses for language and grammar.
__________________________________________________________________
"Liked this story? Indiaspend.org is a non-profit, and we depend on readers like you to drive our public-interest journalism efforts. Donate Rs 500; Rs 1,000, Rs 2,000."