As 6 In Pehlu Khan Murder Freed, 2017 Is Prime Year For Cow-Related Hate Crime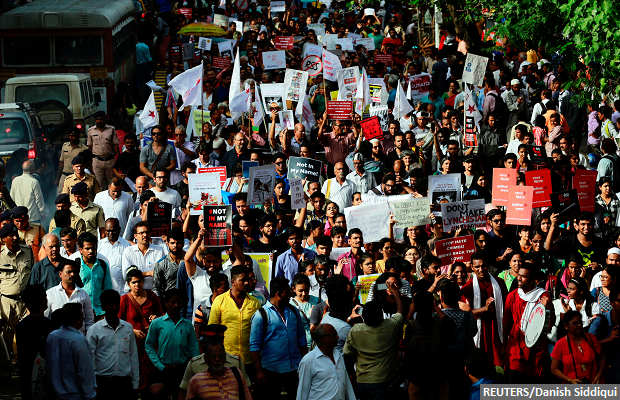 As Rajasthan police closed investigations against six suspects arrested for the lynching of 55-year-old dairy farmer Pehlu Khan on April 1, 2017, 46% or 35 of 76 cow-related hate crimes were reported this year alone, according to the IndiaSpend database that records such violence.
Source: IndiaSpend database
The first incident of 2017 was reported less than six months ago on April 1, when Khan, a resident of Haryana, was beaten by cow vigilantes in Rajasthan's Alwar district. He succumbed to his injuries in a hospital two days later.
As news of the release of the six suspects was made public, activists who planned to visit Khan's family in the village of Behror were threatened and warned not to visit by Hindu right-wing organisations. The karwan-e-mohabbat, or caravan of love--conceived by former bureaucrat and peace activist Harsh Mander--is currently on a nationwide journey visiting families of those who have been lynched or otherwise targeted, mostly Muslim or Dalit.
So threatened are they with @karwanemohabbat that we want to stop a peace meeting in Behror. Shame! pic.twitter.com/kqSNBhYLJ0

— Suroor Mander (@suroorm) September 14, 2017
"We have been told that the reception for our karwan-e-mohabbat in the areas of Alwar will be with lathis," John Dayal, a human-rights activist, told IndiaSpend while on the road. "All the places (in Behror) we had arranged to have public meetings have reneged on their contracts because of these threats and said 'please don't come'. However the Rajasthan government this evening just assured us safe passage throughout the state. We won't stop our journey because of these threats -- we are here to counter the hate."
Late on September 14, 2017, as Mander's group entered Rajasthan, they received a state police escort.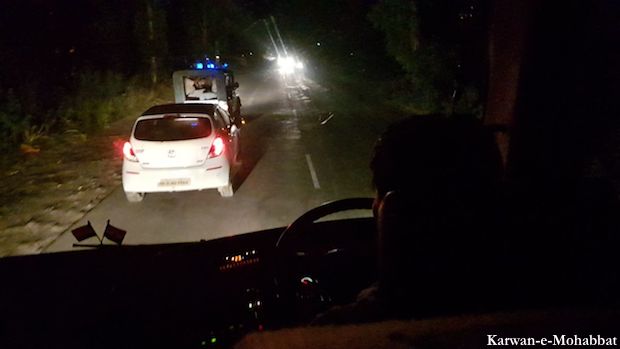 Peace activist Harsh Mander's caravan gets a police escort as it enters Rajasthan on the night of September 14, 2017, after threats from Hindu right-wing groups.
On September 1, the crime investigation department-crime branch (CID-CB) investigating Khan's killing sent its findings to the Alwar police, clearing six people -- Om Yadav (45), Hukum Chand Yadav (44), Sudhir Yadav (45), Jagmal Yadav (73), Naveen Sharma (48) and Rahul Saini (24) -- from the list of accused in the case, the Hindustan Times reported on September 14, 2017. Three of the six are linked to Hindu right-wing organisations, the report said.
In his statement to the police, Khan had named these men as being among those who had attacked him, the Indian Express reported on September 14, 2017.
Following the CID-CB's report, Alwar police cancelled a reward of Rs 5,000 each for information about the six accused since they were absconding. The investigation was based on statements of the staff of rath gaushala (a cow shelter) 4 km from the crime scene and mobile phone records, according to the Hindustan Times.
The gaushala staff said the six accused were at the cow shelter at the time of the attack. "Call record details of the six people ...further support this," read the police report quoted in the Hindustan Times, which also found that Jagmal Yadav, one of the suspects, was a patron of the shelter.
On September 6, 2017, the Supreme Court ordered the appointment of a "nodal officer" to address such hate crime in each district. Prior to this in April, days after Pehlu Khan's death the top court sought responses from the Centre and six states -- including BJP-ruled Rajasthan, Uttar Pradesh, Maharashtra, Gujarat, Jharkhand and Congress-run Karnataka -- and called for action against cow-protection groups.
86% of dead since 2010 are Muslim
Since 2010—the start-point of our database—28 persons were killed in bovine-related hate crimes across India, with the highest death toll in Bengal, as IndiaSpend reported on September 1, 2017. At least 223 people were injured in these 76 attacks, including 16 women—five of whom were sexually assaulted.
Muslims were the target of 54% (41 of 76) incidents of violence centred on bovine issues in 2010-17 and comprised 86% (24 of 28) killed in 76 incidents, data show.
In 29%–22 of 76–incidents reported, police registered cases against victims/survivors, our database revealed.
Created through a collection and content analysis of reports in the English media–which tend to have the widest nationwide news spread–the database shows that 97% (74 of 76) of such incidents were reported after Prime Minister Narendra Modi's government came to power in May 2014.
More than half or 53% of the bovine-related violence–40 of 76 incidents–were reported in states governed by the Bharatiya Janata Party (BJP) at the time, revealed our analysis of violence recorded until August 31, 2017.
On June 29, 2017, a day after protests in Indian cities, London and New York against the government's slow response and silence after nationwide attacks against mostly Muslims and Dalits, Prime Minister Narendra Modi criticised cow vigilantes, speaking at the centenary celebrations of Sabarmati Ashram in Gujarat.
"Killing people in the name of gau bhakti (cow worship) is unacceptable," said Modi. "This is not something Mahatma Gandhi would approve of. No one has the right to take law into his/her hands. We belong to a land of non-violence. Violence is not the solution to any problem."
A day before the start of the monsoon session in Parliament on July 15, 2017, the prime minister, at an all-India meeting of the BJP, once again criticised cow vigilantes and put the onus on state governments to act against them, as IndiaSpend reported on July 28, 2017.
Database reconciliation
On reconciliation of our dataset, we found the following discrepancies, which have been corrected:
1. An incident dated July 18, 2016, was reported from Una, Gujarat. Two news reports published on different dates carrying different details of the same incident were considered as separate incidents in the earlier version of the database. This has now been corrected, bringing down the incident count by one, and the injured count by four. This has not affected the figure for deaths.
2. An incident dated March 27, 2016, was reported from Kurukshetra, Haryana. An update on the case was considered as a separate incident in the earlier version of the database. This has been corrected, bringing down the incident count as well as the death toll by one.
3. An incident dated March 18, 2016, was reported from Latehar, Jharkhand. There were two news reports of the same incident in the same newspaper but citing different names. This has been corrected after telephonic confirmation from the newspaper's Jharkhand correspondent. This brings the incident count down by one and the count of deaths down by two.
Updated on December 8, 2017. All links to the database have also been updated to http://data.indiaspend.com/hate-crime
(Saldanha is an assistant editor with IndiaSpend.)
We welcome feedback. Please write to respond@indiaspend.org. We reserve the right to edit responses for language and grammar.
__________________________________________________________________
"Liked this story? Indiaspend.org is a non-profit, and we depend on readers like you to drive our public-interest journalism efforts. Donate Rs 500; Rs 1,000, Rs 2,000."