Why Adolescents, Not Adults, Are Key To Addressing India's Teenage Problems
India has 253 million adolescents (10 to 19 years), more than any other country and equivalent to the combined populations of Japan, Germany and Spain. But India isn't doing enough to ensure they become productive adults, health expert Sunil Mehra, whose advocacy MAMTA works with the central government, tells us.
Adolescent health featured in national policy for the first time three years ago in the
Rashtriya Kishor Swasthya Karaykram (RKSK), or National Adolescent Health Programme. In October 2017, Mehra's organisation hosted the World Congress on Adolescent Health by International Association for Adolescent Health, in Delhi in association with other nonprofits and the ministry of health and family welfare. Experts at the Congress discussed how it was important for India to invest in adolescent health-- and how various programmes for adolescents run by different ministries need to be integrated--if India had to benefit from its demographic dividend.
Adolescent health is especially important to India if it is to meet the Sustainable Development Goals (SDGs)--a set of universal goals to end poverty, hunger and achieve equality--that the country has committed to the United Nations, said Mehra (IndiaSpend wrote about the SDGs here, here and here).
Mehra, 62, is a paediatrician and founder and executive director of MAMTA Health Institute for Mother and Child (MAMTA-HIMC, known only as MAMTA), which trains and helps public-sector healthcare providers engage with communities and give voice to adolescent concerns in official policy.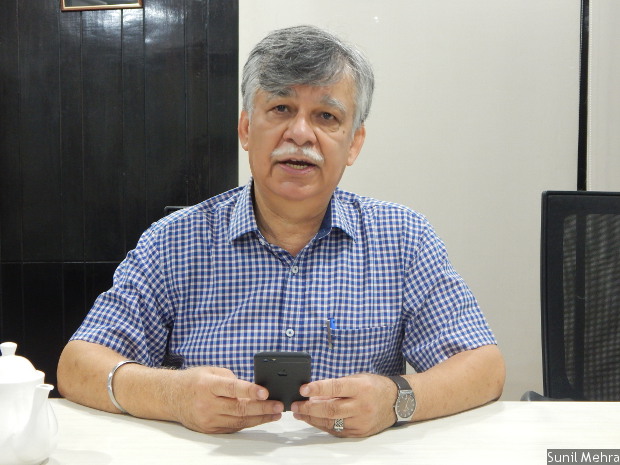 India isn't doing enough to ensure its 253 million adolescents become productive adults, health expert Sunil Mehra, whose advocacy MAMTA works with the central government, told IndiaSpend.
Over a quarter century, MAMTA has expanded its work from maternal and infant health to adolescents. It works in 19 Indian states, and in Nepal and Bangladesh.
"I think the best investment MAMTA made was in engaging in adolescents, creating adolescent networks and creating safe environments for them where they can say what they need to say," said Mehra.
He runs a 36-year-old paediatric practice in the mornings and evenings in Delhi, while managing MAMTA, which he calls his third child.
India has the largest population of adolescents (10-19 years) in the world--253 million--and every fifth adolescent in the world is an Indian. What should India do for the health and well-being of its adolescents?
First and foremost, as we said in the Congress [World Congress on Adolescent Health], it is clear that if government does not invest in this subset of population [adolescents], many of the SDG outcomes cannot be reached.
Second, many of the adult health outcomes are based on what you do in adolescence. Technically we call it triple dividend, when you invest in adolescence, that is in 253 million--the figure is from Census 2011 so it has to be more than that--you need to see that all of them are healthy, you need to see that this is the productive workforce in the next five to ten years. In order to get a healthy workforce, you need both physical and mental health, and then you add skills, and when you combine the three, you get a healthy adult population. So when you invest in adolescence, you not only get healthy young adults, but also get healthy adults.
For example, when an adolescent starts to smoke at 16 to 19 years, he is very likely to be a chain smoker when he becomes an adult. But if he starts after 25 years, he is unlikely to be a chain smoker. The same is true for alcohol and exercise and lifestyle habits.
We need to understand that whatever you invest in this age--jaisa beej bowoge waisa paudha paoge (as you sow, so shall you reap)--will determine the quality of adult you get. This is gradually being understood by the government.
I must say that we already have a good national programme [Rashtriya Kishor Swasthya Karyakram]; the problem is how we execute it. We need to look at the infrastructure and systemic intervention and to see that it delivers what it has promised.
Again, invest early and stay invested, as in share market. Start early at 11-12 years and stay invested till 24 years. That is the evidence in brain development, that yesterday's 18 is today's 24. We (previously) thought the brain is maturing at 18, (but) it is happening later, at 24 years. So, maybe you need to revisit the definition of adolescence and stretch it to 24 years.
Even though the RKSK (Rashtriya Kishor Swasthya Karyakram) has been in place since 2014 for adolescent health, in a survey of young adults in in Uttar Pradesh (UP) and Bihar, only 1% of boys and girls knew about RKSK. What needs to be done to increase the scope and activities of RKSK?
This statement is true and false. In certain states, the programme has percolated very well, and in certain states it hasn't. For example, Bihar and UP are the states where it takes a long for programmes to percolate. In Maharashtra and Tamil Nadu, most people are aware of RKSK. I agree that it is a matter of concern that people in states with the most adolescents [UP and Bihar] are unaware of it.
At MAMTA, we are now partnering with the states of Bihar and UP; institutions like us should support the government. The system is already over-burdened with the same three As—ASHAs [accredited social health activists], anganwadi workers [government crèche workers] and ANMs [auxiliary nurse midwives]--being roped in (for all health programmes). I don't have a fourth worker, and RKSK came up with the concept of peer educators, who support ANMs to reach out to adults. For the first time, there are both male and female peer educators, and I think it is a great opportunity to have male peer educators reach boys.
If you look at anaemia, if it is 56% among girls aged 16 to 17, it is about 30% in boys. So, it is not that boys are not affected. An anaemic person cannot be a productive person, and so RKSK gave us an approach to reach the boys. Yes, managing peers is difficult, but given the Indian context and given the lack of human resources, given the lack of expenditure on health, we have no option but to rely on peer educators.
How do we identify and train peer educators in taking care of adolescent health?
MAMTA has done this across different districts across states. We have identified a team of trainers under NHM (National Health Mission) which trains different subsets--peer educators, ASHAs and ANMs. ASHAs have to identify and keep facilitating the functioning of peer educators. The ASHA is a village woman--gaon ki bahu (village's daughter-in law)--so she knows the peers in that village, and she is supposed to recommend peers from the village. They [peer educators] are then trained by a set of trainers and ANMs have to support and mentor peer educators.
Sex education is a taboo in India, yet 26.8% of girls in India get married before the age of 18, and these girls are more likely to die in child-birth than those married between 20-24 years. What are your thoughts about the issue of gender and health?
It is shameful for a country with a GDP (gross domestic product) of 8% to have a fourth of its girls married before 18. We know it sets off poverty and intergenerational undernutrition (you can read IndiaSpend stories on the subject here and here). They [child brides] are an invisible subset of the population, whose access to care and services and access to school is very poor.
So, the first thing is that we need to address this in mission mode; we need to stop child marriage in one generation, we shouldn't wait to stop it in 10 years. Because for that many years, you have done so much damage, and you are having so many children who are going to be born low birth weight, and these children are likely to get diabetes--we know that low weight babies are likely to get type-2 diabetes and cardiovascular disease more than other children.
So, you will be creating huge potential for all your problems, if you don't stop child marriage.
The second issue is retaining girls in schools as long as you can.
Third, we must get them access to good sexual and reproductive healthcare, which means they must have access to sanitary napkins, to contraception, to iron and folic-acid tablets for anaemia. We need to see that happens. That is the big gender issue.
To address this we need to talk about boys' behaviour. We see that everyone is talking about girls, but who is perpetuating gender inequality? It is the boys who are perpetuating it, and by and large, many service providers or large service providers are male and their attitude regarding girls and women needs to improve. That is a big problem and we are not going to solve it anytime soon. But we need to look at it as we go ahead.
We need to roll out the concept of midwives. We already have medical officers, and we realise the challenge in rural settings. I visit Sweden often, and I find the midwives there are much more competent than even medical officers. They have very good courses for midwives. Rather than saying get AYUSH (Ayurveda, Naturopathy, Unani, Siddha and Homeopathy) doctors to do regular service, I think the alternative lies in midwives' courses.
Self-harm has been one of the leading causes of death, even as depression and other mental health issues affect adolescents. How can we provide mental healthcare at the grassroots?
On one hand, we say that they [adolescents] should be in school, but on the other, we need to tackle school-based challenges such as bullying, performance pressure, relationship challenges, self-esteem issues. These are issues that adolescents go through: Am I as beautiful as her? Am I as tall as him? Am I as intelligent as him? These issues may seem trivial, but they become so important at that stage of life that they start showing up in the form of mental health. Poor performance in schools needs additional investment, it needs constant support through a counsellor, and that is something that we need to do.
So, you need good information systems and knowledge to be provided to adolescents; that includes sexuality education that tells them about their bodies, their relationships and sexual orientation. This takes care of many adolescent mental-health needs. It is a coping mechanism; how do I cope with my needs before they become a concern?
Schools should be the platform to take care of these issues, but parenting is becoming a big issue. Parents need as much support as teachers. Social constructs make certain things taboos in the classroom; how do we expect teachers to transcend them in class? If their pre-training classrooms do not talk about these issues and tell them how to deliver them in classrooms, how can they?
I get parents in my clinic who say, 'My daughter goes in her room and does not come out for hours together; if someone takes away her mobile phone, she screams at us'. These are issues parents don't know how to cope with. There is no systematic way of providing information through structured institutions, hence they are bombarded with information which more often than not is incorrect and inappropriate for their age.
Also understand that this is the age when risk-taking is biological; it is not pathological. So, you need to create a constructive environment: When they take a risk, they should feel they are in a protected environment. Or give them alternative channels to vent their risk-taking behaviour, which manifests itself, for example, in road accidents. They think, 'I can drive a car at 150 kmph, and my girlfriend will be impressed', not understanding the consequences. The high of the event is more important than the outcome.
How do we tackle the issues of mental health when there is a shortage of mental health professionals in the country?
The only remedy I see is to prevent mental-health challenges. It is like saying when you don't have enough doctors, your focus should be to prevent disease, so that the load of the institution comes down.
We need to solve the human-resource gap in healthcare, but we also need to invest in preventive interventions to reduce the load on (mental-health) facilities.
Currently, the number of psychiatrists and psychologists in India is so limited and so urban-centric that there is very little availability for rural (areas). We need to invest a lot in preventive and promotive mental health. Simultaneously, we need to invest in institutions that produce good, trained counsellors. Till then, we need to train graduates that are unemployed to become counsellors and create that [employment] space for them.
How difficult is it to frame a communication strategy for adolescents, since each age-group is different and they are not always receptive to top-down communication?
It will be very difficult for any country to create messaging for (adolescents of) ten years, 11 years, 12 years and so on. I will give you an example. School-based interventions can be treated as we treat class curricula--you give some basic information in class six, then continue to provide information as they child grows up. So, you get age appropriate school-based training.
But what should go (across) by mass media and what should [be delivered] by group intervention in (age) clusters--10-13, 14-19, 20-24--what is your epidemiology telling you, what are commonest needs: You go through that messaging and create it (interventions).
Now who will deliver it? If you look at the peer-educator programme, the purpose was to get peers almost of the same age, or about one or two years older, so that they are delivering it rather than preaching it [as it happens] with adults.
Give them a setting where they can ask questions, and make peers comfortable and confident in responding. In one of our interventions, we are trying to improve the self-efficacy of peer educators because if their self-efficacy improves, then their conversational value improves a lot.
We need to create a system that responds to adolescents than to adults in the system.
(Yadavar is a principal correspondent with IndiaSpend.)
We welcome feedback. Please write to respond@indiaspend.org. We reserve the right to edit responses for language and grammar.