'A Uniform Civil Code Can Only Come Through Consultation'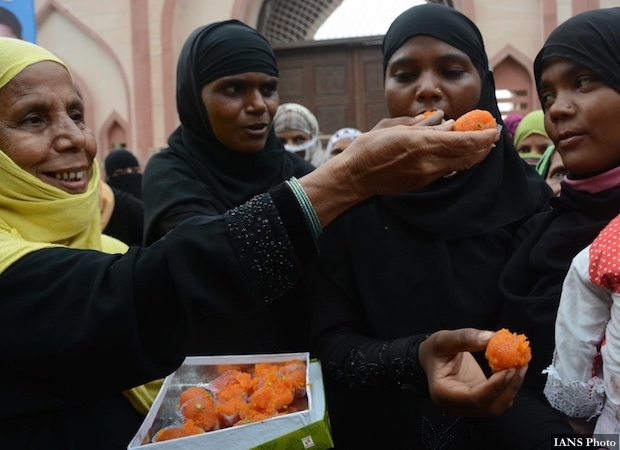 Muslim women celebrate the Supreme Court's verdict against instant talaq, in Lucknow on August 22, 2017. In a manner, 31 years after former Congress minister and Muslim-law reformer Arif Mohammed Khan first sought equal rights for Muslim women, the Supreme Court has endorsed his views.
Arif Mohammed Khan, 66, has consistently championed equal rights for Muslim women and the need for Muslim society to evolve and modernise, to extricate itself from the clutches of the clergy, and to rid itself of shibboleths. He has not been afraid to follow his convictions: In 1986, he quit the Congress government of then Prime Minister Rajiv Gandhi government in protest against its decision to bring in a new law that would overturn a Supreme Court verdict providing a monthly maintenance of Rs 179.20 to a 68-year-old divorcee called Shah Bano Begum.
Khan started out as a student leader in the Aligarh Muslim University, his alma mater, and went on to serve as a junior minister in Indira Gandhi's cabinet. He is a four-time member of parliament and served as cabinet minister under both Rajiv Gandhi as well as V P Singh of the Janata Party (he left the Congress after the government overturned the Shah Bano verdict). His speech in favour of Shah Bano in parliament's lower house, the Lok Sabha, won him praise, for his progressive stand, marshalling of facts and his oratory.
Khan has urged Muslims to think ahead and move with the times, taking on the Muslim clergy and braved a vilification campaign. Before a five-judge Supreme Court bench, which on August 22, 2017, delivered a verdict against instant talaq--verbal divorce uttered three times by Muslim men--he argued for an end to the practice. In a manner, 31 years after he first sought equal rights for Muslim women, the Supreme Court has endorsed his views. In an interview with IndiaSpend, Khan shared his views on the Supreme Court verdict, its implications, and the fate of the All India Muslim Personal Law Board.
You have often said triple talaq is "anti-constitutional, anti-Quran and anti-humane". In fact you said the act of triple talaq should be treated as contempt of court and invite prison term of at least three months of iddat (the period a couple is supposed to stay together before final separation). What do you make of the court's recent verdict? Do you think this is a victory the government can claim for itself?
It's a historic judgement and will have far-reaching consequences. This will empower and embolden women. It will come as a confidence booster to not just Muslim women but women across religions. Muslim women used to grow up with the sword of rejection and humiliation hanging over their heads. They used to be at the mercy of their husbands, who could, with the aid of the mullahs (clerics) get away with abandoning them at will, but that will no longer happen.
It's not right to look at it (the judgement) as a victory for the government or a political party. In fact, the first government affidavit on this issue was a very weak one, where the government said it would talk to everybody and then take a position. It was only after the Supreme Court pointed out that their position was at variance with their stated position that Mukul Rohatgi (then attorney general) filed a second affidavit.
You also have said the uniform civil code is a "constitutional obligation of the government". However, when we talk about institutionalising a code, triple talaq aside, there are other practices in other religions discriminatory to women that need to change, such as the inheritance laws, divorce rights, or adoption rights. Do you think the current government will address these as decisively and eagerly as it did triple talaq?
In a secular democracy, laws are meant to be uniform, where all citizens have equal rights and obligations. It also means that neither will laws prohibit people from following their religious practices nor will the state force everybody to follow a particular practice. A uniform civil code can only come through consultations. It does not mean that people of different religions will have to perform marriages in a particular manner. It will, as Guru Gowalkar said in an interview to the Organiser (a Rashtriya Swayamsevak Sangh magazine), take into consideration the sensitivities and diversity of India . After all, the Hindu code bill is not product of the shastras (scriptures), it has borrowed from different religions. For instance, a daughter's share in property and meher (a mandatory payment) have been adopted from Muslim law. While the provisions of the Hindu code bill are also applicable to Jains and Christians, they retain their identities.
The stated position of the government is that it is consulting different stakeholders, and I hope it will work towards that goal.
You criticised Rajiv Gandhi in 1986 for reversing the Supreme Court's order on Shah Bano with the Muslim Women (Protection of Rights under Divorce) Act -- in fact that led to your parting from the Congress. Do you think this current government would be better equipped to sensitively deal with the personal laws of Muslims?
I've said this before and will say this again. I do not believe that Rajiv Gandhi took the decision to overturn the Supreme Court verdict on his own. He had a modern mind and was averse to obscurantism. I have, in fact, seen Rajiv Gandhi's noting on the file , in which he had clearly written that "there should be no compromise with obscurantist and fundamentalist elements". He was pressurised to do so by the likes of P V Narasimha Rao, Arjun Singh and N D Tewari (then ministers in the government). They were of the opinion that it was not the job of the Congress party to reform Muslims, (they said) "if they want to lie in the gutter let them be".
After the passage of the act to reverse the judgment of the Supreme Court in Shah Bano case, you had said, "We can make and change laws according to our requirements, but it would be difficult to put an end to the communal poison that has been injected into the body politic of India by the speeches made by personal law board members." Why do you believe that was the starting point of fresh communal tensions in India?
The communal poison was injected by the aggressive and abusive language used by leaders like the Shahi Imam (of Delhi). He threatened to break the legs of those Muslim MPs who were opposed to the (Rajiv Gandhi) government's decision to overturn the (Shah Bano) verdict. Another Muslim leader called the judges names. All this vitiated the atmosphere and led to a tremendous backlash. To balance the backlash, they ordered the unlocking of the Babri masjid, and the rest is history. That one decision and the constant appeasement of obscurantist and hardline elements has done more harm to Hindu-Muslim relations than anything else.
When speaking of the UP elections, in a recent interview, you had said : "When we talk about consolidation of the votes of one community or caste, we flagrantly violate the spirit of the Indian Constitution." Post the elections, the UP state assembly now has the lowest Muslim representation in a quarter of a century. You said this was because non-BJP parties have played the Muslim card rather clumsily. But with the Yogi Adityanath government now in UP, do you think the community's needs are being met? Would you say they feel secure given the kind of rhetoric the BJP has indulged in or the fact that Muslims have been victims in 86% of attacks related to cow-related violence, 97% of which took place after 2014? At the risk of sidelining the community's interests, do you still believe there shouldn't be a consolidation of votes?
Consolidation cannot happen one way. If Muslims consolidate other communities will also be tempted to consolidate as well. Consolidation on caste and religious lines has had dangerous consequences . It is not good for the country, restraint and reconciliation is the way forward.
How will the verdict impact position of the All India Muslim Personal Law Board (AIMPLB)? They were of the view that personal laws cannot be interfered with.
They (the Muslim personal law board) are entitle to their view. I am inspired by the Quran, which says that unless you evolve and move forward you will perish. If the AIMPLB wants to wallow in the past, good luck to them. The mullahs have always been irrelevant. Even in 1986, if the government hadn't buckled to their pressure, they would have been exposed. In fact, I've always been of the opinion that mainstream parties have, by choosing to deal with them rather than the Muslim community, provided the obscurantists with legitimacy .
There are many who argue that the Supreme Court verdict cannot be implemented on the ground and will not make much of a difference to the plight of the Muslim women.
Those who believe this are deluding themselves. Those men who divorce through instant talaq, can now be hauled up by the police for harassment and mental torture and will have to face the consequences.
Is there a sense of vindication, that the courageous stand you took in the Shah Bano case has now in a way been upheld by the Supreme Court?
It is not personal vindication that I am looking at. Whatever I did was out of conviction, and I am happy that the Supreme Court has intervened and restored the rights of the Muslim women, (the rights) that should have always been available to them.
(Ansari is a New Delhi-based journalist and political analyst.)
We welcome feedback. Please write to respond@indiaspend.org. We reserve the right to edit responses for language and grammar.
__________________________________________________________________
"Liked this story? Indiaspend.org is a non-profit, and we depend on readers like you to drive our public-interest journalism efforts. Donate Rs 500; Rs 1,000, Rs 2,000."