A Much-Criticised Job Creation Effort Empowers Women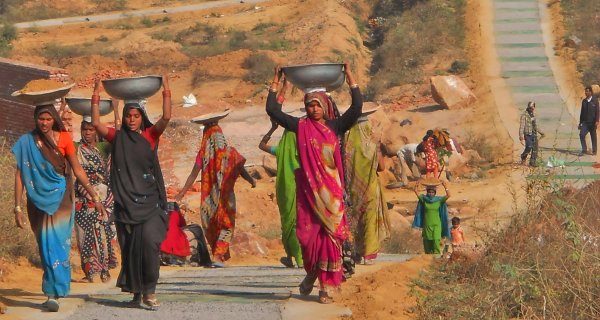 Highlights
* Women participation high in Mahatma Gandhi National Rural Employment Programme
* Rajasthan surprises with high women employment
* Districts affected by left-wing terrorism are also seeing high women participation
* Kerala and Tamil Nadu have high participation rates of 90% and 83%, respectively
The Mahatma Gandhi National Rural Employment Guarantee Act (MGNREGA) was conceptualised as an effort to create employment for India's rural workforce. The scheme has had its supporters and critics. The former have felt it has helped create rural employment and demand where none or little existed. The latter have felt it created, in a Keynesian way, jobs where none were needed.
Interestingly enough, while that debate rages on, a perhaps unexpected outcome has been the high proportion of women employment. The scheme itself targeted women participation be 33%. But as IndiaSpend's Sourjya Bhowmick finds from a Parliamentary committee report On Empowerment Of Women tabled in May 2012, at all points women have represented more than 40% of the share of employment.
It goes beyond that. As the data also shows up the patterns of women employment and what is perhaps driving it. For instance states like Kerala and Tamil Nadu see high women participation but so do states affected by 'left-wing terrorism'. The reasons vary of course.
Before we come to the other insights, here's a quick background.
MGNREGA is funded at Rs 33,000 crore in the 2012-13 Budget. Incidentally, the programme has also been criticised for drawbacks like delays in wage payments and shortage of technical staff to supervise work. On the other hand, MGNREGA provides equal wages to women and men as compared to other public works.
Other key findings are: Districts affected by women trafficking in some states have seen high participation by women in the programme. Like we mentioned earlier, districts impacted by left-wing terrorism are also seeing high women participation (42%). Kerala (90%) and Tamil Nadu (83%) see high women participation while states like Uttar Pradesh (21%) and Bihar (28%) are still below the national average and the target mentioned in MGNREGA.
The graph below gives an idea of the percentage share of women availing employment under MGNREGA: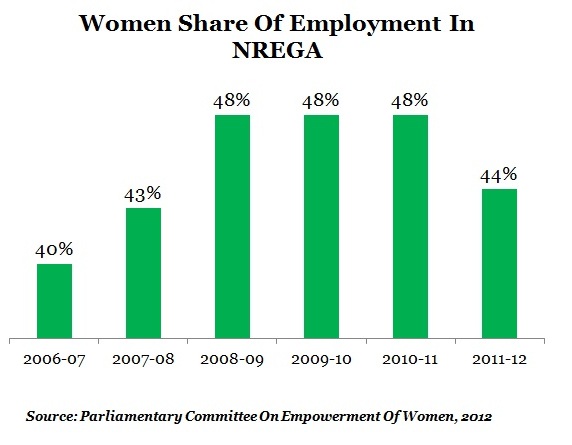 Higher women participation has led to positive outcomes as illustrated by a recent study conducted by National Federation of Indian Women (NFIW). The study found that higher participation in MGNREGA is leading to growing contribution by working women to family income, repaying debt, low migration and increased participation and responsibilities in public sphere.
Table 1 shows how the states have performed in women participation:
Table 1: Kerala Tops The List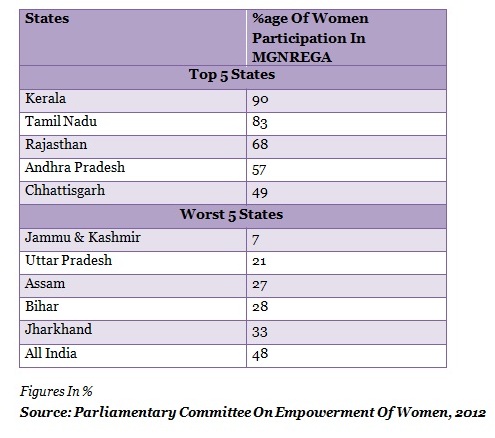 Southern states are doing well in terms of women participation in MGNREGA. Reasons for the high participation are not explained in the Parliamentary committee report. Interestingly, Rajasthan, which is not known for women empowerment, also has a high level of women participation (68%). Chhattisgarh, considered a backward state in social indicators, also gets a place in the top 5.
Jammu & Kashmir is the worst state in MGNREGA women participation. That may not be surprising considering the political turbulence in the state. Other states with women participation that is lower than the national average (48%) and the specification of MGNREGA (33%) like UP and Bihar are also not much of a surprise.
The parliamentary report has linked poor women participation to several factors - caste system and religious and social hierarchies. The committee has recommended that the Ministry of Rural Development must conduct a comprehensive study to analyse these issues.
Women Trafficking and MGNREGA
The report also mentioned about women participation in MGNREGA in high trafficking-affected districts. Table 2 is based on the states that have the highest number of districts affected by trafficking and women participation in MGNREGA:
Table 2: Limited Impact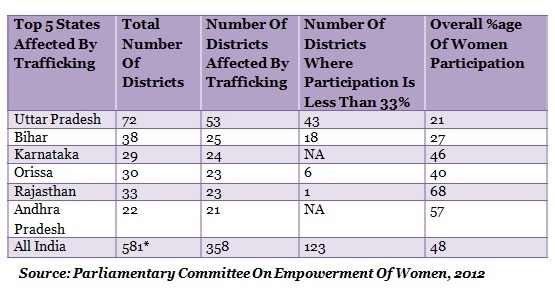 *While India has 640 districts, we are assuming that the report has taken only 581 districts into consideration.
It can be seen that Uttar Pradesh and Bihar, which have the lowest women participation in MGNREGA, also has the highest number of districts suffering from women trafficking. Incidentally, the other states have good women participation.
The Naxal Impact
The final factor we are taking into account for the story is women participation in Naxal-affected districts.
Table 3: Women Participation In Naxal-Affected Districts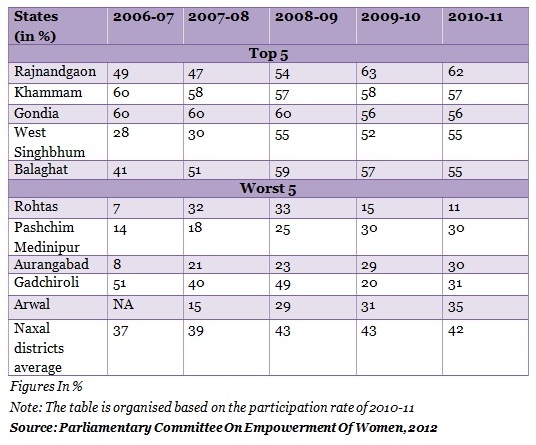 So, most of the Naxal-affected districts have noticed a steady increase in women participation. The only exception is Rohtas, which faced a remarkable drop after 2008-09. Another positive is that the average participation rate of all the Naxal-affected districts (42%) has been higher than the specified target of 33%.
Challenges Ahead
As we mentioned earlier, MNREGA has faced several criticisms – such as shortfall in farm labour and low skilled industry labour. But the high participation of women also throws up how or what could help better the numbers. And there are some challenges: absence of adequate facilities like safe drinking water, shades for children and first aid box at the work sites.
Women, it seems, have been unwilling to apply for work for these reasons. The hope is that once these concerns are addressed, more women will be employed in rural India and not just in the MNREGA programme.