A Farmer's Life Crisis—And India's Farming Predicament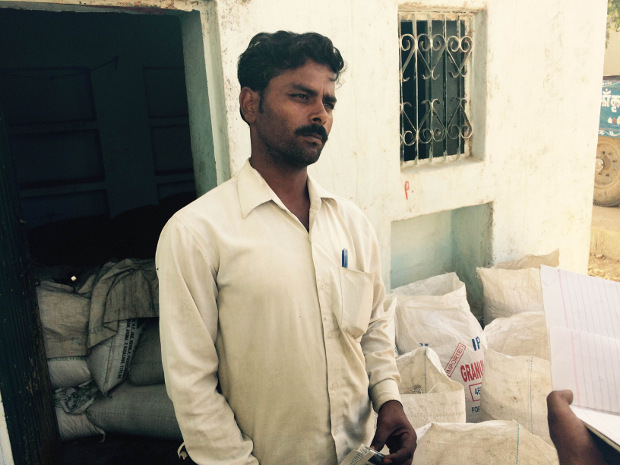 Ramlal, 35, of UP's Rajwada village, could not escape the effects of India's increasingly uncertain weather, despite being part of India's farming elite and its middle class. His wheat farm has been devastated, and government compensation does not cover even 13% of his losses. Image: Bhasker Tripathi, Gaon Connection
Rajwada (Uttar Pradesh)/ Mumbai: Lean, intense and troubled, pea-and-wheat farmer Ramlal is not supposed to be in crisis.
At 35, Ramlal (he uses only one name), is part of India's farming elite—the 19% that owns more than 1.1 hectare of land—and a rural representative of India's booming middle class. He owns 21 hectares of land (5 hectares sown with peas), a television, motorcycle and tractor, and lives with his family of eight in a four-room brick house, with a courtyard and store, in a south-western corner of Uttar Pradesh (UP), a state that accounts for a fifth of India's farming households.
Yet, after unseasonal rains and hailstorms ravaged his winter, or rabi, wheat crop, the economic crisis upon him indicates the tenuous situation of the Indian farmer, poor or relatively prosperous, even when the government provides compensation.
"It is as good as nothing," said Ramlal, of the Rs 36,000 he will get as compensation from the UP government.
To understand why, we jotted down his agricultural expenses:
What it costs Ramlal to grow a hectare of wheat

Head

Cost (Rs)

Seed

4900

Fertilizer DAP (Diammonium Phosphate)

6000

Urea

1050

Weeding chemicals

900

Felling labour

3750

Threshing

850

Total

17450
Ramlal spent nearly Rs 17,500 per hectare of wheat, so the official compensation of Rs 18,000 per hectare appears to cover his expenses—except that the government allows compensation for a maximum of two hectares. Ramlal lost crops across 16 hectares of land.
If this was a normal year, Ramlal would have sold his harvest to the state-owned Food Corporation of India for (roughly) Rs 58,000 per hectare, a profit of Rs 30,500 per hectare (without transportation cost). So, in good years, Ramlal prospered, but increasingly uncertain weather—as we shall see later—has upset a tenuous normalcy across rural north India.
Ramlal's total losses are Rs 2,80,000, the state reimbursement covering less than 13% of crop-raising costs.
| Head | Cost (Rs) |
| --- | --- |
| Ramlal's Sowing expenses (16 hectares) | 2,79,200 |
| Total Expected income/profit (16 hectares) | 4,88,000 |
| Total compensation (2 hectares) | 36,000 |
From satellites, from the ground—the estimation problem
Ramlal did not lose all his wheat. He estimated that 10% of the crop could be saved. A government estimate put that figure at 30%
It is hard to assess what the remnant might fetch. Ramlal said the harvested kernels were blackened and stunted, which means lower rates.
Like 80% of Indian farmers, Ramlal does not have crop insurance, an agricultural dysfunction that leaves governments liable—not by law but by political necessity. At least 600 million Indians still depend on farming, although the share of agriculture in India's gross domestic farmers is declining.
Farmers are an electoral constituency that cannot be ignored and could, as this Livemint report warned, imperil the Bharatiya Janata Party.
Prime Minister Narendra Modi promised an increase in compensation and dispatched senior ministers to visit farms in 14 states. One of those, Nitin Gadkari, recently advised farmers against relying on "God or government".
"You, yourselves, are the architect of your lives," said Gadkari.
Source: India News
Currently, Ramlal's only concern is how the government assesses his crop losses.
There are two ways of establishing such losses, said Sudhir Panwar, a member of UP's Planning Commission:
—One, by satellites that pass over an area and use special sensors and cameras to determine damage in fields. Remote sensing, as the technique is called, is reasonably accurate but only offers a block- or taluk-level view.
—Two, a subjective assessment by the local Lekhpal, the local revenue officer. These assessments may be an easier method of reaching individual farmers, but they are greatly inaccurate.
UP and 13 other states hit by the recent crisis largely depend on the lekhpal.
"Obviously, this involves huge amounts of guesswork," said Himanshu (he uses only one name), an agricultural economist from Delhi's Jawaharlal Nehru University. "Revenue officials are hardly equipped to assess the damage and there are very few of them to take care of large geographical areas."
The result is "guesstimates", said Himanshu. "That is why there are so many flip-flops (sic), as far as these estimates are concerned."
In Delhi, on March 24, 2015, the agriculture ministry estimated that crops on 18 million hectares—about 30% of the rabi crop—were damaged. Two days later, this was reduced to nearly 11 million hectares.
Top 5 States: Rabi (winter)-Crop Area Affected, 2015

State

Wheat Damage

Other Rabi Crops*

Total Crop Damage

Rajasthan

1.7

2.85

4.55

Uttar Pradesh

2.11

0.56

2.68

Haryana

1.75

0.13

1.87

Madhya Pradesh

0.24

0.33

0.57

Punjab

0.26

0.26

0.29
Source: Press Information Bureau, Figures in million hectares *Other Rabi Crops are barley, pulses, mustard, horticulture, cumin, isabgol, coriander; Figures as on March 27, 2015.
In UP, the number of districts declared affected by heavy rains and hail has increased from 33 to 40, officials told Gaon Connection. The estimated losses have increased from Rs 744 crore to Rs 1,100 crore.
About half a million farmers have been affected, and 35 have committed suicide, which the government, as Gaon Connection and IndiaSpend previously reported, is reluctant to admit as being related to the farm crisis.
The unpredictable weather and agriculture's dwindling fortunes
What the government will admit is that increasingly unpredictable weather will continue to imperil farmers like Ramlal.
Lalitpur, the district that hosts Ramlal's village of Rajwada, suffered unseasonal rain in 2014 as well. As the chart below shows, the variations over three years have been severe: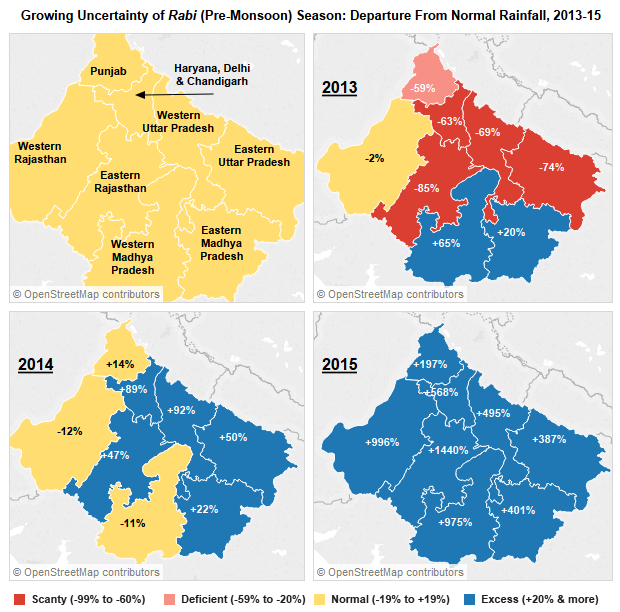 Source: Indian Meteorological Department; Shapefile from Datameet; The data is for the period from March to the 1st week of April
The data show how excess rainfall relates to crop damage.
For instance, Eastern Rajasthan, the desert state's farm belt, had more than 14 times the normal rainfall this pre-monsoon season.
IndiaSpend's previous reports on yields and food security make it clear that farms depend too much on increasingly uncertain rainfall: while there wasn't enough rain during the pre-monsoon kharif season (July-October) last year, there has been vastly excess rainfall during this rabi season (October-March).
Agriculture's fortunes are linked to—and affect—India's economy, but as the chart below shows, India's economy in general is doing much better than its agricultural sector, which is gripped by low growth and low output.
How Agriculture Lags the Economy

Year

Growth Rate (in %) of GDP- Agri and Allied (at constant prices 2004-05)

Overall Growth Rate (in %) (at constant prices 2004-05)

2009-10

0.81

8.48

2010-11

8.60

10.55

2011-12

5.02

6.36

2012-13

1.42

4.74

2013-14 (RE)

4.71

5.02
Source: NITI Aayog
The last—and, increasingly, first—resort, loans
Back in Rajwada village, Ramlal—considering his future—reluctantly admitted to another problem: unpaid bank loans.
Uncomfortable talking about loans, as the relatively prosperous tend to be, Ramlal said he took a loan in October last year, during the sowing season. He would not say how much he borrowed.
He has no savings to repay these loans.
"I will have to get a fresh loan for the next cropping season," said Ramlal, now part of the 52% of indebted Indian farming households. Since banks do not allow new loans until previous debts are repaid, Ramlal—although he did not admit it—might end up at a moneylender.
Ramlal said he would pull together what he can from "all sources".
More forthcoming was a poorer Rajwada farmer, Dev Joo, 90, whom we revisited from a previous Gaon Connection and IndiaSpend story.
Joo took a loan of Rs 9,000 on his Kisaan (farmer's) credit card but he could not make repayments because of successive crop losses. He now owes the bank Rs 18,000, including interest. Joo could go to a moneylender, but that means the cycle of debt will continue.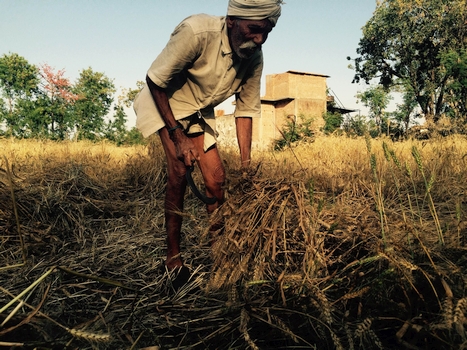 Dev Joo, 90, faces life as a labourer, after rain and hailstorms destroyed his wheat crop in UP's Rajwada village. With no money to repay a Rs-18,000 debt on his farmer's credit card, Joo mulls going to a moneylender and joining nearly 40 million Indian farmers who abandoned farming and, over a decade, became labourers. Image: Bhasker Tripathi, Gaon Connection
Joo's only solution is to work as a labourer, a situation that millions of farmers are forced into, something that he is preparing himself for.
As the livelihoods of more than half of all Indians living on farm incomes decline, government data show that about 9 million people quit cultivation between 2001 and 2011, and the number of agricultural labourers grew by 38 million.
"Mazdoori karke poora karenge, aur kya karen? (I will do manual labour and repay my debts, what else to do?)," said Joo. But such labour does not pay more than Rs 150 per day, and there aren't that many opportunities in Lalitpur.
As for Ramlal, becoming a labourer is not something he would like to contemplate.
(Tripathi is Senior Reporter at Gaon Connection, a rural newspaper published in Hindi from Lucknow. Tewari is an analyst with IndiaSpend.)
This is the second of a two-part series. You can read the first part here.

Update: This story has been modified to reflect the change in compensation loss for farmers.
__________________________________________________________________________
"Liked this story? Indiaspend.com is a non-profit, and we depend on readers like you to drive our public-interest journalism efforts. Donate Rs 500; Rs 1,000, Rs 2,000."