A Fact Check On Congress' Fact Check On Narendra Modi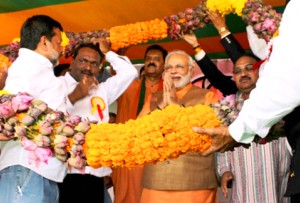 Here is a Fact Check on a Fact Check by Indian National Congress on the claims made by Narendra Modi, Gujarat Chief Minister and the Prime Ministerial candidate of Bharatiya Janata Party (BJP) ahead of the six-phased General Elections scheduled from April 7, 2014.
#Claim 1: Employment Generation in Gujarat
The first claim that the Congress has fact checked is Modi's claim on employment. According to Modi's claim, employment exchanges generated 78% of the jobs in Gujarat. But the Fact Check by the Congress says the Ahmedabad employment exchange generated only 0.7% jobs till April 2013.
We looked at the same site, Commissionerate of Employment& Training in Gujarat, and found that 256,951 applicants were provided placements as against a total 1,055,919 job-seekers between 1st April 2013 and 28th February 2014. Therefore, the total number of jobs provided by employment exchanges was 24%. This is for the state. For the city of Ahmedabad, in case the Congress Fact Check was referring to that, the figure is 11%.
#Claim 2: Spending On Education
The next claim that Congress looked into was Modi's claim that China spent 20% of its GDP on education and urging that India should emulate this spending. The Congress Fact Check claims that China actually spends only 3.9% of its GDP on education while India spends 4% of its GDP on education.
We decided to look at the education sector spend of BRICS countries, namely Brazil, Russia, India, China and South Africa.
As we can see from the table, Modi's claim of China spending 20% of GDP on education is inaccurate. But the Congress claim of India spending 4% of GDP on education is a little off too. At the end of 2010, India was spending 3.9% of GDP on education. However, it has seen a decline from 3.9% to 3.2% of GDP at the end of 2011.
China, on the other hand, is now spending 4% of GDP on education. The highest spender among BRICs at the end of 2010 was South Africa, which was spending over 10% of its GDP on education.
#Claim 3: Poor Learning Outcomes
Congress claims that children in Gujarat are way below the national average in mathematics. So, we looked at the latest ASER report, which is an effort by an NGO Pratham that analyses learning outcomes across schools in the country.
So, the Fact Check by Congress here does seem to be true. Students in Gujarat are lower than the national average in both subtraction and division.
The graph above shows the top 5 states based on the population – Uttar Pradesh, Maharashtra, Bihar, West Bengal and Andhra Pradesh. Gujarat scores less compared to states like Bihar and West Bengal, according to the ASER 2013 report.
The Gujarat Government, it appears, has initiated steps to improve outcomes and education is now a focus area for the state. As per the 2013-14 Budget estimates, the Government has increased plan spending on education to Rs 3,850 crore during the current year (2013-14) from 2,700 crore in 2012-13.
#Claim 4: Achievements In Sports
Narendra Modi has been very critical of the Congress Government at the centre on its approach to sports and India's progress in sporting activities, especially at the Olympics. The Congress Fact Check claims that Gujarat's performance in the 34thNational Games held in 2011 medals and a rank of 28th. States like Bihar and Uttar Pradesh had higher medal tally of 12 and 70, respectively.
The Fact Check also claimed that while Gujarat won no gold medals, UP won 20 gold medals. And this Fact Check, again, is true… Gujarat, however, has increased its spending on sports from Rs 249 crore in 2012-13 to Rs 300.5 crore in 2013-14, was increase of 20%.