A Dalit Family's Struggle Shows How India's Justice System Is Failing Its Lowest Castes
Swapnil Sonawane (16), a Dalit from Navi Mumbai, was allegedly assaulted and murdered on July 19, 2016, for dating an upper-caste girl from his school. Nearly two years later, the trial has yet to begin.
Navi Mumbai: Past the newly constructed Eastern Freeway and its scenic seaboard views, about 35 km from one of India's costliest business districts, Nariman Point, the car hit a stretch of tar lined with yellow butterfly-winged streetlights, heralding passage into Navi Mumbai.
Formerly called 'New Bombay', the township was part of a 1960s and 1970s dream to create a better-planned, egalitarian, and greener version of its namesake, 'Bombay', Maharashtra's capital city. Celebrated architect Charles Correa, renowned for his work on housing the urban poor, had hoped New Bombay would emerge as the New Delhi for the financial capital, and give India's most populous city something inconceivable at the time: A new beginning.
In the following years, even as a lack of political will left much of this dream unrealised, Navi Mumbai, with wide roads, well-planned localities, swathes of green open spaces, and less-expensive homes than Mumbai, sold dreams of a better life.
It was with this hope that the Sonawane family moved here in 1996.
Shahaji Sonawane, a staffer at the nationalised State Bank of India, married Gauri in 1999, three years after he moved to Navi Mumbai from Mankhurd, one of the least developed neighbourhoods in Mumbai's central suburbs. A year later, in 2000, they had their first child, a boy. They named him 'Swapnil', the Sanskrit word for "dream". In 2002, Swapnil's sister, Sakshi, was born.
A smart student, Swapnil scored 85% marks in grade X and was admitted to Navi Mumbai's famous D Y Patil college in July 2016, said 40-year-old Shahaji, beaming. "He dreamt of becoming a motorman."
But before Swapnil's first day in college could end, on July 19, 2016, he was dead, his skull cracked, chest and groin injured, as a consequence of an alleged romantic relationship with a 15-year-old girl from his school. The issue of contention: Swapnil was a Dalit--previously regarded as 'untouchable' and relegated to the bottom of the Hindu caste system--while the girl belonged to the Agri community of Maharashtra--classified as an 'other backward class' in 1993 owing to their poor socio-economic development, but claiming lineage to the upper caste Kshatriya, or warrior caste.
"We had never raised our children to know caste. We didn't even feel the need to talk about it. We really can't say we felt discriminated for being Dalit until now. Now caste is all we think about," said Gauri, adding that the family has since learnt every nook and cranny of the law for the prevention of atrocities against scheduled tribes and scheduled castes--as Dalits are constitutionally called.
Even as more Dalits complete school and enrol in colleges, even as their incomes increase and poverty rates reduce, opposition to inter-caste marriages still rears its head in urban areas like Navi Mumbai--ranked eighth cleanest in India, with one of its best sports facilities, and the venue for international pop sensation Justin Bieber's Asia tour in 2017.
Swapnil's murder is a manifestation of a deeper conflict simmering within Indian society, and of India's failure to provide justice to its lowest castes. Upper caste resentment of Dalits--comprising 16.3% of India's population--as they assert their rights after centuries of subjugation under the Hindu caste system, has escalated into a political flashpoint in the run up to the 2019 general elections, and eight state assembly elections in 2018.
This story is the second of a two-part series, the first of which showed how Dalits across four Indian states are questioning centuries-old traditions such as those restricting their rights to mount a horse or walk in a procession on the village main road.
'For the last 600 days, this is all we do'
Elderly women draped in worn chiffon saris walked under the evening shadows of wilted Ashoka trees, and children on rickety bicycles drew number eights on a narrow street of railway colony, Juinagar. Coloured clothes, from a spectrum of faded to shiny new, hung off boxed grill-windows of tiny flats in four-storeyed buildings, with worn out paint, a stark contrast to the swanky high-rises in the background.
Across the road, as the sun set over a wild cricket ground, two armed policemen got out of a dusty Maruti 800 car. Shahaji Sonawane, a short man with deep set eyes and dark circles, dressed in a short-sleeved white vest, khaki pants and black leather shoes, and Gauri, a petite woman, her hair pulled back in a ponytail, and dressed in a magenta pink and dull gold kurta (a long top) worn over gold leggings, followed.
She was exhausted. They both were.
"We spend most of our time here so, by default, the police are here too," Shahaji told IndiaSpend, sitting cross-legged on the mosaic-tiled floor on the ground floor one-room-kitchen flat of their lawyer, Amit Katarnavare.
Katarnavare, a man with ruffled hair, sat propped up by two pillows on the bed, his legs stretched out. A pair of crutches lay across the wooden table, cluttered with papers and books. Since the murder, when Katarnavare and his wife, Mamta, also a lawyer, took on the case pro-bono, the former railway clerk, with a masters in law, has been attacked twice. The latest incident left him hospitalised for over two weeks.
His 10x10ft bedroom, painted in mauve, had turned into a war room. The three spend six to seven hours every weekday, and all weekend, studying laws and strategising the case of Swapnil's murder, they said.
"For the last 600 days, this is all we do," Gauri said, as she sat leaning against a wooden almirah.
Numerous hurdles riddle the path to justice from the time a crime is committed against a Dalit until the court of law pronounces the verdict.
Even as reporting of crimes against Dalits grew by 26% over a decade to 2016, from 16.3 cases per 100,000 to 20.3 per 100,000, conviction rates remain low, IndiaSpend reported on April 4, 2018.
In the decade to 2016, across India, cognisable crimes against Dalits pending police investigation rose 99% from 8,380 cases in 2006 to 16,654 cases in 2016, according to the latest available data from the National Crime Records Bureau (NCRB).
In 2016, 89.6% of crimes against Dalits were awaiting trial, which was 2.2 percentage points higher than the 87.4% of crimes against the general population awaiting trial.
In Maharashtra--where Dalits constitute 11.2% of the state's population--crimes against Dalits rose 25%, from 10.6 per 100,000 Dalits in 2006 to 13.2 in 2016. Cases pending investigation rose 137% from 346 cases in 2006 to 821 in 2016. Cases pending trial were up 28% from 6,181 cases in 2006 to 7,913 cases in 2016, data show.
The 'wilful negligence' of public officials
On the evening of Monday, July 18, 2016, exactly 649 days ago, 15-year-old Swapnil sat down to eat his favourite food, a box of chicken momos. "That's when he received the call," said Shahaji. A man waiting outside their building asked Swapnil to come down with his phone and a flashdrive. When Swapnil came down, the man accused him of dating his sister. The man and his friends pushed Swapnil into a rickshaw and beat him up as it drove away.
The same evening, the family of his alleged girlfriend called Gauri and her sister-in-law to the Nerul police station. The girl's family (names withheld to protect the identity of the minor) said they did not accept their daughter's relationship with a lower caste boy, and demanded Swapnil immediately end the relationship, Katarnavare told IndiaSpend.
The police allegedly asked the Sonawanes to ensure the boy ends the relationship. "The lady police inspector told my wife--'Aap log bachhon ko school mein ladkiyon ko patane ke liye bhejte hain kya? (Do you send your child to school to pursue girls?) Why are you acting like characters in Sairat? Your story will also turn out the same way. There will be bloodshed in your home'," Shahaji alleged.
Sairat, a 2016 Marathi film, released three months before Swapnil's death, is the story of a romance between a low-caste boy and a rich upper caste girl, ending in the tragic murder of the young lovers by the girl's family, for 'family honour'.
After Swapnil returned from his first day of college, on Tuesday, July 19, 2016, Shahaji took him to the police station to file a complaint against the girl's family for protection, but a police officer refused to let him speak to the senior inspector. "My complaint against the girl's brother was not registered. If they had listened to us and taken us seriously, my son would have been alive today," the father alleged.
"Since the matter is now in court, we cannot comment on details," a senior police officer at the Navi Mumbai Nerul police station told IndiaSpend.
The delay in registering first information reports (FIRs) is the starting point of delayed justice for Dalits. It results in a delayed arrest of the perpetrators--which as per the then SC/ST Act rules should have been immediate. (The law had now been changed.) "The delay provides an opportunity for the accused to then use various means to stop registration of the case, or to influence the police officer in charge of the police station to dilute the information," said Sukhadeo Thorat, a professor emeritus at Jawaharlal Nehru University, and managing trustee of the New-Delhi based Indian Institute of Dalit Studies.
Apart from reflecting caste bias and corruption, FIRs are delayed because of the pressure on police to keep the reported crime rates low in their jurisdiction, as a high crime rate is not viewed favourably among police personnel, according to a 2014 National Human Rights Commission study. "Police views the Act as an obstacle to caste harmony," the report added.
In an assessment of the country-wide implementation of the SC/ST Act, the ministry of social justice described key problems in its implementation, including such behaviour as "wilful negligence of a public servant in discharging duties for registration of complaints, recording statement of witnesses, conducting investigation and filing charges", in its 2016 annual report.
While Swapnil and Shahaji were at the police station, Shahaji's daughter called to tell him of some men who were banging at their front door. When he rushed home, he found 15 to 20 men gathered outside their home. "They forcibly took me, Swapnil, my wife to the girl's house," Shahaji alleged. When they reached there, the girl's father hurled casteist slurs and slapped them, even kicking Swapnil in the groin.
"At that point, we ran out of the building. We tried to flee but the family's relatives and friends chased us. They were intent on thrashing him," Shahaji told IndiaSpend. On the street outside the building, the group brutally assaulted Shahaji, Gauri and his son, Shahaji alleged. The police station was 5 minutes away.
"They only left us when Swapnil was unconscious. We rushed Swapnil to the hospital but looking at his face, we knew he was gone," Shahaji said.
Swapnil, with a cracked skull and injuries to his chest and genitals, was dead when he arrived at the hospital, the Indian Express reported on July 21, 2016.
The girl's parents, brother and seven others were arrested on several charges, including kidnapping, murder, promoting enmity, rioting and unlawful assembly under the Indian Penal Code (IPC) and the Scheduled Castes and Scheduled Tribes (Prevention of Atrocities) Act.
If "the police had acted in time, there would not have been such an incident", the defence said, in a bail application for Vikram Thakur, a friend of the main accused, the girl's brother. The application also said that the post mortem reports imply the injuries pointed to an accidental, not homicidal death, and challenged that Swapnil had suffered a head injury. "There is no fatal injury. There were 15 to 20 persons who gave kicks and fist blows," the defence argued, insisting "there was no intention to kill".
The court denied Thakur and several other bail applications, based on the prosecution's evidence of Closed Circuit Television (CCTV) footage and eye-witness accounts, available court data show.
Many crimes against Dalits have more than one perpetrator
Like the attack on Swapnil, in 86%--or 45 of 52--Dalit atrocity cases in Maharashtra reported between 2013 and 2016, the crimes involved more than one perpetrator, found a 2017 study on the pattern of atrocities in the state by Thorat, the professor.
"The collective involvement of high caste members is much higher in cases of heinous crimes like physical assault and murder and destruction of property," Thorat wrote.
Thorat's study, which will soon be published in a book, is the first comprehensive analysis of caste-based access to justice in Maharashtra, based on 139 fact finding reports on cases between 2007 and 2016 by multiple civil society organisations. The study also included cases in Beed between 1990 and 2008.
Loopholes in the SC/SC Act
The disparity in access to justice is clear from the gap in the conviction rate between Dalits and the rest of the population.
Among cases of crimes against Dalits that do go to court, conviction rate for crimes against Dalits was 26% in 2016, a decline of two percentage points from 2006 (28%), even as conviction rate for general cognisable crimes increased 4 percentage points from 43% in 2006 to 47% in 2016.
While Maharashtra's conviction rate for crimes against Dalits nearly tripled since 2006 (4%) to 11% in 2016, it was still less than half of the the all-India average conviction rate (26%) for caste crimes. In other words, 89% of caste crimes in the state lead to acquittals in court. In contrast, Maharashtra's general conviction rate for all cognisable crimes, at 34.3%, in 2016, was three times as high as that for crimes against Dalits.
Concerned about the high acquittal rate in caste crimes countrywide, assuming these are the outcome of a misuse of the SC/ST (Prevention of Atrocities) Act, 1989, the Supreme Court on March 20, 2018, ruled there shall be no immediate arrest of a citizen or public servant for crimes under the Act, without prior permission. It also introduced the provision of anticipatory bail if the complaint was found to be malafide.
In early April 2018, the judgement triggered widespread violent protests by Dalit and Adivasi (tribal) organisations across the country, in Rajasthan, Uttar Pradesh, Bihar, Gujarat, Odisha, Punjab, and Madhya Pradesh, resulting in the death of 11 people. In response to the central government's plea to review the decision, the SC refused to stay its order, asserting that the amendment was meant to protect the rights of innocent people without affecting those of marginalised communities.
"The court's doublespeak on the matter of atrocities is breathtaking," wrote Alok Prasanna Kumar, a senior resident Fellow at Vidhi Centre for Legal Policy in New Delhi, an independent legal policy advisory group, in this April 2018 FirstPost editorial. "On the one hand, no effort is made to find out the impact of the law in improving the lives of Dalits or Adivasis…on the other, it is assumed that it is the law itself that is not promoting constitutional values of fraternity and integration of the society. It's quite obvious where the court's sympathies lie."
One of the reasons he points out is the lack of diversity in the judiciary. In the past eight years, no Dalit or Adivasi judge has been elevated to the Supreme Court, and none of the 24 high courts have a serving Dalit judge, The Print reported in April 2018. In lower courts, Dalits comprised less than 14% of judges, and tribals 12%, the Times of India reported in January 2018.
"If the problem with the Act was misuse, at the first stage, when produced before the magistrate court itself the police would file more false reports," said Thorat, adding that fewer chargesheets would be filed if cases were false.
Of 40,801 crimes against Dalits reported in 2016, police found 7.6% or 5,347 cases to be false, 2016 NCRB data show. Chargesheets were filed in 78% of cases.
Most of the cases of acquittals under the SC/ST law are because of procedural lapses such as delays in filing an FIR, and investigations done by incompetent authorities, rather than for substantive reasons such as witnesses turning hostile or lack of evidence, found a 2014 National Campaign on Dalits Human Rights (NCDHR) study on cases in five courts in Rajasthan, Andhra Pradesh, Tamil Nadu, Jharkhand, and Uttar Pradesh.
For example, after a crime and registration of an FIR, an officer at least of the rank of a Deputy Superintendent of Police must visit the site of the incident to assess the extent of the crime, number of victims, extent of damage to the property, and list of victims entitled for relief, for a report to the state government. "However very often, an officer of a lower rank is sent to investigate the site and this information is used by the defence lawyers to have the case dismissed," Thorat said.
"It appears to be highly discretionary as to whether the police and then the public prosecutor ensure that the correct sections of the law are applied while charges are framed in the Special Courts" under the SC/ST law for caste crimes, said the 2014 NCDHR study. For instance, when crimes are registered under the Act, sections involving milder punishment are applied more often than others, the study observed.
In several cases, police doesn't provide protection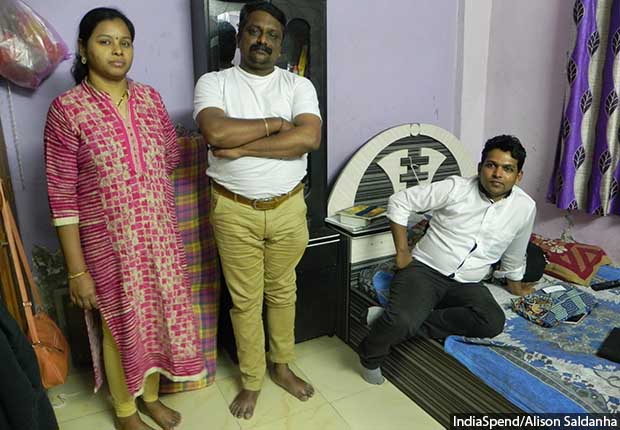 Gauri (left) and Shahaji (centre) Sonawane at their lawyer, Amit Katarnavare's (right) house in Railway colony, Juinagar, Navi Mumbai. The Sonawanes spend most of their time here preparing for the trial of Swapnil's death.
The rules of the SC/ST Act mandate the police protect the witnesses in the case and provide immediate relief to the victims. Yet, in 66% of 52 cases in Maharashtra, victims were initially not provided with police protection, according to Thorat's analysis of civil society reports.
In the Sonawanes' case, the family has 24-hour police protection. Katarnavare, their lawyer, also filed for police protection, first in September 2017 and later in November 2017, after the second attack on him. For three months, he did not hear back. He had also applied for a license to bear arms, but did not hear back from the Navi Mumbai Police
"We spend most of our time here (at Katarnavare's house) so that he also gets protection," Shahaji said, of the time when their lawyer did not have police protection. Katarnavare quit his job at the railways, and said he doesn't move around outside his home without company or, "witnesses", as he calls them.
On March 16, 2018, four months after the second attack and a few days after IndiaSpend visited the family at the lawyer's house, the Thane sessions court directed the Navi Mumbai police to provide protection to Katarnavare.
"We decide cases for police protection on the basis of merit. We assess the threat perception and grant the applicant an answer. We had initially denied the lawyer's application but now basis the court's order we have given protection," a senior police official told IndiaSpend, on the condition of anonymity.
'Exclusive courts' overburdened by non caste crimes, delay caste-related crimes
For speedy trials for crimes against Dalits, the SC/ST Act proposes setting up special courts. "It is the duty of the State Government to establish adequate number of Courts to ensure that cases under the Act are disposed of within a period of two months, as far as possible," the 2014 amendment to the law stated.
The chargesheet in the Sonawane case was filed on September 13, 2016, 56 days after the murder. If a trial is to be completed within two months from the date of filing the charge sheet, according to the 2015 amendments to the SC/ST Act, the Thane special court is already past its deadline in this case.
In fact, more than 15 months later, the Sonawanes' case is about to begin stage two, where the accused will be plead "guilty" or "not guilty" to charges framed against them in 2016. Thereafter, the prosecution's victims and witnesses will be examined, statements of the accused heard, defence witnesses cross-examined, and final arguments heard before the judge pronounces a verdict that may be then challenged in the High Court.
Currently, 195 exclusive special courts have been set up in 14 states covering 27% of 716 districts across India, according to the 2016 annual report of the ministry of social welfare and justice. In 2011, the Maharashtra government had promised six such courts. Today, of the 35 districts in Maharashtra, special courts had been set up in three--or 8%--of districts at Thane, Aurangabad and Nagpur.
These courts appear to be buckling under the weight of trying cases unrelated to caste crimes, the 2014 NCDHR report found. "Exclusive Special Courts are not functioning as exclusive courts in reality. This seems to be occurring regardless of the high number of atrocity cases pending trial before the Exclusive Special Courts."
"The most significant link between prolonged trials and obstructions to justice is that, in the interim, pressure can be exerted on the victims and witnesses to recant their statements as to the atrocity," observed the NCDHR report.
Counter cases filed against victims worsen the situation as often the victims are too poor to fight simultaneous cases leading to further delays, Thorat said.
The prolonged wait for the start of a trial also affects the victims and witnesses' ability to recall incidents accurately, thus compromising the case, Thorat pointed out. "By the time of the hearing, there is a difference between what is said in the FIR and what is said in the chargesheet and this is used to the advantage of the defence," he added.
Fearing this, the Sonawanes' lawyers have requested the family to refrain from retelling the crime to unknown people to prevent their words from being twisted in court at the time of the hearing.
The Sonawanes also refused to testify in court unless the proceedings were recorded on camera. On July 8, 2017, 355 days after Swapnil's murder, the Thane district and sessions court, designated a special court, ordered all further hearings in the case to be on camera. As of March 2018, the court had yet to acquire these cameras, court documents show.
Since the first hearing in the case on November 25, 2016, the 10 accused, including the girl's parents and her brother, have posted several bail applications, available data from Thane Sessions court show.
Days after the crime, the girl had reportedly blamed her father for the incident, the Indian Express reported on July 26, 2016. "She said that the rest of the family simply followed his lead," the report said, adding that the minor's education had also been affected since she moved to a Children's Home.
A month later, a juvenile magistrate found Swapnil's reported girlfriend innocent in the crime, and released her from the Bhiwandi Children's Home. She now lives with her uncle's family, the Indian Express reported on August 23, 2016.
"The girl has resumed her education and appeared for her 12th state board exams recently. She doesn't talk much about the incident and we don't either, the focus is on rehabilitation and helping her move forward in a positive way," Vijay Doiphode, chairman of Mumbai's child welfare committee, told IndiaSpend. Until recently, Doiphode was a senior social worker at the Tata Institute of Social Sciences working on the girl's case. "She goes to visit her family in jail on and off," he added.
The two police officers--assistant inspector Yogesh Mane and sub-inspector Sonali Rajguru--who had been suspended for dereliction of duty and for passing the casteist "Sairat" remark at the Sonawanes the night before Swapnil's death, resumed duty three months after Swapnil's death, a police officer at Nerul police station said.
About sixteen months later, on November 21, 2017, the girl's mother, and a friend, among the 10 persons the Navi Mumbai police arrested for the murder, were granted bail, the Indian Express reported on December 22, 2017. The court had previously rejected the bail application of the girl's mother on August 2, 2017, observing "the prosecution has successfully shown" that she was "a member of unlawful assembly who killed Swapnil Sonawane", court documents show.
Eight of the accused still remain in jail.
The next court hearing is scheduled for May 8, 2018. So far, the Sonawanes have attended 33 hearings, though the trial is yet to begin, court data show. "Every month, they give us a date and then for some reason or the other, the hearing is adjourned. This has been going on for months on end," Shahaji said.
'Don't they deserve justice too?'
Sakshi, Swapnil's sister, is set to start college this year. "She doesn't talk much anymore. We thought about changing her school but her friends have been very supportive so we decided not to," Gauri, her mother, said. "She misses her brother but she doesn't say anything. She fears that if she talks about her pain, it will remind us of our own pain," she said wistfully. "I want to see justice for my son."
The long-running case has not deterred the Sonawanes but they said it has left them isolated. "Since then (the day of the murder) our neighbours don't talk to us anymore. Nobody has come forward to help us, in fact they have made things more difficult for me at work. But it doesn't matter, we just want justice for our son," Shahaji said, shrugging his shoulders.
"This is all we care about. We died that day along with Swapnil. Now what happens to us doesn't matter. We just want justice," he repeated, as if in prayer.
Their lawyer cited the example of another case in Maharashtra, and said he wishes Swapnil's case proceeds in the same way, especially as there is a special law for the protection of Dalits.
On July 13, 2016, six days before the murder of Swapnil Sonawane, a 15-year-old girl was found brutally raped and murdered in a field in Kopardi village in Ahmednagar, less than 300 km away from Navi Mumbai. The crime, perpetrated by three Dalit men of the Mahar sub-caste, horrified the Maratha community the girl belonged to, and sparked state-wide protests, demanding speedy justice, an amendment to the SC/ST Act and reservations for the Maratha community in educational institutions and government jobs. Two weeks later, Maharashtra chief minister Devendra Fadnavis visited the family of the victim.
On November 18, 2017, after 15 months, the Ahmednagar sessions court found the three Dalit men guilty, and within 10 days, on November 29, 2017, sentenced them to death.
"Those men deserved the strictest punishment for the heinous crime they committed--and justice should be delivered so quickly," said Katarnavare, their lawyer.
"We're only asking why is there a difference in the way the police, administration and the courts handles these cases? There is no question that someone has killed the Sonawanes' son. Don't they deserve justice too?" he asked.
This is the second of a two-part series. You can read the first part here.
(Saldanha is an assistant editor with IndiaSpend.)
We welcome feedback. Please write to respond@indiaspend.org. We reserve the right to edit responses for language and grammar.