A Census Of The Physically Challenged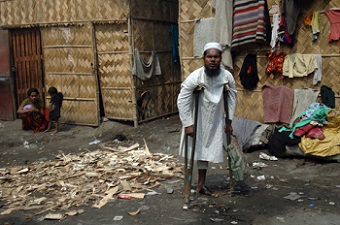 The world observed December 3 as the International Day of People with Disability. Around 15% of the world's population, estimated around 1 billion, are living with disability.
Census 2011 did not release data on the disabled population in India. The disability population is difficult to enumerate in India since people often hide their disabilities because of social stigma. According to the Ministry of Social Justice, as of 2001, 21 million people are said to be suffering from some form of disability in India. Incidentally, the total population between Census 2001 and 2011 increased by 180 million to 1.2 billion.
Odisha has the highest disabled people - 28 per 1,000 people followed by Tamil Nadu. Maharashtra has the lowest disability rate of 16 people per 1,000 populations while the All-India figure stands at 21.
The following graph gives an idea of the disabilities prevalent across India:
Visual impairment and locomotor disability have the highest prevalence of 10 million and 6 million, respectively, in India followed by mental disability (2.2 million people) and hearing disability.
Following are a few data points worth highlighting;
* Arunachal Pradesh has the highest prevalence of visually impaired people with 693 per 1,000 people with disability while Goa has the lowest with 279.
* Maharashtra has the highest locomotor disability with 363 people per 1,000 disabled people while Arunachal is the lowest with 104.
* Goa tops in mental disability with 227 people per 1,000 disabled people while Arunachal is the lowest with 38.
* Nagaland has the highest number of people with speech disability with 166 per 1,000 disabled people while Rajasthan is the lowest with 52.
* Nagaland also has the highest hearing disabled people with 198 people per 1,000 disabled people while Delhi has the lowest with 37.