98 Deaths In Police Custody Every Year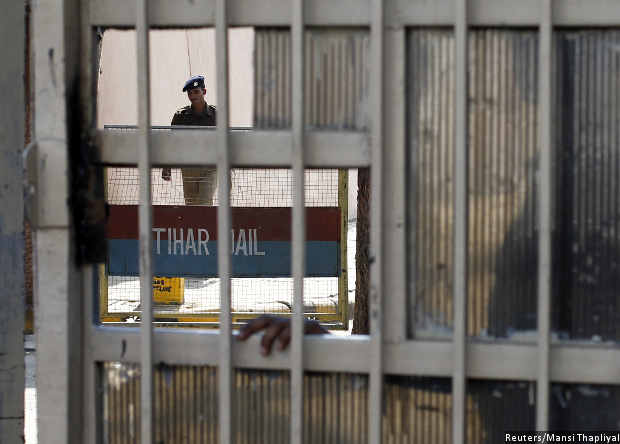 As many as 1,275 people died in police custody in India between 2001 and 2013 but less than 50% of custodial deaths led to a case being registered, data from the National Crime Records Bureau (NCRB) show.
The deaths in judicial custody—or in prisons—reported by the National Human Rights Commission (NHRC) are much higher.
About 12,727 people are reported to have died in judicial custody between 2001 and 2010.
The data for the later years (2013 onwards) are being compiled, according to the Home Minister's reply to a Lok Sabha question.
Since the turn of the century, the least deaths were reported in 2010 (70), while the most were reported in 2005 (128 deaths). On an average, 98 people die in police custody every year in India.
Source: National Crime Records Bureau
The data do not reflect the "true picture", according to Torture in India 2011, a report by the Asian Centre for Human Rights (ACHR), as they do not include deaths in the custody of the armed forces. The report also cites instances where custodial deaths were not reported to or recorded by the NHRC.
Maharashtra, Andhra Pradesh and Gujarat had the most custodial deaths during 2001-2013 while Bihar reported only six such cases.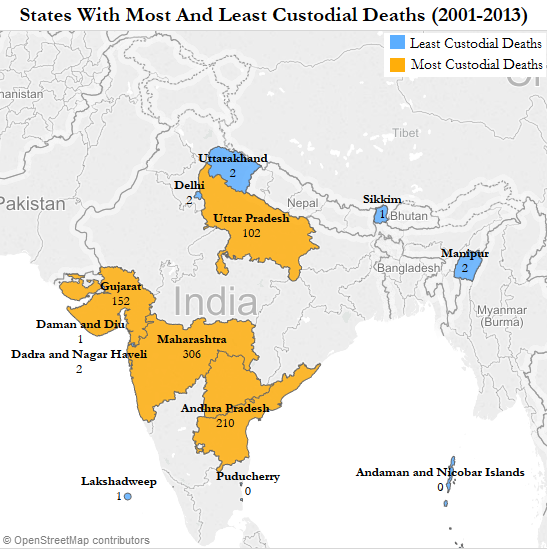 Source: National Crime Records Bureau
Among the large states, Haryana filed a case for every custodial death during the period. The states of Manipur, Jharkhand and Bihar also registered cases for 100% of custodial deaths, but they had reported only two, three and six deaths, respectively.
In comparison, Maharashtra registered cases for only 11.4% of the custodial deaths. It is, however, possible that multiple deaths were clubbed under one case.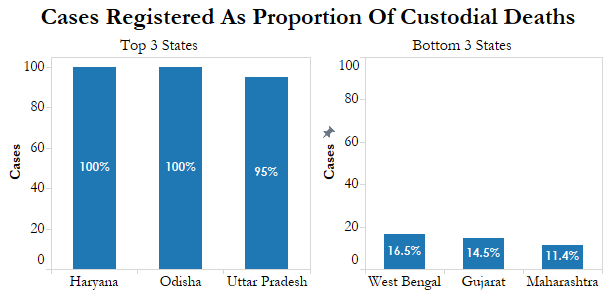 Source: National Crime Records Bureau
Only two policemen were convicted for every 100 deaths in police custody -- nationally, only 26 police officers have been convicted for custodial deaths.
The possibility of police officers being convicted dwindles at the chargesheeting stage itself: 34 policemen are chargesheeted for every 100 cases registered, and 12% of the chargesheeted policemen are convicted.
In Maharashtra, only 14% of cases saw policemen being chargesheeted, and none was convicted. In Uttar Pradesh, 71 policemen were chargesheeted and 17 were convicted. In Chhattisgarh, 80% of chargesheeted policemen were convicted.
The Prevention of Torture Bill, passed by the Lok Sabha in 2010, has now lapsed. It was introduced in order to ratify the United Nations Convention Against Torture.
While the Bill had many problems, including a six-month time limit on complaints and a narrow definition of torture, the opposition had called for its early passage.
(Vipra, formerly a legislative assistant to a Member of Parliament under the LAMP fellowship, will be a Master of Public Policy student at the University of Oxford in 2016-17.)
We welcome feedback. Please write to respond@indiaspend.org. We reserve the right to edit responses for language and grammar.
__________________________________________________________________
Liked this story? Indiaspend.org is a non-profit, and we depend on readers like you to drive our public-interest journalism efforts. Donate Rs 500; Rs 1,000, Rs 2,000.