900 Million Indians Live In 2 Rooms Or Less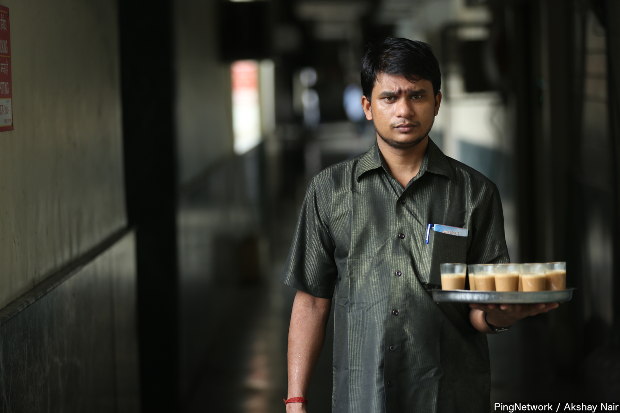 Degal Srimangar Sao, 26, or Vijay as he calls himself in Mumbai, delivers tea to 30 offices on his floor in an office block, six times a day. While his family of seven lives in a three-room house in his home village in the eastern tribal state of Jharkhand, Vijay sleeps--as he has been for a decade--in a corridor of the office block. Nearly 75% of Indian households live in two rooms or less; that includes the homeless.
For 10 years, Degal Srimangar Sao, 26, has been sleeping in the corridor of a central Mumbai commercial complex, where he delivers tea every two hours to busy corporate employees.
Vijay, as he prefers to be called in Mumbai, is from Kharkatto, a village of 300 homes and 1,765 people—nearly 1,800 km northeast of Mumbai—in Hazaribagh district in the Gangetic-plains Hindi-heartland state of Jharkhand. His nine-member extended family—seven without Vijay and elder brother Puran, who also lives in a Mumbai office corridor—live in a three-room house.
Like Vijay, about 900 million Indians, or nearly 75% of India's households—with an average family size of five— live in two rooms or less, according to the latest data released by the government in June 2016.
Of 900 million people living in two rooms or less, 630 million, or more than half of all households, live in rural areas, with 262 million, or 20%, in urban. There does not appear to be a correlation between income and the size of homes, with some of India's poorer states boasting larger homes than richer states and vice versa.
No more than 106 million urban households, or 9% of all Indian households, live in homes with more than three rooms. About 185 million Indians in rural areas, or 15% of all Indian households, live in houses with three or more rooms.
The data on average size of rooms is not available with the Census of India.
Kerala has India's largest homes
The people of Kerala—India's 7th-richest by per capita income—live in India's largest homes.
As many as 79% of rural households and 84% of the urban population in Kerala live in houses with more than three rooms, data from the 2014 baseline survey for Sample Registration System of the Census of India show.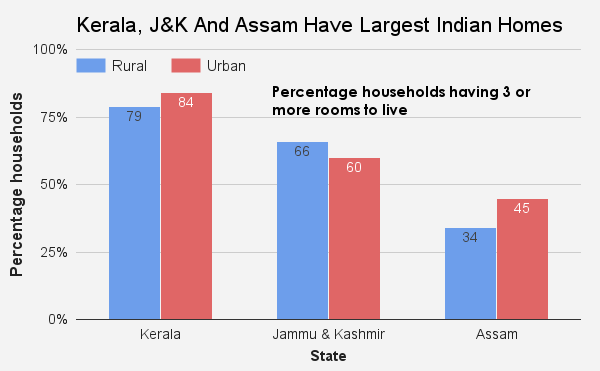 Source: Baseline Survey for Sample Registration Survey, Census of India
Kerala is followed by J&K and Assam—21st and 27th in terms of per capita income—with 66% and 34% rural, and 60% and 45% of urban population, respectively, living in, relatively, larger houses.
Jharkhand, Telangana and Andhra Pradesh are the only states among the 23 big states for which the data has been released where more than half of all families live in two-room houses, both in rural and urban areas.
Source: Baseline Survey for Sample Registration Survey, Census of India
Vijay stays away from his family, wife, children and parents, except for an annual two-week visit home. Seven members of his family stay in a three-room kutcha house (mud house) in their village, which he detests.
He is not sure whether he is really 'content' in Mumbai or with his home. "Pasand ka sawaal nahi hai saab; karna padta hai (There is no question of me liking it, I have to do it)," said Vijay.
Source: Baseline Survey for Sample Registration Survey, Census of India; figures in %
In Tamil Nadu, Bihar and West Bengal, 48%, 44% and 43% of the population, respectively, lives in one room or no room, which could mean they are homeless.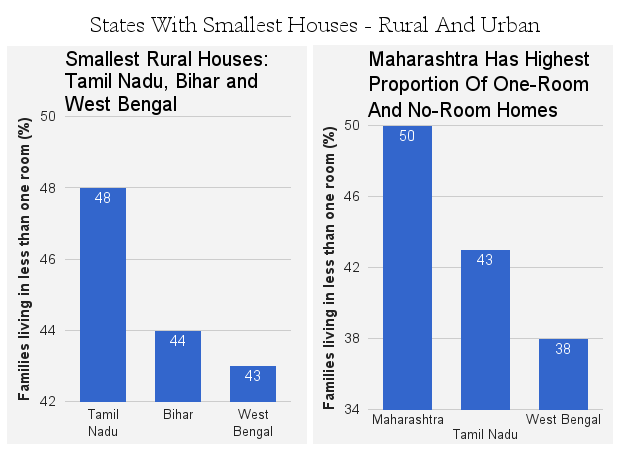 Source: Baseline Survey for Sample Registration Survey, Census of India
Last year, along with his brother Puran, who also works in Mumbai, Vijay started building a 'pucca' (brick-cement-mortar) house for his family in his Jharkhand village; two rooms are complete.
Source: Baseline Survey for Sample Registration Survey, Census of India; figures in %
To complete the renovation of his mud-house, Vijay needs to keep earning money and holding down expenses. "Mumbai mein raho to har mahina paisa bhej sakte hai, aur kharcha bahut kam ho jata hai (If you stay in Mumbai, you can send money home every month and expenses are low)."
Urban Maharashtra has the smallest houses
Of India's states, Maharashtra has the highest proportion of urban population that is homeless or lives in one room: Half.
Maharashtra also has the maximum proportion of "urban slum units" (blocks of population living in slums), with 53% of all homes in slums, largely due to the slums that proliferate in the Mumbai metropolitan region, home to about 19 million people.
With 43% of its urban population living in one room or homeless, Tamil Nadu follows Maharashtra; West Bengal is next with 38% homeless or in one-room homes.
Vijay is one of those who represents Maharashtra's cramped urban conditions: He lives in the corridors of a commercial building to maximise his earning and minimise his expenses, as many of India's 360 million migrants [1] do. In June 2016, IndiaSpend explored how this economic imperative played out with migrants forced out of their traditional homes.
Although Vijay's village is not short of water and his father ploughs the land every monsoon and regularly reaps a paddy crop, it isn't enough for the family. So, Vijay lives in Mumbai, sleeps in a corridor and, slowly, rebuilds the family home.
"In two years, my five-room pucca (brick-cement-mortar) home will be built," said Vijay. "My father will be able to sleep in his own room, for the first time."
The Sample Registration System
In addition to a decadal census, when it visits every home, hamlet, village, town and city, the Census also carries out an annual Sample Registration System (SRS), with a pre-decided sample that represents the population at large. 1964-65. The SRS, conducted since 1964-65, mainly records the birth rate, death rate, infant mortality and fertility rates to keep a running record of developments.
The sample used for these surveys is updated every ten years (this period may change marginally), and was last updated in 2014 and is called the Baseline Survey, which asks chosen households for details of their life, such as household size and access to water and sanitation.
The baseline survey of 2014 sampled 8,861 'units' (meaning one "census enumeration bock", typically a village in rural areas or a mohalla, or neighbourgood, in urban areas) with about 2,000 people in rural areas and 600 to 800 in urban areas, and covered 1.7 million households and a population of about eight million. [2]
Notes
[1] About 30% of Indian population migrates every year for various reasons, according to the 2001 Census data on migration. We have considered the same proportion for 2011, as the latest data on migration has not been released.
[2] From an email communication with the office of the Registrar General Of India
(Waghmare is an analyst with IndiaSpend.)
We welcome feedback. Please write to respond@indiaspend.org. We reserve the right to edit responses for language and grammar.
__________________________________________________________________
"Liked this story? Indiaspend.org is a non-profit, and we depend on readers like you to drive our public-interest journalism efforts. Donate Rs 500; Rs 1,000, Rs 2,000."