83% Of Puducherry MLAs Are Crorepatis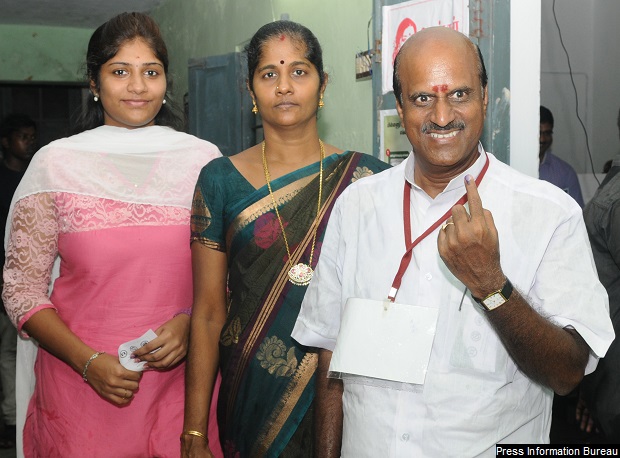 A voter after casting his vote at a polling booth during the Puducherry assembly elections on May 16, 2016.
As many as 428 (53%) newly elected legislators in five states (Assam, Kerala, Puducherry, Tamil Nadu and West Bengal) are crorepatis, according to data analysed by Association for Democratic Reforms (ADR), a New Delhi-based think tank, which analysed the affidavits of 812 legislators.
Puducherry, with 1.2 million people, has the largest proportion of crorepati MLAs - 25 of 30 analysed or 83%, followed by Tamil Nadu 76% (170 of 223), Assam 57% (72 of 126), Kerala 44% (61 of 140) and West Bengal 34% (100 of 293).
Source:Association for Democratic Reforms
Tamil Nadu's sixth-time Chief Minister J. Jayalalithaa is the richest across five states, with assets valued at more than Rs 113 crore.
Mamata Banerjee who will be sworn-in as West Bengal Chief Minister for the second term on May 27, has assets valued at Rs 30 lakh, the lowest among new CMs.
Congress MLA Vasanthakumar H from Nanguneri constituency in Tamil Nadu is the richest MLA across the five states with assets valued at more than Rs 337 crore.
Vasanthakumar is followed by Dravida Munnetra Kazhagam's Mohan M.K (Rs 170 crore) from Tamil Nadu and Puducherry's Ashok Anand with assets worth Rs 124 crore.
Source:Association for Democratic Reforms
Puducherry MLAs are the richest, with average assets valued at Rs 13.45 crore, followed by Tamil Nadu (Rs 8.21 crore), Kerala (Rs 2.82 crore), Assam (Rs 2.45 crore) and West Bengal (Rs 1.46 crore).
Of 812 MLAs whose affidavits were analysed across these five states, 186 MLAs (23%) have never filed income-tax returns.
Kerala has the most MLAs (60% or 84 of 140 probed) with no tax returns, followed by West Bengal 20% (58 of 293 analysed), Tamil Nadu 14% (32 of 223 analysed), Puducherry 10% (3 of 30 analysed) and Assam 7% (9 of 126 analysed).
Source:Association for Democratic Reforms
As many as 49 MLAs have not submitted permanent account number (PAN). Kerala led with 34, followed by West Bengal (8), Tamil Nadu (6) and Assam (1).
(Mallapur is an analyst with IndiaSpend.)
We welcome feedback. Please write to respond@indiaspend.org. We reserve the right to edit responses for language and grammar.
__________________________________________________________________
Liked this story? Indiaspend.org is a non-profit, and we depend on readers like you to drive our public-interest journalism efforts. Donate Rs 500; Rs 1,000, Rs 2,000.