81 Towns/Cities Added To India's Earthquake-Prone List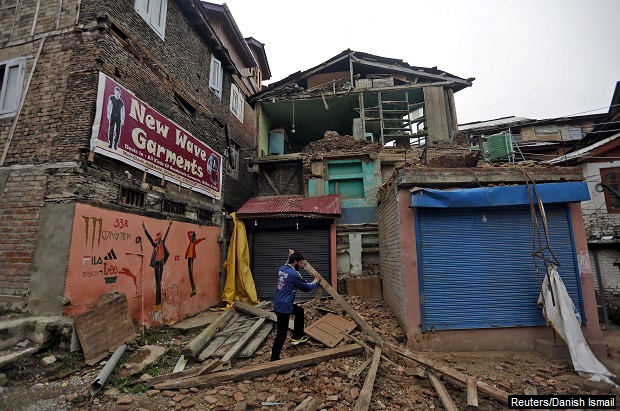 Eight new cities and towns have been added to a government list of urban areas vulnerable to earthquakes of "very severe intensity", even as tremblor ripped through India's northeast and the north this week.
In all, 81 new towns and cities were added to a list of areas prone to earthquakes, bringing the total to 107, according to government data released on March 16, 2016.
In 2002, only Guwahati and Srinagar were marked in what is called a "very severe intensity zone", or zone V, the highest-risk seismic zone. The recent additions are Jorhat, Sadiya and Tezpur in Assam, Bhuj in Gujarat, Darbhanga in Bihar, Imphal in Manipur, Kohima in Nagaland and Mandi in Himachal. The entire north-east region lies in sesmic zone V.
Source: Lok Sabha/National Disaster Management Authority; Note: 11 cities from the National Disaster Management Authority list did not figure in Lok Sabha reply dated March 16, 2016.
The panic spread by this week's earthquakes is a continuing warning that India has vast areas of vulnerability.
#Earthquake: 6.9 magnitude quake hits #Myanmar, no immediate reports of damage | https://t.co/WhH0fZL0As | pic.twitter.com/reojniNHAR

— The Indian Express (@IndianExpress) April 13, 2016
#Earthquake aftermath: Three admitted in hospital in Siliguri (WB) after sustaining injuries during panic caused. pic.twitter.com/WKTI6dbfub

— ANI (@ANI_news) April 13, 2016
#WATCH:People in large numbers in Shillong vacated their residences in wake of tremors felt in city(earlier visuals)https://t.co/VMzQEByWqe

— ANI (@ANI_news) April 13, 2016
Nearly 60% of the sub-continental landmass is vulnerable to earthquakes, IndiaSpend had reported in 2015, noting 38 earthquake prone cities (with over half a million population in seismic zones III, IV and V), based on 2002 data from the National Disaster Management Authority.
A big Himalayan earthquake--more than 500 years overdue--is expected, although no one can predict when this might be, IndiaSpend had reported.
Why swathes of India are on particularly shaky ground
The Himalayas and north India are on particularly shaky ground. Sometime in the geological past, before humans, India broke off from an ancient supercontinent called Gondwana (a name still used for what is now Chhattisgarh).
The Indian and Eurasian plates--as sections of the earth's crust that bear the continents are called-- have been in conflict for 50 million years at this collision zone, with the Indian plate diving, northward, under the Eurasian plate. This is why the Himalayas, including Mount Everest are still growing.
As many as 392 earthquakes of magnitude greater than three were located in and around India in 2015, the seismological network operated by Earth System Science Organisation-National Centre for Seismology reported, according to a statement given to the Lok Sabha (lower house of Parliament) by the Minister of Earth Sciences, on December 2, 2015.
Of these, 136 earthquakes occurred in India, 114 in Zone-V, 14 in Zone-IV, five in Zone-III and three in Zone-II, respectively.
Intensity Of Earthquakes In Different Zones

Seismic Zone

Intensity on Modified Mercalli scale

Zone II (Low intensity zone)

VI (or less)

Zone III (Moderate intensity zone)

VII

Zone IV (Severe intensity zone)

VIII

Zone V (Very severe intensity zone)

IX (and above)
Source: Lok Sabha; Note:Modified Mercalli intensity measures the impact of earthquakes on the surface of the earth.
"An analysis of the past 30 years of earthquake data suggests that there is no increase or decrease in seismicity rate,"the government said in its Lok Sabha reply.
A massive earthquake of magnitude 7.9 jolted Nepal in April 2015, killing more than 8,000 people and injuring 20,000. The tremblor was felt across many parts of India, killing 102 people and damaging about 13,000 houses.
India's earthquakes since Independence; risks, history serve warning
The only serious earthquake that modern India remembers is the temblor that killed about 20,000 in Gujarat in 2001.
The 2004 tsunami, which resulted from the third-most most severe quake ever recorded, 9.3 on the Richter scale, occurred when the Indian plate slid with greater violence than it normally does under the neighbouring Burma plate, upon which rest the Andaman and Nicobar islands. It caused a 100-km-long rupture in the crust, thrusting the seafloor upwards and pushing up masses of water, setting off tsunamis that killed 230,000 people in 14 countries.
No Indian metropolis has witnessed a serious earthquake, although Delhi lies in high-risk seismic zone 4. Mumbai, Chennai and Kolkata lie in zone 3.
Some lessons come from Bihar in 1934 and Assam in 1950.
Although its epicentre was 10 km south of Mount Everest, the Bihar earthquake of 1934 was felt from Mumbai to Lhasa, flattening almost all major buildings in many Bihar districts and damaging many in Calcutta. At 8.4 on the Richter scale, it was pretty severe, killing more than 8,100 (Mahatma Gandhi said it was punishment for the sin of untouchability).
The 1950 Assam earthquake, may have geologically set the stage for a really big one in the Himalayas, according to geologists.
(You can check the Indian Meteorological Department's website for the latest earthquake reports.)
(Mallapur is an analyst with IndiaSpend.)
We welcome feedback. Please write to respond@indiaspend.org. We reserve the right to edit responses for language and grammar.
__________________________________________________________________
Liked this story? Indiaspend.org is a non-profit, and we depend on readers like you to drive our public-interest journalism efforts. Donate Rs 500; Rs 1,000, Rs 2,000.