8 Promises Modi Made On I-Day 2015: Some Met, Some Works-In-Progress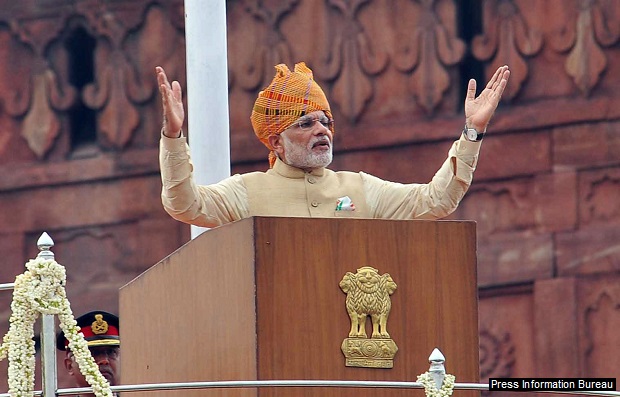 As Prime Minister Narendra Modi is set to deliver his third Independence Day speech on August 15, he is inviting ideas from citizens on issues he should speak on.
Share your ideas for the PM's speech on 15th August. https://t.co/pRVINYuEJo

via NMApp

— PMO India (@PMOIndia) August 11, 2016
Speeding up financial inclusion, toilets in every school, reducing LPG subsidy and electrification of villages were some of the key promises made by Modi during his second Independence Day Speech on August 15, 2015. FactChecker reviewed the implementation of the key announcements he made, as we did previously for his 2014 speech.
1. Pradhan Mantri Jan Dhan Yojana: More than 228 million bank accounts opened; 24% have no money.
What Modi said: "I had announced "Pradhan Mantri Jan Dhan Yojna" on the last 15th of August. Even after 60 years of Independence; even when the banks were nationalised for the poor, 40% people of the country were without a bank account till the last 15th of August; the doors of the banks were not open for the poor. My countrymen, today I can proudly say that we achieved that target within the time frame. 17 crore people opened their bank accounts under Pradhan Mantri Jan Dhan Yojna. With a view to extend opportunities to the poor, we had said that these bank accounts could be opened with zero balance."
What happened: As many as 228.1 million new bank accounts have been opened as on August 3, 2016, an increase of 31% from 174 million in 2015--24% of these accounts ("zero-balance accounts", in officialese) had no money, a reduction of 22% from 2015. The balance in the accounts increased 85% over one year, from Rs 22,033 crore to Rs 40,795 crore.
The previous United Progressive Alliance (UPA) government had opened more than 50 million "no-frills" accounts--as they called them--for the poor over five years, but most were never used, IndiaSpend reported in October 2014.
2. Swacch Vidyalaya Abhiyan: Claim of 100% separate toilets for boys & girls in all schools not true
What Modi said: "It just came into my heart and I had announced that we would build separate toilets for boys and girls in all of our schools till the next 15th August. But later on, when we started work, the "Team India" figured out its responsibilities, we realised that there were 2 lakh and 62 thousand such schools where more than 4.25 lakh toilets were required to be built. I compliment all the state governments, government officers of the districts, policy framers and implementers of educational institutions, who were involved in realising this achievement."
What happened: A nationwide FactChecker check revealed the claim that 100% of India's schools was not true. Random checks across seven states revealed widespread infirmities, such as:
Many schools, from urban New Delhi to backward, often remote, areas, such as Chatra district (Jharkhand) and Sedam Taluka, Gulbarga district (Karnataka), did not have toilets. The specific claim that every school now has separate toilets for boys and girls in all schools was not true.

Existing toilets in schools in areas such as Delhi, Sitapur (Uttar Pradesh), Tumkur (Karnataka), Dantewada (Chhattisgarh) and Wanaparthy (Telangana)–either already built or new–do not have water or are not maintained. That makes them useless. Without water, and after a few students used them, they became unusable.

Newly built toilets in Vidisha (Madhya Pradesh Chief Minister Shivraj Chauhan's constituency), Chatra (Jharkhand) and Baramulla (Jammu & Kashmir) could not be used because in the rush to build them, no drainage was constructed. In Baramulla, a toilet was constructed where there was no school. The school had been moved a year ago, but the toilet construction went ahead, so it could be shown as built.

The campaign aimed at constructing 417,000 toilets in 262,000 schools, or 1.5 toilets per school. This meant a maximum of two toilets in some schools, one in others. One or two toilets per school is not quite enough (For instance, in Pillangkatta, Ri Bhoi district, Meghalaya, two government schools, each with more than 250 students, had just one toilet each; there were no separate toilets for boys and girls, and there was no water)

Educating children in using toilets has proved to be as important as building them. The construction of toilets has been so rushed that various stakeholders do not appear to have had time to understand the importance of the mission and implement it in full measure.
Toilets were either in very bad condition or were unusable, according to another investigation conducted by ABP News in May 2016 across several states.
In June 2016, five girls in BJP-ruled Madhya Pradesh's Satna district left a state-run school in the absence of a proper toilet.
3. Give it Up: 10.4 million have given up LPG subsidy voluntarily, 1.76 million women get free gas connections
What Modi said: "My brothers and sisters, I had made a request to my countrymen that if you are economically sound, then why do you avail subsidy on LPG? Why do you need this paltry amount of rupees five to seven hundred which you usually spend on petty snacks? I had just started giving message about this, I didn't launch any campaign as yet, because I have faith in "Team India'. As the message spreads the result would come, but today I can tell with pride that ever-since I had launched movement of "give it up" subsidy of LPG gas cylinder, till date 20 lakh (2 million) consumers have already given it up."
What happened: As many as 10.4 million people gave up their LPG subsidy voluntarily, according to recent official data from the ministry of oil and petroleum. The Centre launched "Pradhan Mantri Ujjwala Yojana" to provide LPG connections to 50 million women from families who live below the poverty line over a period of three years, starting from financial year 2016-17.
As many as 1.76 million connections have been given under the programme as on 25 July 2016, according to data tabled in parliament.
4. LPG subsidy saving 10% of claim made by govt: Rs 2,000 crore not Rs 20,000 crore, says auditor
What Modi said: "Countless efforts of several types have to be made to wipe out the corruption in such a vast country, and that can be done. If I had said that I would cut subsidy worth Rs 15 thousand cores on LPG gas, then I can say that hundreds of articles would have been written to glorify my government. They can say that this man has the power and strength to discontinue the subsidy worth Rs 15 thousand cores on LPG gas."
In May 2016, oil minister Dharmendra Pradhan claimed that this amount was more than Rs 21,000 crore in the last two financial years.
What happened: A recent report by the Comptroller and Auditor General (CAG), the government's auditor, tabled in parliament during the current session, found that the saving from those who gave up the LPG subsidy added up to less than Rs 2,000 crore, The Hindu reported on July 20, 2016.
The audit also found systemic problems with cash transfers--called Pahal--of LPG subsidy, including diversion of domestic subsidy for commercial use and commercial LPG being used in homes.
The subsidy discrepancy mostly stems from a fall in the global price of LPG imported, the CAG report said.
5. Electricity to villages: Govt says 98.1% electrified, but electricity supply suspect
What Modi said: "Brothers and sisters, in the coming days I wish to concentrate on an issue. Even today, there are about eighteen thousand, five hundred such villages in our country where electric wires and poles are yet to reach. Eighteen thousand five hundred villages are deprived of the sun of independence, deprived of the light of independence, they are deprived of the rays of development of independence. But it is now the solemn pledge of the "Team India" of 1.25 billion countrymen that the target of providing electric poles, electric wires and electricity to these 18,500 villages would be achieved within the next 1000 days."
What happened: As many as 587,569 of 597,464 villages (98.1%) in India were "electrified" as on June 30, 2016, which means only 9,895 do not have electricity, according to a recent report by the Central Electricity Authority (CEA).
A village being declared "electrified" does not mean a household will get electricity, FactChecker reported in November 2015.
The ministry of power defines a village (from 2004-05) as electrified if:
Basic power infrastructure, such as a transformer and distribution lines, is provided in the inhabited locality as well as associated dalit bastis(Dalit settlements, which are often excluded from village facilities), where they exist.

Electricity is provided to public places such as schools, panchayat (village council) offices, health centres, dispensaries and community centres.

The number of households electrified should be at least 10% of the total number of households in the village.
"The first threshold for electrification should be at least 50% of homes in a coverage area (i.e., the majority)," according to Rahul Tongia, Fellow at Brookings Institution, and Advisor to the Smart Grid Task Force of the central government.
Actual electricity is important–and that there should be no power cuts–to achieve meaningful electrification, Tongia wrote in this column in The Hindu on October 7, 2014.
In Uttar Pradesh, for instance, three of four households get electricity for less than 12 hours a day. In Jharkhand, only 2% of electrified households get electricity for 20 or more hours; 81% do not get four or more hours in the evenings, while 60% face three or more days of total blackouts every month, IndiaSpend reported in October 2015.
An investigation of rural electrification data by The Hindu found that the number of villages said to be electrified in the last year is exaggerated. Their report revealed several discrepancies such as:
Many villages classified as un-electrified are counted as electrified on an app "GARV" (launched by the power ministry to track electrification).

Uninhabited villages have been marked as electrified. Villages like Panalomali, Kusadangar and Patyetapali in Odisha and Sunwara in Madhya Pradesh — all counted as electrified villages — have no people residing there.
6. Social security: 127 million people enrolled for three major programmes
What Modi said: "We have laid great stress upon social security and also the welfare of the poor - and thus Prime Minister's Suraksha Bima Yojana (PMSBY), Atal Pension Yojana (APY) and Prime Minister's Jeevan Jyoti Bima Yojana (PMJJBY) have been launched. Crores of people of our country have no social security cover."
What happened: APY has been given to 2.7 million, PMSBY to 94.5 million and PMJJBY to 29.7 million citizens as on 14 June 2016, according to official data.
More recent data tabled in the parliament indicates that 3.04 million Indians have registered under APY as on July 20, 2016.
7. Rural India: Agriculture budget increased by 44%, several rural programmes launched
What Modi said: "We need drastic changes in the agriculture sector. The cultivable land is shrinking; it is getting divided between families and pieces of land are getting smaller. The fertility and productivity of our agricultural land must increase. The farmers need water and electricity and we are working towards their availability. We have decided to pump in fifty thousand crore rupees in 'Pradhaan Mantri Krishi Sinchaai Yojna'. How will the water reach the farms? Water will have to be saved. We have to launch a movement in our agricultural sector with the mantra of "Save Water, Save Energy, and Save Fertilisers".
What's happened: Modi is right about the divide in farming land--5% of farmers control 32% of India's farmland and a "large" farmer in India has 45 times more land than a "marginal" farmer, IndiaSpend reported in May 2016.
The land that can be farmed has marginally declined, from 182.5 million hectares in 2008-09 to 182 million hectares in 2012-13, mainly for non-agricultural purposes, such as urbanisation, roads, industries and housing, according to data tabled in the parliament.
The agriculture budget rose 44%, from Rs 24,909 crore ($4 billion) in 2015-16 to Rs 35,984 crore ($5 billion) in 2016-17, to address growing distress in rural areas from successive monsoon failures.
Finance minister Arun Jaitely announced during Budget 2016 that 2.85 million hectares would be irrigation through the flagship Pradhan Mantri Krishi Sinchayi Yojana (PMKSY) scheme in 2016-17. He also added that the government will reorient its interventions in the farm and non-farm sectors to double the income of farmers by 2022. An Indian farmer's income effectively rose 5% per year over a decade (2003-2013), IndiaSpend reported in March 2016.
The budget also created a dedicated long-term irrigation fund (through the National Bank for Agriculture and Rural Development) with an initial corpus of Rs 20,000 crore
8. One Rank One Pension for service personnel: Approved, but protests continue
What Modi said: "The issue of "One Rank One Pension (OROP)" has come before every government, each one has considered its proposal, and each and every government has made promises on it, but the problem is still pending to be resolved. I say to service personnel, we have accepted "One Rank One Pension" in principal but talks are going on with its organisations. Talks have reached at the final stage and we want that all get justice keeping in view the development of whole country. How it is implemented in view of its nitty-gritty situation, we are taking the talks forward by engaging with its stakeholders."
What happened: Modi approved the OROP proposal in April 2016. It will cost the government an additional Rs 7,488 crore in annual pensions and Rs 10,925 crore in arrears.
As many as 1.6 million pensioners were paid their first pensions through the OROP programme; Rs 2,861 crore was spent until March 31, 2016. Certain issues and anomalies have been raised by servicemen, which a government panel is considering.
(Saha is a freelance journalist and MA Gender and Development candidate 2016-17 at Institute of Development Studies, University of Sussex.)
We welcome feedback. Please write to respond@indiaspend.org. We reserve the right to edit responses for language and grammar.
__________________________________________________________________
Liked this story? Indiaspend.org is a non-profit, and we depend on readers like you to drive our public-interest journalism efforts. Donate Rs 500; Rs 1,000, Rs 2,000.