68 Districts Hold Key To Modi's Make-in-India Push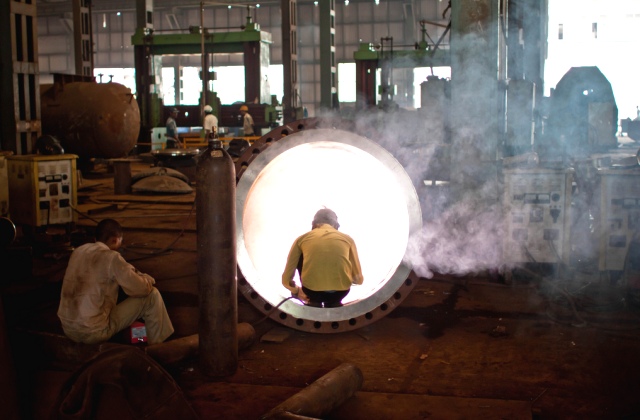 Make in India, Government of India's flagship program is a laudable aspiration that identifies 25 sectors—a combination of low-skill and high-skill industry and services-oriented areas as the drivers to skyrocket India's growth.
A key objective of this program is to harness India's demographic dividend by paving the way from farms to factories for the 130 million new entrants to the workforce by 2020 and reaping the benefits from the urban surge that will provide a home to 50% of Indians by 2050.
How? One of the central approaches to achieve this goal is by following a new model of urbanism in India.
It is characterised by the large-scale build-out of industrial corridors namely 1) Delhi-Mumbai Industrial Corridor; 2) Chennai-Bengaluru Industrial Corridor (CBIC); 3) East Coast Economic Corridor with Chennai-Vizag Industrial Corridor as the first phase of this project (CVIC); and 4) Mumbai–Bengaluru Industrial Corridor (MBIC).
Work on five smart cities is a part of the Delhi-Mumbai Industrial Corridor: Dholera, Shendra–Bidkin, Greater Noida, Ujjain and Gurgaon is underway. The government is looking to establish the National Industrial Corridor Authority to coordinate, integrate, monitor and supervise development and channel institutional funding for smart cities to be situated along these corridors.
These five corridors run along 89 districts. 75% of these districts are a part of the 183 high-potential districts that will account for 77% of India's incremental GDP from 2012 to 2025. These 68 'corridor' districts are alone estimated to account for 40% of India's incremental GDP.
Drilling down into the data further shows that the vision for 24 of these districts sees their individual growth rates jumping up by more than 5% from 2020 due to the build-out of large planned infrastructure projects–airports, roads, and ports.
In short, these regions will grow and grow faster than India at an average of 10% because of the head–start they enjoy, and could further benefit from this planned development. So what kind of economies are mushrooming along these industrial corridors?
Source: McKinsey Insights India Toolkit 2014
This organic economic activity forms the bedrock of the potential growth story of these districts and is a great starting point for the Government of India to plan for the future socio–economic development of these areas. A series of both upstream and downstream economic activities could further propel the development of these areas, beyond the growth estimated.
For example, since textiles is a key industry long the DMIC corridor, incentivising apparel manufacturers and ancillary industries,such as makers of elastic, buttons, and other fittings, could be strategically attracted to this region to boost development of this sector.
Equally the development of vocational training institutes offering programme in design, tailoring and embroidery would help improve worker productivity in the textile belt in this area and allow for further cross-pollination between the industry and these institutes.
Development of such niche industries could also help accelerate the participation of women in the workforce and improve the gender imbalance in these areas. The empowerment of women in turn has its own benefits as amply documented in the academic literature. For example, use of better family planning techniques, reduced levels of maternal and infant mortality, higher spend on education and the like are strongly correlated to the empowerment of women. In short, following such an approach could trigger a virtuous cycle of development.
But as India goes down this path, other economic and administrative issues that impede growth need to be addressed with a sense of urgency. First and foremost, will this form of urbanisation take off with the current process of and issues associated with land acquisition, and environmental clearances in India? Particularly as the process of land acquisition for state and non–state actors is the same. Revising the recently passed Right to Fair Compensation and Transparency in Land Acquisition, Rehabilitation and Resettlement Bill, 2013 requires expending much political capital both inside and outside Parliament, making it a fairly time consuming and complex process. States individually are better placed to make the political calls associated with land transactions and use to support the build–out of these corridors.
Second, how practical is the "partner" role envisioned for the private sector in building these smart cities? The private sector is led by the motive of profit, and rightfully so.
Recent experiences of the private sector with the infrastructure sector as a whole including urban areas are discouraging. For example, the experience with toll roads in Gurgaon, and Mumbai indicate a lot more needs to be done before public-private partnerships (PPPs) become viable to help address India's infrastructure deficit. Another example, is the recent fare dispute related to Mumbai Metro Line 1. The absence of specific laws and entities to guide the structured development of PPPs does not augur well for private participation.
Third, and most talked about, is India's position in the World Bank's report on the ease of doing business in India. Sadly enough, India's ranks 186 on the enforcement of contracts, and 137 on resolving insolvency.
These two metrics alone are alarming enough to deter investors and have been the bane of various disputes, such as Nokia and Vodafone. Further, India's stringent labour laws are disparaging for businesses that have to deal with volatility and cyclicality in an increasingly interconnected global economy. Can small and medium enterprises truly flourish in such a constrained environment?
Fourth, is the burning need for administrative reforms. The World Bank has compiled a ranking of government effectiveness, based largely on quality and implementation of capacity of the civil service. India's ranking on this deteriorated over the past decade from 55th percentile in 2004 to 47th percentile in 2013. The World Economic Forum's 2014–15 Global Competitiveness Report cities inefficient government bureaucracy as one of the top six problems associated with doing business in India.
Promotions in the civil services are largely based on seniority rather than performance. For example, a civil servant empanelled as a Secretary has most often retired before he/she can be held accountable for decisions made or not made. Elected representatives on the other hand are accountable to the polity, as the 2014 Lok Sabha Elections amply demonstrated.
To conclude, building infrastructure is required—and building it quickly and efficiently is important. But do all cities along these corridors need to be smart for Make in India to take off?
Do government finances permit such investments? What else can be done to move in this direction that is smarter and makes a greater impact? The answer lies in undertaking a series of structural reforms, as we discussed, and fixing urban governance – in letter and spirit.
What does the latter entail? Building the capacity of locally elected representatives through exposure visits and structured programs so they understand issues and vote for better policies, incentivising census towns to become statutory ones, empowering city mayors and establishing a functional Mayor–in–Council system, and creating the office of metropolitan mayors through political canvassing for a constitutional amendment.
Equally, it is about building human resource and financial capacities to nurture and sustain the development and renewal of cities. And in the interim elevating the role of the metropolitan development authority as an interim solution in the largest metro cities that have to deal with a multiplicity of agencies.
Address the root causes, and the polity, including India's entrepreneurs, as always, will take care of the rest.
(Barnik C. Maitra is a Partner at McKinsey, Sunali Rohra is an Expert co-leading McKinsey's work on urbanisation in India and both are based in Mumbai. Shishir Gupta is a Knowledge Expert with MGI Economics Research based in New Delhi.)
________________________________________________________
"Liked this story? Indiaspend.org is a non-profit, and we depend on readers like you to drive our public-interest journalism efforts. Donate Rs 500; Rs 1,000, Rs 2,000."