62 People Have Same Wealth As 3.5 Billion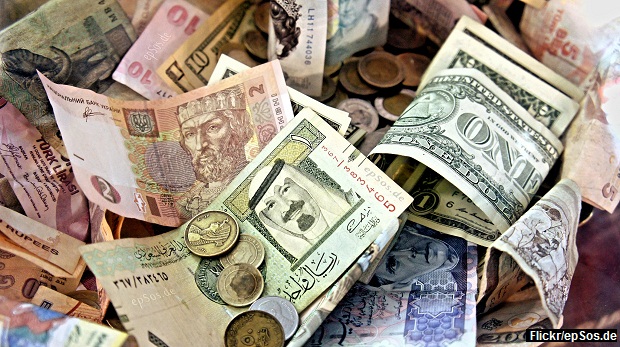 Just 62 individuals had the same wealth as 3.5 billion people—the bottom half of humanity—in 2015, according to a new report, An Economy For The 1%, by Oxfam, a global advocacy.
This figure is down from 388 individuals as recently as 2010. The wealth of the richest 62 people has risen 44% in the five years since 2010, an increase of $542 billion (Rs 24,66,100 crore) to $1.76 trillion (Rs 1,07,36,000 crore), which is 86% ($2.05 trillion) of India's Gross Domestic Product (GDP) in 2014.
The wealth of the bottom half fell by just over a trillion dollars in the same period, a drop of 41%.
This scenario is a reminder of aphorism, "the rich get richer and the poor get poorer", a commonly used socialist criticism of capitalism. The findings provide some context to the forthcoming January 20 World Economic Forum (WEF) meeting in Davos, Switzerland with the theme: Mastering The Fourth Industrial Revolution.
"Had inequality within countries not grown during 1990 and 2010, an extra 200 million people would have escaped poverty. That could have risen to 700 million had poor people benefited more than the rich from economic growth," the Oxfam report said.
Global Income Accruing To Each Decile, 1988–2011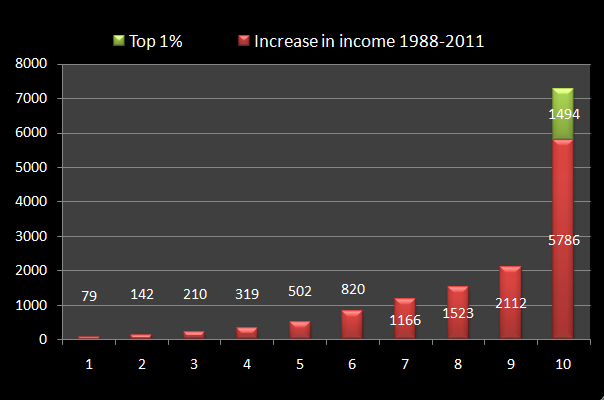 Source: Oxfam; Figures in $ billion
Wealth Of The Richest And Poorest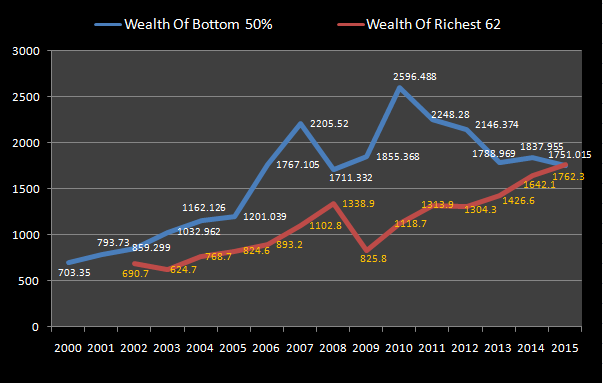 Source: Oxfam; Figures in $ billion
"There is no getting away from the fact that the big winners in our global economy are those at the top," the Oxfam report said. The poorest half of the world's population received 1% of the total increase in global wealth, while half of that increase went to the top 1%, since the onset of the 21st century.
In China, the rich 1% own a third of its wealth, while the poorest 25% own 1%, according to a recent study conducted by Peking University's Institute of Social Sciences.
"Our economic system is heavily skewed in their favour (the rich), and arguably increasingly so," said the Oxfam report. "Far from trickling down, income and wealth are instead being sucked upwards at an alarming rate. Once there, an ever more elaborate system of tax havens and an industry of wealth managers ensure that it stays there, far from the reach of ordinary citizens and their government."
How wealth is spirited away to tax havens
Nine of ten companies, of 200 analysed, are based in at least one tax haven. Corporate investment in tax havens in 2014 was nearly four times larger than that in 2001, according to Oxfam's analysis.
One recent estimate is that $7.6 trillion of individual wealth—more than the combined gross GDP of the UK and Germany—is currently held offshore, the Oxfam report said.
Similarly, around 30% wealth of Africa's rich (around $500 billion) is held offshore, leading to a tax-revenue loss of nearly $14 billion to African countries.
The gender pay gap is also quite evident—53 of 62 world's richest people are men. Women make up the majority of the world's low-paid workers, concentrated in the most precarious jobs, the report said.
In India, the pay of CEOs skyrockets
The chief executive officer (CEO) of India's top information technology firm makes 416 times the salary of a typical employee in the company, the Oxfam report said.
Indian law makers passed a disclosure mandate in 2013, requiring CEO pay ratios to be made public, according to this report by PricewaterhouseCoopers, a consultancy. India's stock market regulator, the Securities and Exchange Board of India (SEBI), is now releasing the first set of such data, the Oxfam report said.
The top executive at ITC, the country's largest cigarette manufacturer, for example, is paid 439 times the median salary for employees at his company, said the Oxfam analysis, quoting this report from Quartz, a portal.
India has only 42,800 people with declared income exceeding Rs 1 crore; that is 0.1% of 35 million Indian tax payers, as former finance minister P Chidambaram mentioned in his 2013-14 budget speech. India has 172 million people below the poverty line, IndiaSpend reported earlier; we also reported how wealth is increasing in India but so is inequality.
What the pharma industry—one of the world's most profitable industries—has wrought
The pharmaceutical sector, one of the most profitable industries on the earth, strongly protects intellectual property rights (IPR), which has paved the way for 90 billionaires.
The report explains how pharmaceutical companies in the US pressure their own government and through it, the Indian government and Indian pharma companies to honour IPR. For instance, pharmaceutical companies spent over $228 million lobbying in Washington in 2014.
In India, patient groups, civil society organisations and government have challenged pharma giants for access to cheap medicines.
For instance, patient pressure groups claim that India has imported only small quantities of Onbrez (Indacaterol), a drug whose rights are owned by the Swiss multinational Novartis, whose drug could help as many as 30 million Indians suffering from chronic obstructive pulmonary disorder.
To meet the demand, an Indian multinational company Cipla, based in Mumbai, began manufacturing its own version of Onbrez and selling it for a fraction of the original price.
(Mallapur is a policy analyst with IndiaSpend.)
We welcome feedback. Please write to respond@indiaspend.org. We reserve the right to edit responses for language and grammar.
_________________________________________________________________
Liked this story? Indiaspend.org is a non-profit, and we depend on readers like you to drive our public-interest journalism efforts. Donate Rs 500; Rs 1,000, Rs 2,000.