6 In 10 Indian Babies Miss Out On Early Breastfeeding And Its Life-Saving Benefits
New Delhi: While there has been an improvement in the number of babies getting breastfed in the first hour of life in India--reflected in a rise from 23.1% in 2005 to 41.5% in 2015--the majority of Indian babies still miss out and could face life-threatening consequences, a new global report said.
Early initiation of breastfeeding is crucial for a baby's survival as colostrum, the first milk, is extremely rich in nutrients and antibodies that protect the baby against infection.
While four children out of 10 are breastfed within the first hour in India, nearly nine in 10 are in Burundi, Sri Lanka and Vanuatu, according to Capture the Moment, a report released by the World Health Organization (WHO) and the United Nations Children's Fund (UNICEF) on the eve of World Breastfeeding Week (August 1-7) 2018.
India ranked 56 out of 76 countries on early initiation of breastfeeding, according to the 2018 Global Breastfeeding Scorecard, released with the report, which tracks progress of breastfeeding policies and programmes.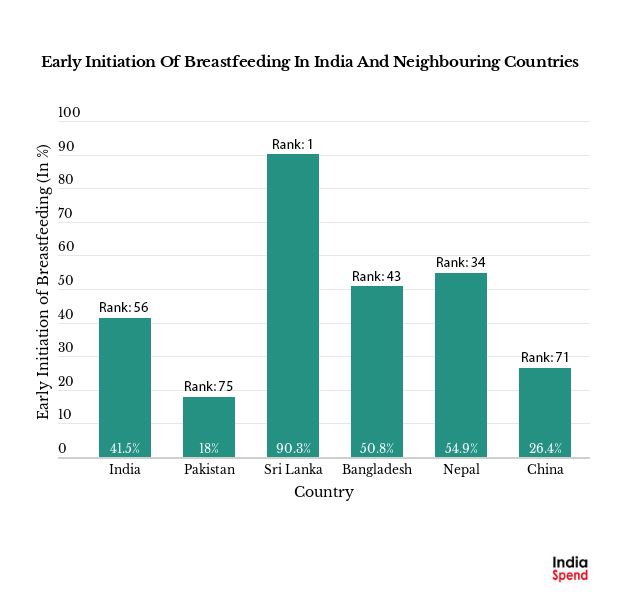 Source: 2018 Global Breastfeeding Scorecard
Three in five children (78 million) globally are not breastfed within the first hour of birth, even though a delay of just a few hours can increase the risk of mortality, the report said.
Skin-to-skin contact along with suckling at the breast stimulates the mother's production of breastmilk, including colostrum, also called baby's 'first vaccine' due to its protective attributes.
"Breastfeeding gives children the best possible start in life," said WHO director-general Tedros Adhanom Ghebreyesus in a press release. "We must urgently scale up support to mothers--be it from family members, health care workers, employers and governments, so they can give their children the start they deserve."
India's neonatal mortality rate--infant deaths within 28 days of birth per 1,000 births--reduced nearly 50% from 52 in 1990 to 28 in 2013, but is still higher than the global average (17 in 2016), as IndiaSpend reported in September 2017.
Every minute matters
Newborns who began breastfeeding between two and 23 hours after birth had a 33% greater risk of dying compared with those who began breastfeeding within an hour, the study noted.
Among newborns who started breastfeeding a day or more after birth, the risk was more than twice as high, the report said. The protective effect of early breastfeeding existed independently of whether or not the children were exclusively breastfed.
Caesarean births less likely to get early breastfeeding
In 51 countries, newborns born by vaginal birth had more than double the chance of being breastfed in the first hour as compared to newborns born by caesarean delivery, the study said.
Women who deliver by caesarean section often face important challenges in initiating breastfeeding, such as managing the effects of anesthesia, recovering from surgery and finding help to hold the baby safely, the study noted.
Babies born out of the birth canal are already exposed to good bacteria from their mothers--which is crucial for their gut health and immunity--which makes early initiation of breastfeeding and skin-to-skin contact with the mother even more important for children born through caesarean section.
This has implications for India, where the proportion of caesarean deliveries has doubled from 8.5% to 17.2% from 2005-06 to 2015-16.
Goa leads India in early initiation
IndiaSpend analysed the data from the National Family Health Survey 2015-16 to find the regional trends in early initiation.
Among children born in the last two years and who were breastfed, 75.4% of children in Goa were breastfed within the first hour, the highest in the country, followed by Mizoram (73.4%), Sikkim (69.7%) and Odisha (68.9%).
Uttar Pradesh (25.4%), Rajasthan (28.4%) and Uttarakhand (28.8%) had the lowest early initiation of breastfeeding rates in the country.
Source: National Family Health Survey, 2015-16
Delayed initiation of breastfeeding is directly linked to the practice of giving babies honey or sugared water, called 'prelacteal feed', instead of breastmilk.
In Uttar Pradesh, 41.5% children were given a prelacteal feed, the highest in the country, followed by Uttarakhand (39.1%) and Punjab (32.1%). Across the country, 21.1% children got a prelacteal feed instead of breastmilk.
Presence of skilled health personnel matters
In the deliveries where health personnel such as doctors, nurses or auxiliary nurse midwives were present, 42.9% of babies were breastfed within the first hour, as against 34.6% and 30.9% where a dai (traditional midwife) or a trained birth attendant was present.
Similarly, births that took place in health facilities had a greater likelihood of early initiation of breastfeeding (43%) compared with at-home (34.6%) and others (30.9%).
Richest and poorest have lower early breastfeeding rates
Those in the highest and the lowest income groups had similarly low early breastfeeding rates (39.9%) and (38.9%) compared with other income groups, which had above 42%.
Also, women who had no schooling had the least rate of early breastfeeding (36.4%) while those with 10-11 years of education (45.7%) had the highest.
(Yadavar is a principal correspondent with IndiaSpend.)
We welcome feedback. Please write to respond@indiaspend.org. We reserve the right to edit responses for language and grammar.