52 Infants Die In 30 Days In Jamshedpur, Revealing Jharkhand's Health Crisis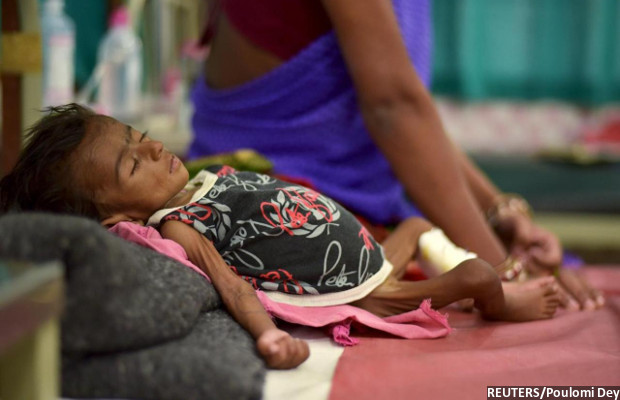 The death of 52 infants over 30 days at Jamshedpur's Mahatma Gandhi Memorial Medical College hospital in Jharkhand, reported on August 27, 2017, by the news agency ANI, calls to attention the health of women and extent of malnutrition in India's 10th poorest state by per capita income.
The number of deaths is not extraordinary, B Bhushan, medical superintendent of the state-run Mahatma Gandhi Memorial Medical College hospital, told IndiaSpend. "More deaths were reported this month because more children were admitted," he said, adding that patients from Bengal too come to the hospital.
The deaths in Jamshedpur come two weeks after 70 children died at the Baba Raghav Das Medical College Hospital at Gorakhpur, Uttar Pradesh, revealing the depth of the crisis in India's public-health system.
Jamshedpur, a city of 1.3 million, is the largest city in Jharkhand by population, and one of India's oldest industrial cities, but the state's health indicators are among India's worst, according to an IndiaSpend analysis of 2015-16 national health data, the latest available.
Forty of these 52 infant deaths were in the neonatal intensive care unit (NICU) and 12 in the pediatric intensive care unit, said Bhushan. "Thirty-eight of the 40 infant deaths in NICU were due to low birth weight, other deaths were due to premature births and other complications like asphyxia," he added.
"The most common reason for low weight babies is malnutrition in mothers," he explained, saying that many mothers who come to the hospital are tribals, and from the poorest strata of society.
Jamshedpur better off than Jharkhand but poor child-health indicators
While the district of Purbi (eastern) Singhbhum, in which Jamshedpur is located, has a better infant mortality rate (IMR), with 25 infant deaths per 1,000 live births, than the average for Jharkhand (44) and India (41), the proportion of wasted children--with low weight for height--is 11 percentage points more than the state (29) and almost double the Indian average (21). Wasting is one of the indicators of malnutrition.
Purbi (eastern) Singhbhum is ranked among the 10 worst in India for the proportion of wasted children, with 40.6% of children under five wasted.
Similarly, the percentage of underweight children in Purbi Singhbhum (49.8%) is higher than the average for Jharkhand (47.8%) and India (35.7%).
Child undernutrition can not only lead to child deaths, but malnourished children also have lower cognitive abilities and are less productive members of a country's workforce. "A failure to invest in combating nutrition reduces potential economic growth," this 2015 World Bank report noted.
Jharkhand has the 6th worst infant mortality rate in India
Jharkhand's IMR is India's sixth worst, worse than the African nation of Ethiopia (41).
Some of the state's districts have India's worst health indicators, according to 2015 National Family Health Survey (NFHS) data, analysed by the International Food Policy Research Institute in New Delhi.
Paschim Singhbhum in Jharkhand has the 7th highest rate of stunting--low height for age--in India, with 59.4% of children stunted.
Three of Jharkhand's districts are among 10 Indian districts with the highest rates of wasting in children under the age of 5 years--Purbi Singhbhum (40.6%), Dumka (41.4%) and Khunti (43%). These districts are also among the worst off when it comes to severe wasting among children.
Jharkhand spent Rs 750 per capita on health in 2014-15, compared to Rs 810 spent by other empowered action group states (EAG)--states that have some of the poorest socio-economic indicators in India.
Jharkhand spent 1.14% of their state's gross domestic product (GDP) on health in 2015-16, less than than the average of 1.35% of GDP spent by EAG states, according to the 2017 National Health Profile.
High proportion of tribal population, low maternal health outcomes
One explanation for these indicators is that 62.5% of Purbi Singhbhum district is tribal. In general, tribals are among India's most disadvantaged communities, and their children among the most malnourished.
Jamshedpur, named after Sir Jamshedji Tata, the founder of Tata Steel, was founded in 1919. As one of the few cities in a state where 76% of the population lives in rural areas--compared to 69% for the Indian average--it caters to scores of poor, tribal-dominated villages and towns.
There is also a direct positive correlation between the mother's health and her child's health as IndiaSpend reported on January 5, 2016.
Thirty eight of the infant deaths in Jamshedpur were due to low birth weight, of which there are three underlying reasons, all traceable to the mother: Poor nutritional status before conception, short stature (mostly due to undernutrition and infections during childhood), and poor nutrition during pregnancy, IndiaSpend reported in November 2016.
Over a quarter (28%) of rural women, 15-49 years, in Purbi Singhbum had a body mass index (BMI) lower than normal, one sign of undernutrition, according to 2015-16 data from NFHS. In Jharkhand, 31.5% of all women had a lower than normal BMI.
Jharkhand also has a high prevalence of anaemia, which caused 20% of maternal deaths in India and was the associate cause in 50% of maternal deaths, according to a 2014 study published in Nutrition, an international journal. Anaemia during pregnancy also increases chances of foetal deaths, abnormalities, pre-term and underweight babies.
Two Jharkhand districts--Simdega and Saraikela Kharsawan--are the 5th and 6th worst in the country, with 78.2% and 78.8% women of reproductive age anaemic in 2015-16.
Further, 62.6% of pregnant women in Jharkhand were anaemic compared to 50.3% in India.
Source: National Family Health Survey 2015-16 and Health Management Information System 2015-16 NOTE: Infant mortality rate for Purbi Singhbhum is for the year 2012-13
1.08 million child deaths a year in India, but low government spending on health
Jharkhand reflects the state of India's children and its lack of health spending.
Nearly two children under the age of five died every minute in India in 2015, many due to preventable and treatable causes, IndiaSpend reported on August 16, 2017.
Most common causes of death below the age of five years were neonatal causes (53%), pneumonia (15%), diarrhoeal diseases (12%), measles (3%) and injuries (3%).
In 2015, India had the highest under-five mortality rate among BRICS (an acronym for Brazil, Russia, India, China and South Africa) at 43 deaths per 1,000 live births in 2015, followed by South Africa (41), Brazil (16), China (11) and Russia (10).
Despite poor health indicators, India had one of the lowest public spending on health in the world in 2015-16, spending 1.18% of GDP on health compared to the the global average of 5.99%.
The Indian government contributed 31.3% of total citizen health spending in 2014, 15.7 percentage points less than the median government share of 47% in BRICS countries, our analysis on May 8, 2017 showed.
(Salve is an analyst & Yadavar a principal correspondent with IndiaSpend.)
We welcome feedback. Please write to respond@indiaspend.org. We reserve the right to edit responses for language and grammar.
__________________________________________________________________
"Liked this story? Indiaspend.org is a non-profit, and we depend on readers like you to drive our public-interest journalism efforts. Donate Rs 500; Rs 1,000, Rs 2,000."