5 Things India Had Going For It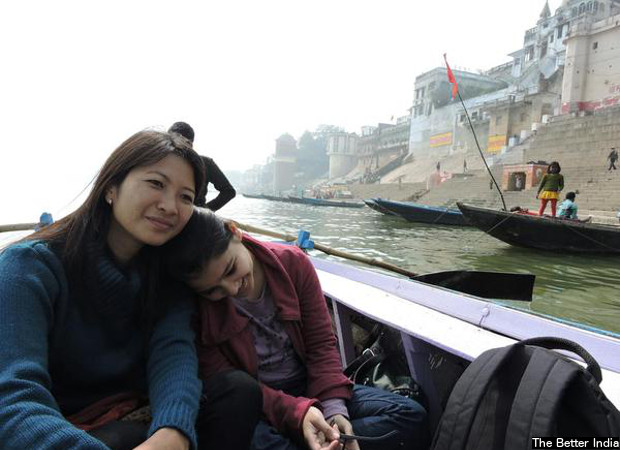 Temsutula Imsong wants to see a clean India, and, along with Darshika Shah, cleaned some of the filthiest ghats in Varanasi.
Amid a year of conflict and controversy, India had some good things going.
Prime Minister Narendra Modi reached out to global leaders, set in motion reforms and launched several initiatives to boost industry, employment and social welfare. While some of the progress was questionable, here are five positive things we identified from 2015:
1. Rs 5,000 crore saved by stopping gas subsidies and food-subsidy leaks
As many as 5.5 million Indians gave up subsidies on cooking gas, saving the government nearly Rs 900 crore.
Modi, while speaking in Singapore, said four million Indians had given it up but he was being cautious, as FactChecker.in reported in November.
Another Rs 4,200 crore was saved by reforming the public distribution system for food subsidy, as Mint reported.
From new year's day, an estimated Rs 200 crore to Rs 300 crore could additionally be saved, with the government stopping gas subsidies to families with annual incomes of more than Rs 10 lakh.
As much as 47% of money spent on food subsidies nationally leaks--a euphemism for inefficiency and corruption--according to a government report, although this figure is disputed by some economists.
2. Modi travels to 32 countries, reaches out to the world
Modi continued his efforts to reach out to global leaders and put India's story on every issue – from climate change to geo-politics – before the global audience.
American President Barack Obama as the chief guest of the Republic Day Parade on January 26th marked the beginning of a long engagement with the world in 2015. Obama was followed by German Chancellor Angela Merkel and Japanese Prime Minister Shinzo Abe.
Modi visited 17 countries during his first year (June 15, 2014 to May 19, 2015) as Prime Minister, IndiaSpend reported in May. As the rest of the year unfolded, he added 15 countries to that list.
3. India still leading global destination for foreign investors
In a year that Amazon.com, the world's largest e-tailer, announced plans to invest $5 billion in India in 2015, India emerged as the top investment destination for investors, beating China and the U.S, the Financial Times, London, reported in September.
Foreign direct investment (FDI) increased 48% between October 2014 and April 2015, as IndiaSpend reported in August.
On an annual basis, FDI increased 18% from $22.4 billion in January-September 2014 to $26.5 billion in January-September 2015.
Taiwanese electronics major Foxconn announced plans to invest $5 billion in India, the Wall Street Journal reported in August. Kellogg Company, the world's largest cereal maker, transportation major Bombardier and home furnishing brand Ikea are planning investments in India, according to this government report.
4. Basic banking reaches out to the poor, but poorest still depend on moneylenders
The Pradhan Mantri Jan Dhan Yojana (Prime Minister's People's Wealth Programme) created 196 million bank accounts, according to government data, for some of India's poor.
Individual savings bank accounts grew 14%, with the greatest growth rate in semi-urban areas (15.9%) and rural areas (15.6%), according to the Reserve Bank of India's Report on Financial Inclusion. The growth rate in metro areas was 10.9%.
The proportion of Indian households using banking services increased to 59% in 2011 from 35% in 2001, according to the Census of House Listing and Housing Survey 2011. The census data also indicate that 59% of households have mobile phones, a powerful tool in the spread of banking.
By end of October 2015, according to this Internet and Mobile Association of India report, India had 277 million mobile-Internet users (of 976 million mobile phones on May 2015), which--in conjunction with Aadhar, the national identification database--could be used to deliver banking services in unbanked areas, part of a stated government ambition to "wipe the tear from every eye".
But as many as 71 million bank accounts under the Jan Dhan Yojana held no money, Factchecker.in reported in November, and there is no reduction in the hold of moneylenders, who presently extend credit to six of every 10 households of the poorest farmers; banks lend money to no more than 1.2 of these households, as Mint reported in December.
However, the basic aim of adding basic savings accounts and expanding banking was met. The average number of branches per 100,000 individuals in India rose to 9.7 by June 2015, compared with 7.2 in 2010, according to this Reserve Bank of India report.
5. Swachh Bharat: Slow progress but a start of sorts
Modi is firmly pushing the Swachh Bharat Abhiyan (Clean India Campaign), but progress is slow, targets appear steep and details do not appear to get enough attention.
With four years to go, about 90% of the target is unachieved for the Swachh Bharat Abhiyan (Clean India campaign) IndiaSpend reported in July.
The haste to reach targets may result in money spent but limited or no change, as this nationwide Factchecker.in investigation of Modi's declaration of having built separate toilets for all female students at schools revealed.
However, the Swachh Bharat Abhiyan, is influencing some Indians to clean up, as this TheBetterIndia.com report detailed.
States like Bihar and Uttar Pradesh--which together account for 292 million people--struggle to make headway, as government data reveal.
Some Swachh Bharat data, such as rankings proclaiming garbage-strewn Bangalore as India's cleanest capital city, made little sense.
We welcome feedback. Please write to respond@indiaspend.org. We reserve the right to edit responses for language and grammar.
__________________________________________________________________
Liked this story? Indiaspend.org is a non-profit, and we depend on readers like you to drive our public-interest journalism efforts. Donate Rs 500; Rs 1,000, Rs 2,000.