5 Factors That Decided Haryana, Maharashtra Elections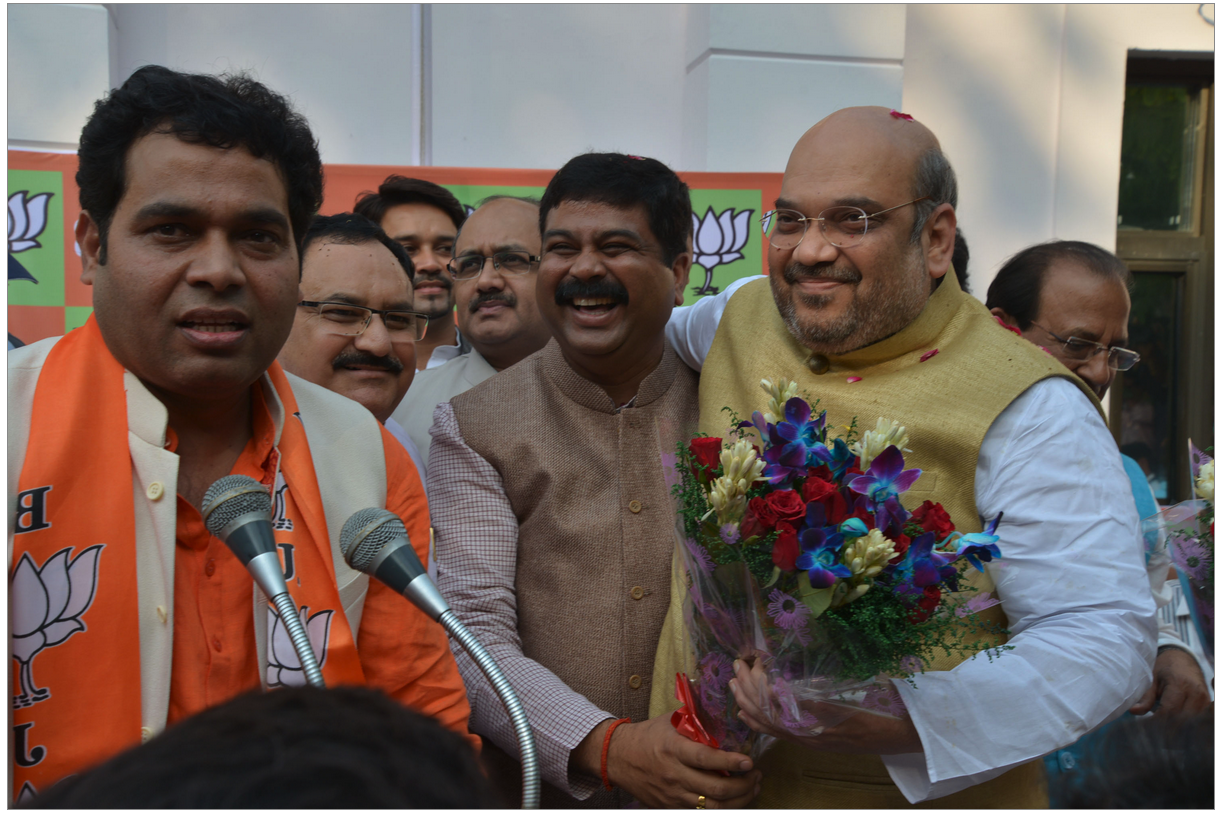 (BJP president Amit Shah with party workers in New Delhi after the announcement of the results of Haryana and Maharashtra.)
What messages did the voters of Haryana and Maharashtra send out? From the election results of October 19, 2014, here are five of the most important factors in their decision:
1. The Modi factor: There is a clear, discernible effect that the Prime Minister has had on these assembly elections, clear and discernible in Haryana, clear—but not quite as discernible as the Bharatiya Janata Party (BJP) hoped for in Maharashtra. To sweep Haryana—where the BJP went from four seats to 47—with no chief ministerial candidate, no electoral history of significance and an absence of known faces indicates the heft and reach of Narendra Modi. Haryana voted for the man and his message of development and a "Congress-mukt Bharat".
To become the single-largest party in Maharashtra—the BJP went from 46 seats to 122—with, again, no chief ministerial candidates—although the party has previously run a coalition government and won 23 of 24 Lok Sabha seats in May's parliamentary elections—indicates Modi's widespread influence but also reveals the limits of that influence in uniting a state that represents India's economic and social extremes and divisions. To comprehensively defeat a party that has, in some form, governed Maharashtra for 49 years is a little more than significant. Equally significant is the fact that the BJP also lost many seats by a margin of less than 1,000 votes. Its vote share is up from 14% to 27.8%.
Yet, as Rashtriya Swayamsevak Sangh (RSS) ideologue M. G. Vaidya said on television, Modi and BJP President Amit Shah drew big crowds but not as many votes as the party hoped for. The BJP's inability to garner a majority, 145 seats, appears to disclose that while the power of Modi's persona papered over many old hatreds, divisions and insecurities, it was not enough: New schims and fears and the continuing, if diminished, hold of caste, religion and identity are manifest in this result, as, of course, is the increasingly impatient aspiration for a better life.
2. The identity factor: The Modi effect indeed subsumed many prevailing caste divisions, a continuation of the pan-caste voting for the BJP observed in parliamentary elections. The Shiv Sena, which won 63 seats focusing openly on the Hindu, Marathi-speaking voter, failed in its attempt to win more by accusing, former and now current ally, the BJP, of being a "Gujarati" party. But this influence is more limited in Maharashtra than it is in Haryana—where caste affiliation faded in a great surge towards the BJP—and applies mainly to Hindus.
In keeping with a trend apparent nationally, to give tickets largely to Hindus, the BJP in Maharashtra had only two Muslim candidates in its list of 280. The Shiv Sena had only one Muslim candidate in its list of 282. This exclusion, combined with Muslim nervousness and disillusionment with the Congress and its ally the Nationalist Congress Party (NCP), appears to have led to the election of three candidates of the All India Muslim Majlis-e-Ittehadul Muslimeen (AIMIM), a party that made its electoral debut in Maharashtra by contesting 25 seats. It is quite obvious there was en masse Muslim voting—Muslims make up 11% of Maharashtra's 114 million people—in the AIMIM's two victories, the same as the Maharashtra Navnirman Sena (MNS), which had 13 seats in 2009.
What worked for the AIMIM, a sectarian appeal, did not for the MNS, which appealed to Marathi asmita (pride) and worked only partially for the Shiv Sena. Did the Shiv Sena get fewer seats because the MNS played spoiler, taking away votes that would have gone to Bal Thackeray's original party? That is possible but not yet clear.
What worked more than anything else appears to have been Modi's strategy of merging talk of development while addressing Maharashtra's many local identities, being, as it were, "more Marathi than the Marathis".
Caste affiliations prevailed in limited fashion, notably in the Konkan, where the BJP won none of 15 seats (the Shiv Sena won more than half), and Western Maharashtra, where the electorate ignored allegations of corruption against the NCP and helped the party avoid the wipeout predicted by pundits and pre-election polls.
3. The corruption factor: It is apparent the vote in both states focused a great deal on the widespread corruption allegations—against the Congress in Harayana and against the Congress-NCP alliance, particularly the NCP, in Maharashtra.
A land transaction involving Robert Vadra, Congress President Sonia Gandhi's son-in-law, is the latest in a string of deals allegedly cleared by the Congress government in Haryana; it provided plentiful grist for Modi's mill. Haryana's other parties were similarily mired in malfeasance. Former Chief Minister Om Prakash Chautala of the Indian National Lok Dal (INLD) and his son Ajay are both in prison, serving 10 years for cheating, forgery, conspiracy in the illegal recruitment of 3,000 junior teachers. While the Congress won 15 (down from 44) of 90 seats, the INLD won 19 (down from 31).
In Maharashtra, corruption allegations had an impact that was not quite as clear. While the Congress overall bore the brunt of running a government that was seen to have misgoverned Maharashtra, allegations of corruption, specifically on irrigation and dam-building contracts awarded by the NCP—which Modi called a "Naturally Corrupt Party"—did not have the resonance observers expected. Indeed, Deputy Chief Minister and NCP leader Ajit Pawar was re-elected—by a margin of more than 80,000 votes, despite Modi's plea to free the family's political fief, Baramati, from the "slavery of the Pawars"—as was the Congress' Ashok Chavan, forced to resign as chief minister, after being accused of awarding illegal clearances to the Adarsh Cooperative Housing Society, a high-rise built on prime Mumbai land to house politicians and bureaucrats.
4. The family factor: The great slide in Haryana and Maharashtra indicates that the fortunes of the Gandhi dynasty continue to dwindle.
What it does not mean is that the Indian voter, enthused by Modi's tea-boy-becomes-Prime-Minister story, has discarded political dynasties, old loyalties and habits. While some politicians from dynastic families lost, a great number won. Maharashtra saw 13 wins, nine losses in such families. Haryana saw seven wins and five losses.
In Maharashtra, many candidates whose fathers—there are no mothers involved—are or were old-style politicians, distributing largesse and peddling influence, won. So, while the Congress party's strongman from the lush, coastal Konkan lost, his son Nitesh Rane won. In arid Latur city, Amit Deshmukh, son of former chief minister, the late Vilasrao Deshmukh, won. The family runs a variety of institutions, from sugar cooperatives to cooperative banks to colleges—together serving thousands of urban and rural voters—and appears to command substantial loyalty from the locals. Amit Deshmukh indicated the electoral power of loyalty, tweeting: "Thank you Latur!!!!! You're the best. Great lessons in loyalty and faith to be learnt from you."
Sushilkumar Shinde, former Union Home Minister, lost the Lok Sabha election from the family borough of Solapur, a constituency known for its mounds of garbage and bad roads. His daughter, Praniti Shinde, who rode on her father's coat-tails, won. In Haryana, many dynastic candidates were swept away in the Modi wave, including Savitri Jindal, the billionaire mother of former MP Naveen Jindal; Chander Mohan, son of former chief minister Bhajan Lal; and Dushyant Chautala, grandson of the jailed Om Prakash Chautala. But Dushyant's uncle, Abhay Chautala, won. Two others dynastic victors were Renuka Bishnoi of the Haryana Janhit Congress (HJC) and wife of former deputy chief minister Kuldeep Bishnoi.
There is no simple trend to discern, which means that the voter does not count dynasty as a major negative. Dynastic politics still works, if it addresses continually soaring aspirations and delivers things that matter to the voter.
5. The dream factor: Eventually, the underlying theme in the decision of the electorates of Haryana and Maharashtra is to vote for someone who addresses their dreams and ambitions.
While Modi has, in varying degrees, addressed the yearning for a better life, even the politics of identity and dynasty appears to be changing. Haryana, one of India's more prosperous states, has voted for dramatic change in ushering in the BJP, a party that has never been more than a marginal player and never garnered more than 10% of the vote share, now up to 33%. The corruption charges against the Congress and slow economic progress were factors in the party's ejection from power. The only constant is aspiration, which translates into a demand for more efficient, responsive local government. That could account for the comprehensive parliamentary mandate for the BJP in May and October's substantially less enthusiastic mandate. Maharashtra's voters clearly believed Modi was the best person to run India, but they are not entirely sure about those running their villages, towns and cities, a likely reason for the more ambiguous vote.
As this blogpost said: "The politics of Bombay has long been benighted by the problem of nativism. What was once a great metropolis has been bogged down by decades of nativist politics. These results show a possibility for becoming a normal city, where the political questions that matter are about efficiently producing local public goods."
"Liked this story? Indiaspend.org is a non-profit, and we depend on readers like you to drive our public-interest journalism efforts. Donate Rs 500; Rs 1,000, Rs 2,000."
(Image credit: BJP)
Visualization : Sanjit Oberai