5.5 Million Indians Being Trained, 231 Million Need Skills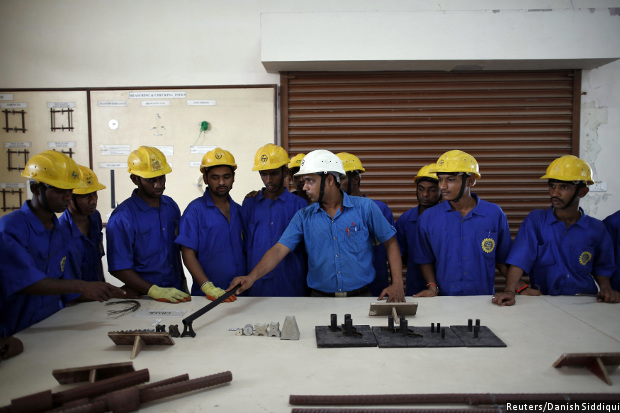 As many as 5.5 million people are currently enrolled in skilling courses and 2.4 million youth have been placed in jobs as skilled workers since April 2015, according to data released by the government.
With 231 million Indians aged between 15 and 24, according to the latest census, there should--theoretically--be no labour shortages for 21 major sectors that require 347 million skilled workers by 2022, according to a government estimate.
The government's challenge is to ensure funding for skill development (and education), so that young people can find jobs and boost India's growth. The current problem is well documented, a "paradox" of the Indian economy: Young Indians, many with substandard education, cannot find jobs commensurate with their education, while industry endures a shortage of skilled labour.
This frustration is manifesting itself as frequent, violent agitations by powerful caste groups, as IndiaSpend reported, spotlighting one of the government's biggest challenges.
Only 2% of India's workforce is skilled, according to Labour Bureau reports. About 5% of the workforce in the 20 to 24 age group has formal vocational skills.
Can the budget help cash in on the demographic dividend?
"India's demographic dividend has already been born. The rate of growth of India's population is now falling," said Kotak Game Changer Perspective: The India 2016 Report.
The Ministry of Skill Development and Entrepreneurship--allocated Rs 1,543.46 crore in Budget 2015-16 to meet India's great skilling challenge--has spent Rs 435 crore for the Pradhan Mantri Kaushal Vikas Yojana (PMKVY), according to Lok Sabha data.
"The Kaushal Vikas Yojana (Skill Development Scheme) will focus to (sic) up-scale and align skilling initiatives of the country," the budget document said.
India is one of the world's youngest countries, with a median age (half the people are younger than this age) of 27.3 years. The decade of 1991-2001 added 182 million (182,316,397) to the population--the largest cohort.
As of 2016, this group of people was aged 15 to 24 years, or what is demographically categorised as youth in India, counted as being more than 232 million during the 2011 census.
Multiple bits of the Skill Development Mission--launched nationwide in 2009 with a target of skilling 500 million people by 2022 and scattered across various ministries--were incorporated into the Ministry of Skill Development and Entrepreneurship in 2014. It recognised "the need and urgency of quickly coordinating the efforts of all concerned stakeholders in the field of Skill Development and Entrepreneurship, according to the needs of the Industry".
Education is spreading, but poor quality requires additional skilling
An important link in skill development is early education. The Right to Education (RTE) Act, which came into effect on April 1, 2010, guarantees free and compulsory education to all children in the age group of 6-14 years.
Children above 14 years of age are not considered child labour by law. After completing free and compulsory edcuation under the RTE, they can enter the workforce legally.
Gross enrolment data show 97% enrolment for children at elementary level (class 1 to 8). At higher levels, the enrolment ratio drops--only 23% of the population goes to college among the age group that can be enrolled for higher education.
However, this 97% enrolment rate is followed by a 17.86% drop out rate in secondary school in 2013-14--this rate increased by 3 percent points from 2012-13--and it is clear that the failings of the education system in general calls for additional skilling for these young people to join the workforce as skilled workers.
A skill includes the ability to carry out the tasks and duties of a given job, according to the International Labour Organization's (ILO) International Standard Classification of Occupations that defines and classifies skills. There are four skill levels. Completion of primary education for five years is the first, and a university degree is the highest.
23% of India's educated youth enrol for a college education
The importance of skill development is apparent in the fact that of about 186 million aged 18 to 25, no more than 23% enrol for a college education.
While RTE ensures basic skills, policies such as the Skill Development Scheme and the National Rural Livelihoods Mission (a scheme for vocational training and micro-finance in villages) are trying to fill the training gap between higher (degree) education and elementary schooling.
Rs 72,593 crore was set aside for skill development and education in 2015-16, which is 4.1% of the Centre's expenditure allocation.
The five sectors where the need for skilled workers is estimated to be highest are infrastructure building; the informal sector, including jobs such as domestic help and security guards; automobile and auto components; building and construction; and textile and clothing.
Of these, the building and construction sector offer the most jobs--37 million, closely followed by the informal sector at 36 million.
(Tewari is an analyst with IndiaSpend.)
We welcome feedback. Please write to respond@indiaspend.org. We reserve the right to edit responses for language and grammar.
__________________________________________________________________
Liked this story? Indiaspend.org is a non-profit, and we depend on readers like you to drive our public-interest journalism efforts. Donate Rs 500; Rs 1,000, Rs 2,000.