42% Of Modi's Ministers Spent 393 Days Abroad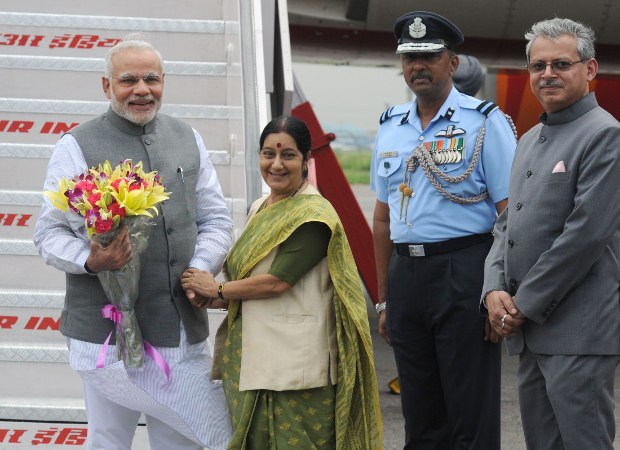 More than 42% the Union Cabinet collectively spent 393 days on foreign visits in the first 9 months of the NDA government, according to data compiled by Factly.in, a data-journalism portal.
Twenty-seven of Prime Minister Narendra Modi's cabinet colleagues went on at least one foreign visit between May 2014 and March 2015, Factly.in reported.
One of the major talking points in the first year of the NDA Government has been the extensive foreign travel by Prime Minister Narendra Modi.
What has not been quite so strongly discussed is the foreign trips by his Cabinet colleagues.
A total of 60 countries were visited by at least one member of the Union Cabinet. Together, they spent 393 days abroad.
Apart from Prime Minister Narendra Modi, six of his cabinet colleagues visited at least five countries. External Affairs Minister Sushma Swaraj, Minister of State (MoS) for External Affairs Gen. (Dr) V K Singh (Retd), MoS for Petroleum & Natural Gas Dharmendra Pradhan, Minister for Road Transport & Highways Nitin Gadkari, Mos for Environment Prakash Javdekar & MoS for Commerce & Industry Nirmala Sitharaman visited at least five countries.
Many of the ministers travelled abroad for bilateral & multilateral summits. They also travelled abroad for BRICS Summit, G-20 related meetings, attending World Economic Forum, SAARC meetings, World Congress & Asia meetings on various issues. Seven ministers travelled abroad on private visits.
Details of who went where:
| S No | Name of the Minister | Portfolio | Number of Countries Visited | Number of Days | Purpose |
| --- | --- | --- | --- | --- | --- |
| 1 | Narendra Modi | Prime Minister | 18 | 54 | Bilateral, Multilateral Summits |
| 2 | Sushma Swaraj | External Affairs | 18 | 52 | Bilateral, Multilateral Summits |
| 3 | Gen. (Dr) V K Singh (Retd) | External Affairs (MoS) | 11 | 25 | Bilateral Talks & Other Events |
| 4 | Dharmendra Pradhan | Petroleum and Natural Gas(MoS) | 5 | 14 | World Petroleum Congress,TAPI Gas Pipeline,World Petroleum Congress |
| 5 | Nitin Gadkari | Road Transport and Highways | 5 | 12 | Nepal Summit, Bilateral Meetings, Private Visit (Sweden) |
| 6 | Prakash Javadekar | Environment, Climate Change, Information & Broadcasting and Parliamentary Affairs (MoS) | 5 | 26 | United Nations meeting, Major Economic Forum, Climate Change Summit,UN Conference on Climate Change |
| 7 | Nirmala Sitharaman | Commerce & Industry (MoS) | 5 | 23 | BRICS Summit, G-20, Bilateral meetings, Accompanied Vice President of India |
| 8 | Harsha Vardhan | Health and Family Welfare (Earlier) | 4 | 17 | Global Meets of Health Ministers & World Conferences |
| 9 | M. Venkaiah Naidu | Parliamentary Affairs, Urban Development & Housing and Urban Poverty Alleviation | 4 | 18 | Leader of Parliamentary Delegation, Asia Pacific Ministerial Conference, Smartcity Expo World Congress |
| 10 | Santosh Kumar Gangwar | Textiles, Parliamentary Affairs, Water Resources, River Development and Ganga Rejuvenation | 4 | 14 | Goodwill delegation of Parliamentarians |
| 11 | Suresh Prabhu | Railways | 4 | 11 | Private Visit (Moscow), G-20 Meetings, 13th Annual Flagship Conference India Unlimited |
| 12 | Rajnath Singh | Home Minister | 3 | 8 | SAARC & Bilateral meetings |
| 13 | Ravi Shankar Prasad | Communications and Information Technology and Law & Justice | 3 | 9 | Asia-Pacific Telecommunity (APT) ICT Ministerial meeting,International Telecommunication Union (ITU) meeting |
| 14 | Harsimrat Kaur Badal | Food Processing Industries | 3 | 18 | Private Visit (Italy & UAE), SIAL Fair 2014 |
| 15 | Arun Jaitley | Finance | 2 | 16 | Annual BRICS Meeting, G-20, World Economic Forum, Private Visit (USA) |
| 16 | Kalraj Mishra | Micro, Small and Medium Enterprises | 2 | 7 | Interactive Business Sessions, Inauguration of Vocational Training with GOI Support |
| 17 | Narendra Singh Tomar | Mines, Steel, Labour & Employment | 2 | 8 | G-20 meeting & ?MINING INDABA 2015? |
| 18 | P Radhakrishnan | Heavy Industries and Public Enterprises(MoS) | 2 | 6 | Accompanied the President of India |
| 19 | Anant Geete | Heavy Industries & Public Enterprises | 1 | 2 | Annual Indian Investment Forum |
| 20 | Birender Singh | Rural Development | 1 | 9 | AARDO Conference |
| 21 | Inderjit Singh | Planning,Statistics and Programme Implementation and Defense (MoS) | 1 | 6 | Private Visit (Spain) |
| 22 | Jayant Sinha | Finance (MoS) | 1 | 5 | G-20 meeting |
| 23 | Kiren Rijiju | Home Affairs (MoS) | 1 | 6 | Asian Ministerial Conference on various issues |
| 24 | Manoj Kumar Sinha | Railways (MoS) | 1 | 10 | Private Visit (USA) |
| 25 | Piyush Goyal | Power, Coal and NRE (MoS) | 1 | 3 | World Economic Forum |
| 26 | Gowdara Mallikarjunappa Siddeswara | Civil Aviation(MoS) | 1 | 6 | Private Visit (USA) |
| 27 | Sripad Yesso Naik | AYUSH and Health and Family Welfare (MoS) | 1 | 4 | Ministerial segment of 83rd General Assembly of IMTERPOL |
| 28 | Maneka Sanjay Gandhi | Women & Child Development | 1 | 4 | Asian and Pacific Conference on ?Gender Equality and Women?s Empowerment |
Source: Lok Sabha
(Dubbudu has been working on issues related to the Right to Information for a decade. He is a data/information enthusiast & is passionate about governance/policy issues. Factly.in is dedicated to making public data meaningful.)
Image: PIB
"Liked this story? Indiaspend.com is a non-profit, and we depend on readers like you to drive our public-interest journalism efforts. Donate Rs 500; Rs 1,000, Rs 2,000."