4 Charts That Sum Up Indo-Japan Ties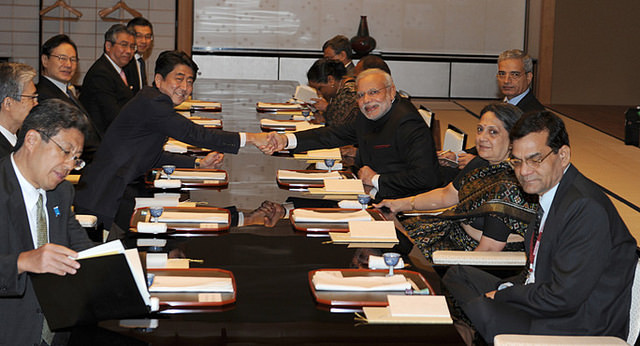 Prime Minister Narendra Modi's maiden visit to Japan and first outside the sub continent indicates India's zest to refine bilateral relations on economic and security front, a significant step towards improving India's Look East Policy.
Both nations share a rich and deep rooted historical and traditional ties since 6th Century B.C. with the spread of Buddhism from India to Japan. More recently, India and Japan signed a Memorandum of Understanding (MoU), to turn Varanasi into a 'smart city' like Kyoto.
India's key focus during the bilateral engagement is to attract investments in various sectors that will promote development and boost economic growth. Both Prime Ministers agreed to take further the Strategic and Global Partnership giving it a 'Special' status, outlining a new chapter in Indo-Japanese relations.
Let us take a look at India's trade scenario with Japan.
The exports between the two nations seem to be doing fairly decent with an increase from $6.32 billion in 2011-12 to US $ 6.81 billion in 2013-14. However imports see a fall of $9.48 billion as compared to US $12.41 billion in the previous year. The overall trade growth between India and Japan also reported a fall from a growth of 32.9 % to a fall of 3.35 %.
India's major exports to Japan include Minerals Fuels (Mineral oils, bituminous substances, mineral Waxes) which has seen an increase of 22.12 percent from 2012-13 to 2013-14. It is interesting to see India exporting large aquatic resources to the island nation from fish to cultured pearls. The exports of these aquatic resources like fish saw a dip of US $ 0.34 billion in 2012-13 to US $ 0.40 billion in 2011-12, which now seems to be picking up in 2013-14 at US $ 0.39 billion.
India's major import from Japan includes Nuclear reactors/machinery, which has gone down from US $ 3.88 billion in 2011-12 to US $ 2.60 billion in 2013-14. India was keen on getting the civil nuclear pact signed, as it would boost India's capacity to generate civil nuclear energy bringing in technology and opening a market for Japanese firms like Toshiba Corp and Hitachi Ltd. However, the Prime Ministers of both the nations have directed their officials to accelerate negotiation and conclude the agreement at an early date that would strengthen the partnership between India and Japan with respect to non-proliferation and nuclear safety.
Similarly imports of iron and steel; electrical machinery see a decline of 21.2 % and 17.2 % respectively. Currently India's import of Railway Locomotives, Rolling stocks and parts are worth just US $ 11.72 million, which may increase in the coming years with both countries welcoming cooperation for setting up Mumbai-Ahmadabad High Speed Railway project. Or the bullet train as most would know.
FDI – Bridging Bilateral Relations
P.M. Modi and his counterpart Shinzo Abe agreed to double investments through Japanese companies in India over the India-Japan Investment Partnership. The bilateral engagement seems to be fruitful for India as the Japanese Prime Minister Shinzo Abe, showed his willingness to finance US $ 35 billion over the next 5 years, in the form of Overseas Development Assistance (ODA) to projects like Ganga rejuvenation, setting up smart cities and skill development programs.
This will help boost Japans FDI inflows to India, which saw a decline from $ 2.23 billion in 2012-13 to $ 1.71 in 2013-14. Japans total FDI share amounts to US $ 16 billion since 2000, ranking 4th among the top FDI investors in India. Hence the FDI inflows function as an umbilical cord between the two nations promoting economic growth through infrastructure development.
As on July 10, 2013, there are 67 projects under implementation with Japanese loan assistance. The loan amount committed for these projects is about Rs.86555 Crores.