38-Year-Old Legacy Hangs Over Bihar Polls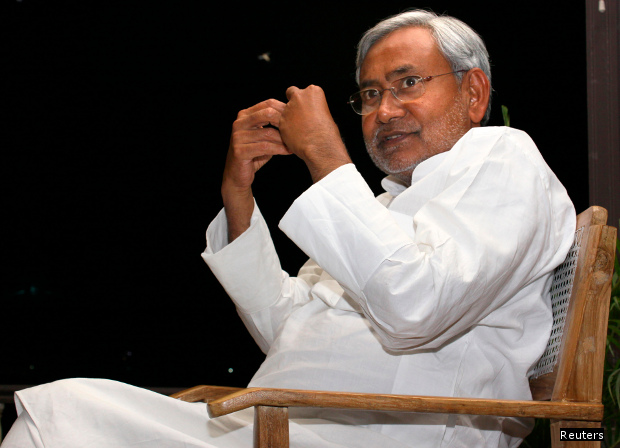 "Why were you sitting next to the persons responsible for arresting JP?" Prime Minister Narendra Modi rhetorically asked rival Nitish Kumar during his Bihar election run.
The 38-year-old JP Movement, or what is also known as the Bihar Movement, is in the limelight again, as the political battle for India's second-most populous state approaches its denouement.
Jayaprakash Narayan, or JP, was a revolutionary socialist leader, who in 1977 led a movement against the Congress party, eventually realigning India's political map.
For the first time since Independence, the Congress--thanks to the JP movement--lost power after the 1977 general elections that followed the emergency.
The Janata Party, an amalgam of anti-Congress groups, took charge of Delhi but could hold power only for two years.
State assembly elections after 1977 display similar trends.
In Bihar, the Janata Party won 214 out of a total of 324 seats in 1977.
By early 1980s, the Janata Party began to crumble in Bihar too. There were many factions that emerged. Two major parties in Bihar today are the Rashtriya Janata Dal (RJD) and the Janata Dal (United), both formed from factions that separated from the Janata alliance and emerged as important state parties in Bihar in the 1990s.
Known for their caste vote-banks and implacable opposition to one another until this year, they are now allies with the Congress in the ongoing state elections.
This is ironic because the Janata Party had emerged as the opposition to the "hegemonic" rule of the Congress in the 1970s.
Acronyms: INC (Indian National Congress); INC (U) (Indian National Congress United), BJS (Bharatiya Jana Sangh), CPI (Communist Party of India), CPM (Communist Party (Marxist)), NCO (National Congress Organization), SOP (Samyukta Socialist Party), SWA (Swatantra Party), JNP (Janata Party), JNP (JP) Janata Party (Jai Prakash), JNP (SC) (Janata Party (Secular- Charan Singh)), JNP (SR) (Janata Party (Secular- Raj Narain)), BJP (Bharatiya Janata Party), LKD (Lok Dal), ICS (Indian Congress Socialist), JD (Janata Dal), JD(S) (Janata Dal Secular), JD(U) (Janata Dal United), SAP (Samata Party), BSP (Bahujan Samaj Party), NCP (Nationalist Congress Party).
The story of 2015 elections: new alliances
The 2015 Bihar vidhan sabha (state legislative assembly) elections are witnessing a grand political alignment, a mahagathbandhan (grand alliance) of the JD (U), RJD and Congress.
They are pitted against the National Democratic Alliance (NDA), including the Bharatiya Janata Party (BJP), Lok Janashakti Party (LJP), Rashtriya Lok Samata Party (RLSP) and Hindustan Awam Morcha (Secular).
Other groups include the Samajwadi Secular Front including Samajwadi Party (SP), Nationalist Congress Party (NCP) and Jan Adhikar Party (JAP); and the left alliance, including the Communist Party of India (CPI), CPI(M), CPI(ML), Socialist Unity Centre of India (SUCI) (Communist), All India Forward Bloc (FB) and Revolutionary Socialist Party (RSP).
Bihar is the third-largest state in India, home to 104 million people, sending 40 representatives to the Lok Sabha, fourth after U.P. (80), Maharashtra (48) and West Bengal (42), making it an important proving ground for national politics.
Main State Parties in Bihar State Assembly since 1972

State Parties

1972

1977

1980

1985

1990

1995

2000

Oct-05

Feb-05

2010

FBL

0

0

0

0

0

0

0

MUL

0

0

0

0

BKD

0

RPI

0

0

RSP

0

0

0

0

0

ICJ

0

BSP

0

2

IML

0

JMM

19

10

12

0

ICS

0

JPP

2

SP

2

0

SHS

0

0

CPI (ML)

6

5

JP

0

RJD

124

54

75

22

SAP

34

SJP (RASHTRIYA)

0

UGDP

0

JD (U)

88

55

115

LJP

10

3
Note: Blanks in the table show years when these parties did not contest elections or were not present. 0 shows no seats won. Acronyms: FBL (All India Forward Bloc), MUL (Indian Union Muslim League), BKD (Bharatiya Kranti Dal), RPI (Republican Party of India), RSP (Revolutionary Socialist Party), ICJ (Indian Congress Jagjivan), BSP (Bahujan Samaj Party), IML (Indian Union Muslim League), JMM (Jharkhand Mukti Morcha), ICS (Indian Congress Socialist), JPP (Jharkhand People's Party), SP (Samajwadi Party), SHS (Shiv Sena), CPI (ML) (Communist Party (Marxist-Leninist)), JP (Janata Party), RJD (Rashtriya Janata Dal), SAP (Samata Party), SJP (RASHTRIYA) (Samajwadi Janata Party (Rashtriya), UGDP (United Goans Democratic Party), JD(U) (Janata Dal United), LJP (Lok Jan Shakti Party).
Offshoots of the Janata Party keep forming new factions and new alliances. Based on their performance in national and state elections, their status keeps swinging between national or state parties.
Another important factor was the creation of Jharkhand from Bihar in 2000, making JD (U) and RJD seats more intensely concentrated in Bihar.
National Parties – A party is recognised as a national party in India when it has candidates contesting elections to the Lok Sabha from four or more states. The party must be a state party in four or more states as well. Also, it must have won at least 2% of the total seats in the last Lok Sabha.
State Parties – For a party to be recognised as a state party, it must have at least 6% of the vote share in both assembly and Lok Sabha elections from that particular state. Also, it must have at least one member in the Lok Sabha from that state and two members in the legislative assembly of the state.
(Tewari is a policy analyst with IndiaSpend.)
Update: The copy has been updated to correctly reflect the state-wise position of Bihar in terms of Lok Sabha seats.
_________________________________________________________________
"Liked this story? IndiaSpend.com is a non-profit, and we depend on readers like you to drive our public-interest journalism efforts. Donate Rs 500; Rs 1,000, Rs 2,000."