31% Rise In J&K Terror-Related Deaths Year After 'Surgical Strikes'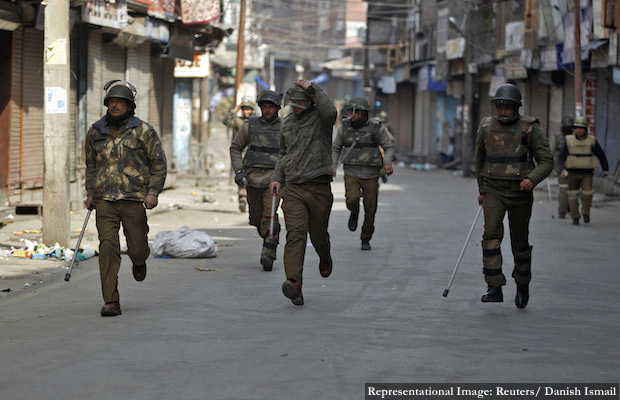 There has been a 31% increase in deaths due to terrorist-related incidents in Jammu & Kashmir (J&K) in one year since the Indian Army conducted what are called "surgical strikes" in Pakistan-Occupied Kashmir (PoK), according to an IndiaSpend analysis of data from the South Asia Terrorism Portal (SATP) run by the New Delhi-based Institute for Conflict Management, a non-profit.
The increase in terrorist-related deaths from 246 in 2015-16 to 323 in 2016-17 (till September 24, 2017) indicate that terrorist attacks and infiltration in J&K continue unabated a year after the surgical strikes.
This comes even as Indian Army chief General Bipin Rawat hinted that more surgical strikes could be mounted "if necessary".
"The strike was a message we wanted to communicate to them, and they have understood what we mean," Rawat was quoted as saying in Mint on September 25, 2017.
He said terrorists keep infiltrating into India because their camps remain operational in PoK.
"Even we are ready. We will keep receiving them (infiltrators) to dispatch them two-and-a-half feet below the ground," Rawat said.
Source: South Asia Terrorism Portal
Note: * Data for 2016-17 until September 24, 2017
SATP compiles data on deaths due to terrorism from media reports. The data are provisional, and current as on September 24, 2017.
The number of terrorists killed by security personnel increased 24% from 157 in 2015-16 to 194 in 2016-17.
The number of security personnel killed in terrorist violence has declined 2.5% from 79 in 2015-16 to 77 the following year, according to an analysis of data compiled by SATP.
The number of civilian casualties from terrorist-related violence increased almost five times to 52 in 2016-17 from 10 in 2015-16.
The increase in terrorist casualties compared to the marginal increase in deaths of security personnel can be seen as an indicator of the growing effectiveness of counter-terrorism operations of the Indian armed forces in J&K.
The Indian Army killed three terrorists in Uri, J&K on September 25, 2017. The Army thwarted a major terrorist attack, similar to the one on an Army base in the same area that left 19 soldiers dead and 17 injured on September 18, 2016.
The surgical strikes, or forays into Pakistan by special forces, last year were touted as a revenge for the Uri attack.
On September 29, 2016, the Indian Army crossed the Line of Control (LoC) into PoK to carry out "surgical strikes" on terror "launch pads," Director General of Military Operations Lt. General Ranbir Singh had announced.
"The operations were focused to ensure that these terrorists do not succeed in endangering lives of citizens in our country. During the counter-terrorist operations, significant casualties have been caused to the terrorists," Singh had said.
Prime Minister Narendra Modi and other political leaders had hailed the Indian Army for the surgical strikes. Modi had likened the strikes to the exploits of Israel, which is known to regularly conduct military strikes against militants and unfriendly countries.
Bharatiya Janata Party president Amit Shah had lauded Modi and the Army over the surgical strikes, calling it a "frontal fight against terrorism" which would make India feel "secure".
(Sethi is a Mumbai-based freelance writer and defence analyst.)
We welcome feedback. Please write to respond@indiaspend.org. We reserve the right to edit responses for language and grammar.
__________________________________________________________________
"Liked this story? Indiaspend.org is a non-profit, and we depend on readers like you to drive our public-interest journalism efforts. Donate Rs 500; Rs 1,000, Rs 2,000."