30% IPS Officers Ignore Property Disclosure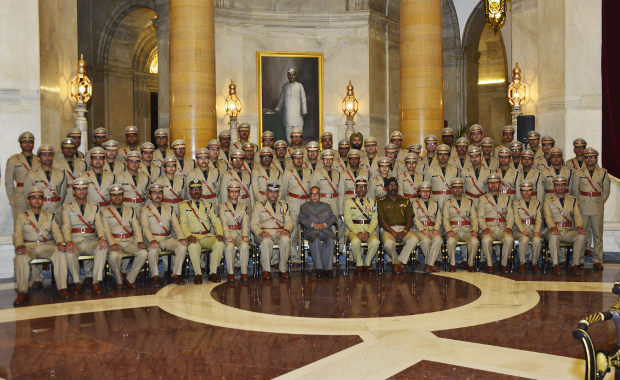 President Pranab Mukherjee with IPS probationers in New Delhi on December 13, 2012. Image: PIB.
New Delhi: More than 30% officers of Indian Police Service (IPS) and about 15% officers of Indian Administrative Service (IAS) have not disclosed details of their immovable property for the year 2014, according to government data.
The All-India Service (Conduct) rules, 1968, require officers to disclose these details when they join service and submit an annual property statement—listing properties and shares.
As many as 1,302 IPS officers have missed the deadline by four months, most serving in Uttar Pradesh, West Bengal and Madhya Pradesh cadre. More than 600 IPS officers have not filed returns for 2012 and 2013.
There are currently 3,700 IPS officers nationwide.
Source: Ministry of Home Affairs
IAS officers do better; 650 of about 4,600 officers have defaulted on their asset statements, according to the department of personnel and training (DoPT), which acts as nodal agency for service matters of IAS officers. The number for previous years is also lower at 150 and 240 for the year 2012 and 2013 respectively.
Source: IPR Information System
Of the 24 state cadres, with more than 71% of defaulting IPS officers, the Assam-Meghalaya joint cadre tops the list, followed by Jharkhand and Nagaland.
Source: Ministry of Home Affairs
For the IAS, the Arunachal Pradesh-Goa-Mizoram-Union Territory cadre has highest number (43%) of defaulters.
Source: IPR Information System
Government ignore defaults, so they increase
Officers who do not submit property returns in time will be "denied vigilance clearance" and will not be considered for promotion and empanelment (put on a short-list) for senior posts in Government of India, said a June 2012 home-ministry circular.
But with no action taken against those who default, more officers default, retired IPS officers told IndiaSpend. The home ministry can order departmental inquiries against defaulters or those who file wrong information, but not many such cases have been launched, said former Maharashtra Director General of Police Rahul Gopal.
Property declarations bring transparency, improves public confidence in the administration and ensures integrity of subordinates, said many officers.
An officer who does not declare assets is in no position to ask subordinates to do so, out of fear that their own illegal assets will be exposed, said 1981-batch Karnataka cadre IAS officer M N Vijaykumar, who retired in April 2015.
"Declaration of assets to the public is a way of telling the citizens that you have kept faith in me by permitting me to handle crores of rupees of public money for public use, and I have not exploited your trust," said Vijaykumar.
However, some officers who figure in the list do not agree with Vijaykumar.
"Not every officer who missed the deadline is corrupt, sometimes because of busy schedule we forget to file returns," said a senior IAS officer of the 1980 batch—currently posted in a central ministry—requesting anonymity.
Another senior IPS officer, also requesting anonymity, of the 1985 batch, whose name figures in the list, claims he submitted his return to the state government, which had apparently failed to forward it to the Ministry of Home Affairs.
Defaulters at the top
More than 30 IPS officers in the defaulters' list are Director Generals of Police. About 15 defaulting IAS officers hold secretary rank in the union government.
Service rules require officers to file annual property returns from their date of appointment. But returns were made public only in 2011 on a government website, as the Hindustan Times reported that year.
Following the Lokpal and Lokayuktas Act 2013 which provides for the establishment of a body of Lokpal for the Union and Lokayukta for states to inquire into allegations of corruption against public functionaries, officers must now reveal property details of their spouses and children as well.
However, in September 2014, Vinita Singla, wife of a government servant and working with an IT company, filed a writ petition in the Delhi High court against provisions regarding the disclosure of assets held in the names of spouses and children, contending that they violate her Fundamental Rights.
She pleaded that disclosed assets on a government website will cause prejudice and humiliation before the public at large. The high court passed an interim order staying the government from taking action as per the provisions of the act.
Following this, the government has been extending the deadline for filing property details under the Lokpal Act from first deadline of September 15, 2014. Officials are now asked to submit the returns by October 2015. ¦
(Patil is a New Delhi-based freelance journalist. He has worked with The Economic Times, DNA and The New Indian Express.)
---
"Liked this story? Indiaspend.com is a non-profit, and we depend on readers like you to drive our public-interest journalism efforts. Donate Rs 500; Rs 1,000, Rs 2,000."