27 Indian Journalists Investigating Corruption Murdered Over 24 Years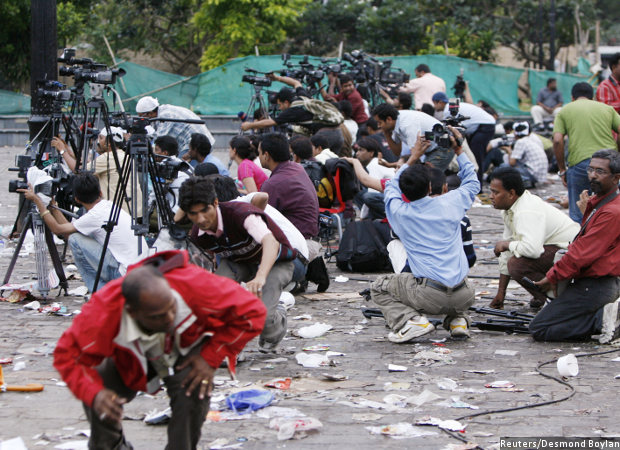 As many as 27 journalists have been murdered in India in direct retaliation for their work since 1992, according to the Committee to Protect Journalists (CPJ), a non-profit based in New York.
The CPJ's latest report, Dangerous pursuit: In India, journalists who cover corruption may pay with their lives, tells the stories of Jagendra Singh in Uttar Pradesh, Umesh Rajput in Chhattisgarh and Akshay Singh in Madhya Pradesh.
"The challenges faced by India's press are highlighted by the cases of Jagendra Singh, Umesh Rajput, and Akshay Singh… corruption was the impetus for all three journalists' final reports and in all three cases, there have been no convictions," Sumit Galhotra, CPJ's Asia Program senior research associate wrote in the report.
Freelancer Jagendra Singh, who died after being set on fire, allegedly by the police in June 2015, was investigating allegations that a local minister was involved in land grabs and a rape. Before he was shot dead in January 2011, Umesh Rajput was investigating allegations of medical negligence and claims that the son of a politician was involved illegal gambling. Investigative reporter Akshay Singh was working on a story linked to the US $1 billion Vyapam admissions scandal—tests for professional jobs run by the Madhya Pradesh government--"when he died unexpectedly in July 2015".
Assam, Uttar Pradesh and Jammu & Kashmir are the most dangerous areas to report from (statistics do not put Chhattisgarh in the top three), given their "volatile" institutional structures and "complex" civil societies, the report said.
Reporters Without Borders (RSF), a global advocacy, called India "Asia's deadliest country for media personnel, ahead of both Pakistan and Afghanistan", IndiaSpend reported in April 2016.
The CPJ report also shows how small-town journalists face greater risks than those from larger cities, and how India's culture of impunity is leaving the country's media vulnerable to threats and attacks. "They rarely get support from their employers if they are targeted," Sujata Madhok, general-secretary of the Delhi Union of Journalists, told CPJ. "The gulf between journalists working in rural or remote areas and those working in big cities is huge."
"The language a reporter writes in and, most importantly, what they are writing about—especially if it challenges the powerful—increase the vulnerability," P Sainath, co-founder of People's Archive of Rural India, wrote in the report.
"While rural and small-town journalists often have to cover multiple beats, those included in CPJ's list focused mainly on corruption, crime, and politics: three beats often closely intertwined," the report said. "This hasn't changed too much in the past three decades, but it has become worse with the retreat of the mainstream media from covering rural India in any depth."
Police are responsible for the first stages in any investigation, Geeta Sheshu, consulting editor of The Hoot, a media watchdog, told CPJ. "A faulty first information report, not applying the appropriate sections of the law, not clearly recording witness statements or protecting vulnerable witnesses, and not following up on preliminary investigations can be damaging."
The CPJ has made various recommendations to the central government, the Central Bureau of Investigation (CBI) probing the death of Akshay Singh and Umesh Rajput, the Uttar Pradesh and Chhattisgarh state governments and the Indian media. These include:
Provide sufficient resources and political support to improve the capacity of authorities to conduct timely investigations and trials relating to crimes against journalists, including freelancers, bloggers, and those who publish news on social media;
Immediately transfer the investigation into the 2015 death of Jagendra Singh in Uttar Pradesh from state police to the CBI; and
Employers should establish clear mechanisms for staff and freelancers to report threats, harassment, or attacks, and offer appropriate support.
We welcome feedback. Please write to respond@indiaspend.org. We reserve the right to edit responses for language and grammar.
__________________________________________________________________
"Liked this story? Indiaspend.org is a non-profit, and we depend on readers like you to drive our public-interest journalism efforts. Donate Rs 500; Rs 1,000, Rs 2,000."