2,234 Get HIV Via Blood Transfusion. We Didn't Know: Govt To Lok Sabha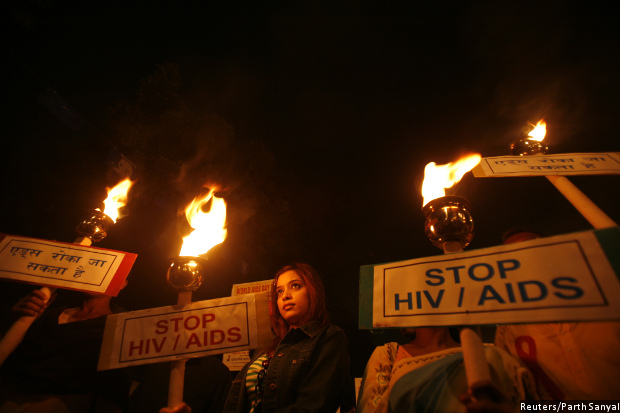 Activists take part in an AIDS awareness rally in Kolkata, West Bengal. Despite a 5% decline in the number of patients testing positive for HIV in India since 2007, 86,000 new infections and 68,000 AIDS-related deaths are reported every year.
As many as 2,234 people contracted the human immunodeficiency virus (HIV) after receiving blood transfusions in hospitals between October 2014 and March 2016, according to data released by the National AIDS Control Organisation (NACO), but the government told parliament it did not know of these infections.
The information was made available by NACO when it replied to a right-to-information (RTI) request filed by activist Chetan Kothari in 2016.
"No," was the reply the ministry of health--NACO's parent organisation--gave on August 16, 2016, to a question from Congress member of parliament and former minister Jyotiraditya Scindia asking if the government was aware that "a large number" of people nationwide had been infected with HIV while getting blood transfusion.
"The limitations of available testing methods while screening blood units for HIV in blood banks as a result of which possibility of HIV transmission during blood transfusion cannot be completely ruled out," the ministry said in its reply.
India fell 9% short of its blood requirement in 2015-16, IndiaSpend reported on 3 September, 2016, with prosperity dictating availability; Bihar, for instance, was 84% short of its blood requirements and Chhattisgarh 66% short, while Chandigarh was oversupplied nine times and Delhi three times.
NACO disputes the reliability of the data it released, claiming that it "refers to information on self-reported transmission of HIV", and is "not corroborated by any scientific means to confirm that transmission is indeed due to blood transfusion".
Blood transfusion is deemed "as an acceptable way of getting infected, rather than others showing bad lifestyles", said Zarin Bharucha, pathologist and chairperson of Federation of Bombay Blood Banks.
Rate of HIV infections declining, but India has third-highest number of HIV patients
Only South Africa and Nigeria have more HIV patients than India, where more than two million people are infected, according to this 2015 NACO report.
Despite a 5% decline in the number of patients testing positive for HIV since 2007, 86,000 new infections and 68,000 AIDS-related deaths are reported every year.
Source: India HIV Estimations 2015, National AIDS Control Organisation
Up to 95% of India's HIV transmissions are caused by unprotected sex, according to this December 2015 answer to the Lok Sabha.
Blood transfusions account for 0.1% of HIV infections, according to data released in the Lok Sabha reply, but based on NACO figures, it would account for 1.7%.
Either way, the number of HIV infections through blood transfusions should be zero: the US reported its last such case in 2008, the UK 2005 and Canada 1985.
It is mandatory for hospitals to screen donors and donated blood for what are called transfusion-transmitted infections, such as HIV, hepatitis B and C and malaria. That isn't always done, and when it is, the chances of ruling out HIV-positive blood are not 100%.
There is a window between the contraction of the virus and the production of anti-HIV antibodies in the blood that leads to the virus being undetected by tests. This period varies depending on the sensitivity and specificity of the test.
"The blood transmission mainly occurs in this period," said Bharucha. "Most of the (blood) banks use recent testing to shorten the window period, but these tests are expensive, so they are not used in many government-run hospitals."
Introduced in 2001, the nuclear acid amplification test has reduced the length of time HIV might be undetected to between seven and nine days, from two weeks and some months previously.
Funding falls, testing facilities inadequate, so quality of blood a gamble
Some states lack adequate HIV-testing facilities. In Jharkhand, 17 of the 24 districts did not have test facilities, this 2015 India Today report said.
There are an estimated 19,800 integrated counselling and testing centres (ICTCs) nationwide, an increase of 4,194 over the last three years. There should be at least 1 ICTC in every district, according to National AIDS Control Programme (NACP) rules.
The inconsistency in government funding for the NACP has not helped: The government slashed funding in 2014-2015 by 26% compared to the previous two years, then increased it over the last two years by 31%. The NACP budget for 2016-17 is still 3% less than it was in 2012-2013.
Source: Union Budgets
The lack of testing facilities leads hospital staff to rely on what is called "pre-donation history", an account of donations made by a donor.
"Relying on pre-donation history means if donors do not give personal history correctly, their blood is at risk," said Bharucha.
In a country where being HIV positive is still considered a social stigma--infected people tend to hide the fact--not testing blood and donors is a gamble, as is the practice of using what are called "replacement donors".
Hospitals short of blood often ask a patient's family to find a donor. "Not everyone has a donor available, so they might land up getting a paid donor," said Bharucha. Even if paid blood donations are forbidden (the Supreme Court banned them in 1996), they still take place, increasing the chances of patients getting blood that is HIV positive.
"Awareness is the key to tackle this issue," says Bharucha. "Communities should be aware of the danger of this practice."
(Grocchetti is a multimedia journalist and has a BA degree from Napier University, Edinburgh.)
We welcome feedback. Please write to respond@indiaspend.org. We reserve the right to edit responses for language and grammar.
__________________________________________________________________
"Liked this story? Indiaspend.org is a non-profit, and we depend on readers like you to drive our public-interest journalism efforts. Donate Rs 500; Rs 1,000, Rs 2,000."