2017: 4 Things India Can Look Forward To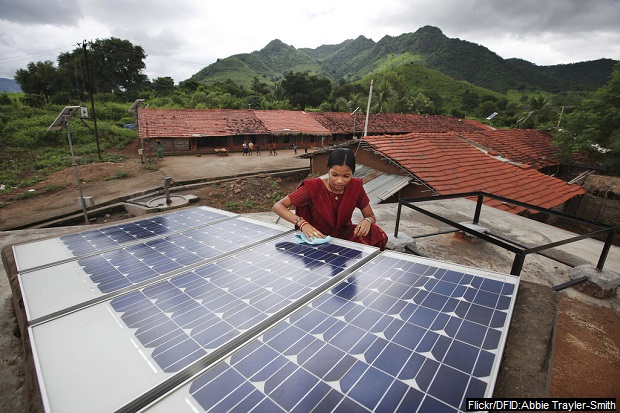 In 2016, IndiaSpend looked at several indicators to show India's progress in terms of clean energy, technological progress and electricity access. We analyse our progress since and predict an increased focus on renewables, more reliable power supply to villages, growing spread of Aadhaar--the national identification system--and greater use and spread of the Internet in 2017.
So, here are four things India can look forward to:
1. Increasing energy capacity and the push for renewables
What we said: Renewable energy installations would get a push in 2016, that would balance the country's reliance on coal, IndiaSpend reported in January last year
What happened: India said it would install 16 GW of renewable energy this year, with the aim of reaching 175 GW by 2022. It had installed no more than 3.9 GW as of November 2016, according to this progress report by the ministry of new and renewable energy.
The total installed energy capacity of India, as of November 30, 2016, was 309 GW, and nearly 15% came from renewable sources, according to data from the ministry of power. Between September 2015 and September 2016, 8.5 GW of renewable energy has been installed across the country. While the installed wind capacity increased 15.2% or 3.7 GW over the year, solar energy capacity increased by almost 4.2 GW or 96%.
Despite the slow growth in wind energy installation, the increase puts India in the fourth position world-wide after China, USA and Germany.
Source: Central Electricity Authority
India had targeted installation of 4 GW of wind capacity and 12 GW of solar capacity, the two largest contributors to the renewables basket, in 2016-17.
Eight months into the financial year, it had achieved no more than 40% of its wind energy target and only 17.5% of its solar energy target.
To achieve the 2017 target, the government and private players will have to install 2.35 GW of wind and 11.8 GW solar energy.
Source: Ministry of New and Renewable Energy
India has a solar energy potential of 750 GW--3.5 times mores than India's thermal installed capacity, which currently accounts for 70% of generation capacity--and solar radiation is available for over 300 days a year.What to look forward to: Solar energy installations in India have been rising steadily since 2010, except for a dip in 2012-13.
The government hopes to install 100 GW solar energy capacity by 2022 (57% of the renewable energy goal of 175 GW), according to the 2015-16 annual report of the ministry of new and renewable energy.
Source: Ministry of New and Renewable Energy; *As on November 30, 2016
The renewable energy ministry has created a road map for the next two financial years, 2017-18 and 2018-19. Over the next two years, India will add 42.6 GW--almost equivalent to its cumulative renewables capacity to date.
Source: Ministry of New and Renewable Energy; figures in MW
2. Rural electrification moving ahead but power supply suspect
What we said: Up to 98.1% of all villages were electrified by June 2016, according to the Central Electricity Authority, IndiaSpend reported on August 13, 2016
What happened: Prime Minister Narendra Modi, during his Independence Day speech on August 15, 2015, announced that all un-electrified villages in the country (18,452) would have power within 1,000 days, or by May 1, 2018.
Only 10% rural households need to be electrified for a village to be considered electrified, and quality of electricity is suspect even then, IndiaSpend reported on August 23, 2016.
As many as 11,429 villages have been electrified so far, according to the latest release by the ministry of power.
Out of the remaining 7,023 villages, 698 villages are uninhabited, 3,775 villages are scheduled for grid electrification, 2,502 villages off-grid because of geographical barriers, and 48 villages are slated for electrification by state governments, the power ministry said.
As part of the Deendayal Upadhyaya Gram Jyoti Yojana (DDUJY), inaugurated in July 2015, the government proposed to provide free electricity connections to 42 million rural households below poverty line (BPL).
As on March 31, 2016, 23.2 million (over 50%) BPL households were provided with free electricity connections, according to this report by the power ministry.
What to look forward to: Grid connected villages could possibly be electrified by the end of 2018. However, it remains to be seen how many households will actually have access to reliable electricity, given that several states such as Bihar, Assam and Uttar Pradesh still report that over 60% of their rural households are without electricity.
3. Aadhaar focus to shift to North East
What we said: Aadhaar enrolments were likely to cross 1 billion in 2016, IndiaSpend reported on January 2, 2016.
What happened: Aadhaar enrolments crossed the 1-billion mark in April, IndiaSpend reported on April 21, 2016.
Source: Unique Identification Authority of India
The number of enrolments had reached 1.095 billion by December 2016, with 73.4% of Aadhaar holders over the age of 18 while 22.75% between the ages of five and 18.
What to look forward to: Less than 75% of people in Bihar, Manipur, Jammu & Kashmir, Arunachal Pradesh, Nagaland, Mizoram, Meghalaya and Assam had Aadhaar cards as of December 15, 2016, according to data from Unique Identity Authority of India (UIDAI).
These regions, especially the northeastern states, might be the focus of the programme in 2017, as no more than 9% of Meghalaya's people and 6% of Assam's have Aadhaar cards.
4. India's Internet user community 2nd largest in the world
What we said: Around 462 million Indians would be online by June 2016, IndiaSpend reported in January 2016.
What happened: By September 2016, total Internet subscribers in India were 367.48 million, according to this Telecom Regulatory Authority of India (TRAI) report.
Source: Telecom Regulatory Authority of India
Minister for Communications and Information Technology Ravi Shankar Prasad said Internet users will cross 500 million either by the end of the year or in 2017.
India's Internet users per 100 population was low at 26 in 2015, as compared to a world average of 43.9, according to World Bank data.
What to look forward to: Internet users in India will continue to grow three times faster than the world average, adding approximately 400 million users to its base in the next five years, according to National Association of Software and Services Companies (NASSCOM), a trade association.
"India's internet consumption has already exceeded the US to become number two globally. By 2020, the internet is expected to penetrate deeper in hinterlands of the country, helping create more opportunities for everyone," Nasscom president R Chandrashekhar said.
As many as 75-80% of the new users will come from better-connected rural areas, given the saturation of services in Tier 1 cities, the Nasscom report said.
As more rural users come online, regional-language services will see a spike because 75% of the newly added users will speak a vernacular language, the report said.
(Patil is an analyst with IndiaSpend.)
We welcome feedback. Please write to respond@indiaspend.org. We reserve the right to edit responses for language and grammar.
__________________________________________________________________
"Liked this story? Indiaspend.org is a non-profit, and we depend on readers like you to drive our public-interest journalism efforts. Donate Rs 500; Rs 1,000, Rs 2,000."