2 Soldiers Die Every Month In Siachen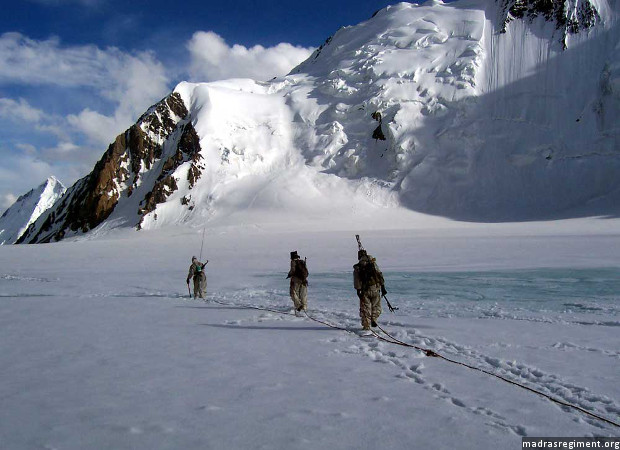 With the death of Lance Naik Hanumanthappa Koppad and nine of his comrades, India has lost two soldiers every month due to avalanches or extreme climatic conditions in the Siachen Glacier, since first sending troops to the contested Himalayan area 32 years ago to counter the Pakistan army.
Overall, 869 Indian troops died serving at the Glacier between 1984 and December 2015, according to data presented in the Lok Sabha, the lower house of Parliament. The death of 10 soldiers of the Madras Regiment on February 3, 2016--buried under an avalanche that struck their post at an altitude of 20,500 feet--and four others this year brings India's Siachen casualties to 883.
The toll includes 33 officers, 54 Junior Commissioned Officers and 782 other ranks.
The number of troops killed in Siachen has declined steadily, from 24 in 2011 to 5 in 2015, according to Lok Sabha data. All of these are a result of avalanches or extreme climatic conditions, not enemy fire. The deaths this year were from avalanches.
India has spent Rs. 6,566 crores between 2012-13 and 2014-15 on clothing and mountaineering equipment--much of it imported--for soldiers at Siachen.
The world's highest battlefield--but the battle is mostly with the weather
The Siachen Glacier, situated in a Himalayan region astride the India-Pakistan border, holds the dubious distinction of being the world's highest battlefield.
Siachen's forbidding conditions have claimed the lives of many Pakistani soldiers as well. Most recently, in 2012, an avalanche hit a Pakistani army camp at the strategically important Gayari sector killing 140 people, including 129 soldiers.
Altitudes reach as high as 22,000 feet (The top of Mount Everest, the world's highest peak, is at 29,000 ft) and temperatures dip below -45 degrees C.
Oxygen levels are low, and soldiers are prone to suffer from memory loss, blurred speech, frost bite, lung infection and severe depression. They also deal with the dangers of crevasses (long cracks or fractures in ice surface), especially during summer months.
Transporting the most basic supplies in these conditions is an arduous task, with some posts accessible only by helicopters. A few posts use pulleys to hoist supplies up the mountainside.
During winter, when land routes close, ageing, light Cheetah helicopters are the only means of food and ammunition supplies and emergency evacuations.
Nearly 3,000-4,000 Indian troops from three battalions serve year round. Each battalion spends up to three months on the Glacier after acclimatisation.
The high monetary and human costs of deployment have prompted calls for the Glacier's demilitarisation. However, mistrust between India and Pakistan has prevented that.
"The decision on Siachen is based on the security of the nation," said defence minister Manohar Parrikar recently. "I am disturbed by the loss of life, but I think that due to this, some other solution [withdrawal] would not be the proper analysis."
The headline of this story was corrected because we wrongly calculated that one soldier dies every month in Siachen. Two soldiers is the correct figure.
(Sethi and Jalan are writers based in Mumbai.)
We welcome feedback. Please write to respond@indiaspend.org. We reserve the right to edit responses for language and grammar.
__________________________________________________________________
"Liked this story? Indiaspend.org is a non-profit, and we depend on readers like you to drive our public-interest journalism efforts. Donate Rs 500; Rs 1,000, Rs 2,000."