2 Million Cases Await Justice For Decade Or More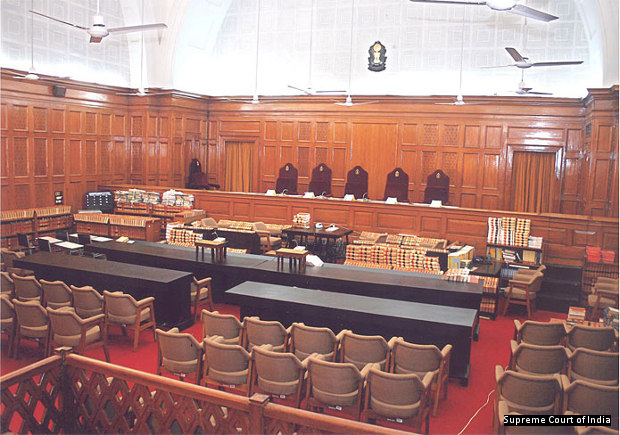 When the Gujarat government decided to build a municipal market in Vadodara in the early 1980s, it acquired land from a man we will call Mr X, who said he was paid nothing. His family does not want him identified because the case is—as they say in legal parlance—sub-judice.
This is the way it has been for 32 years.
Mr X died five years ago. His heirs are now fighting the case. In more than three decades, there was been 200 hearings in Vadodara's civil court.
"Five lawyers have represented us over three decades," said one of Mr X's heirs, requesting anonymity, like the rest of the family. "We still hope that the verdict will be in our favour and that we will get back our money soon."
Mr X's family has spent up to Rs 8 lakh on the case. It could be more. "Two generations have passed," his heir said. "It's impossible to keep track of the expenses."
"The family has aged, savings have been eaten into, and public money has been wasted," said the family's lawyer, who also requested anonymity. "There is nothing to show for the last 32 years."
As for the municipal market for which Mr X's land was acquired, it was never built.
The great legal logjam in India's lower courts
The first part of this series described how 25 million cases were pending in India's district and sessions courts. Of these, two million have been on trial for a decade or more, according to Law Ministry data.
At the current rate of trials, it will take not less than eight years to clear this backlog, putting considerable strain on the state exchequer as well as individual fortunes.
Data shows that 1.3 million of the 2 million pending trials are criminal cases.
The ratio of criminal-to-civil pending cases is the highest in Bihar, with 83% of criminal trials pending. Tamil Nadu has the least criminal-to-civil pending cases ratio with only 37% criminal cases.
"The law and order situation in states like Bihar and Uttar Pradesh and even Delhi is in shambles," said Aman Madan, a Delhi High Court lawyer involved in public interest litigation. "History proves that the rate of criminality was always high in these states, and it is continuing."
The reasons for the logjam range from the backlog itself, too few judges, indifference and apathy of lawyers and political interference.
"Many lawyers often drag cases for their financial benefits, which is a serious problem in our judicial system," said Sanat Dutta, advocate, Calcutta High Court. "Further, political influence slackens the work pace of the district courts."
The fodder scam of Bihar is an example of delayed justice. The Rashtriya Janata Dal (RJD) chief Lalu Prasad and 55 other accused were charge-sheeted in 1997 for bilking the government of money meant for fodder distribution, but it took the CBI 16 years to convict Prasad.
Another example came to light in August this year. The police in Tiruvannamalai district of Tamil Nadu did not execute a non-bailable warrant for 20 years. The court criticised the Superintendent of Police (SP) of the district (The SP was later granted relief by the High Court).
Jammu and Kashmir needs 64 years to clear backlog; Himachal a year
Uttar Pradesh tops the list of cases older than 10 years with 575,604 (27.4%) cases, as on October 30, 2015, data available from 27 states showed.
At the current rate of trials--calculated based on the average rate at which a judge closes pending cases--it would take the country eight more years to clear the backlog.
While the courts in Jammu & Kashmir will need 64 years to dispose of the cases, the courts in Haryana and Himachal Pradesh would clear them in one year.
"We are following archaic procedural rules that delay proceedings," said Sarvesh Kumar Sharma, a district court lawyer in Amroha district, Uttar Pradesh.
"Our country has too many forums and procedural laws that aggravate the working of the courts," said retired Supreme Court judge Santosh Hedge. "Those need to be identified and discarded. Laws should be brought in to hold judges responsible for excessive adjournments."
Every new government that comes to power has tried to set up an alternate system instead of addressing issues in the existing system, said Madan, the Delhi High Court lawyer.
Major BRICS countries have a similar story to tell.
Like India, Brazil also has too many forums in their judicial set-up, which complicates the judicial proceedings. A Yale University research on the performance of courts around world reveals that Brazil had 2,975 pending cases per judge in 1995-96.
According to an UN report, Russia had 19.9 judges per 100,000 population in 2010. In 2013, media reported that a leading European human rights body urged the Russian President to reform the country's judicial system.
More judges, more accountability—and a time limit to decide cases
The current judge-to-population ratio is 10.5 per million population, although the 120th report by Law Commission of 1987 recommended a judge-to-population ratio of 50 per million population.
To make the judicial system more transparent and accountable, a time limit must be fixed for deciding cases, and accountability of judges is to be determined to complete the target within stipulated periods, said Dipak Das, associate professor of law, Hidayatullah National Law University.
This is the second of a three-part series. You can read the first part here and the third part here.
(Ghosh is with 101reporters.com, a pan-India network of grassroot journalists. He writes on political and social impact stories and can be reached at himadri.25ghosh@gmail.com.)
__________________________________________________________________
"Liked this story? Indiaspend.org is a non-profit, and we depend on readers like you to drive our public-interest journalism efforts. Donate Rs 500; Rs 1,000, Rs 2,000."