1,893 Rapes, Including 80 Gang Rapes, In Delhi In 2015; Jodhpur Rape Capital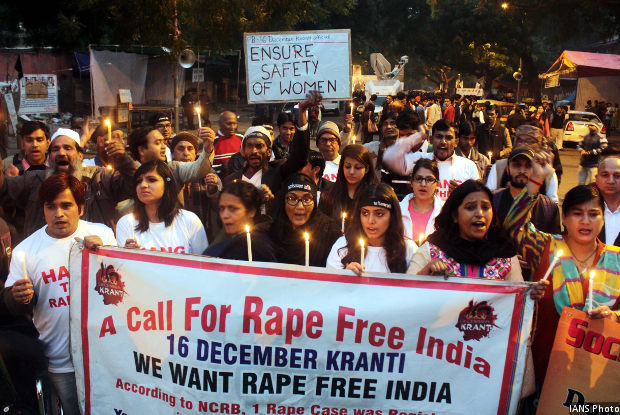 Delhi registered 1,893 rape cases in 2015, or more than five per day, according to the Crime in India 2015 report released by the National Crime Records Bureau (NCRB) on August 30, 2016.
Delhi was followed by Mumbai with 712 cases, Jaipur (279), Pune (266) and Nagpur (166) among mega cities (population of one million or more) across the country.
But Jodhpur in Rajasthan has the highest rate of rapes per 100,000 population. Delhi reports the second highest rate of rapes and Raipur is third, according to 2015 data.
Gwalior--which IndiaSpend reported in December 2014 as India's rape capital in 2013 based on female population--is down to the fourth highest.
Source: National Crime Records Bureau
It is not clear if rapes have increased or that more women are reporting rape; it could be either reason or both.
A comparison with 2014 cannot be made since 2015 data about crimes against women are based on total population "due to inadequacy of population figures", as the NCRB report put it.
Delhi had reported three times as many rape cases (when rape cases considered only the female population and not the total population) as Mumbai in 2014.
Rapes registered declined in 2015, but this was not for want of trying, IndiaSpend reported in September 2016, since attempted rapes increased 4.8%.
As many as 39 attempted rapes were reported in 2015 in Delhi, the highest number among mega cities; down from 59 cases in 2014.
Patna continues to report the second highest number of attempted rapes (23 cases), followed by Meerut (21) and Asansol (20).
As in 2014, Delhi reported more gang rapes than any other city, according to the same NCRB report: among the 1,893 rapes registered in 2015, 80 were gang rapes.
Jaipur (21), Faridabad (16), Mumbai (14) and Gwalior (13) reported between 74% and 84% fewer gang rapes than Delhi.
Rapes in Delhi had tripled and the reform process promised after the 2012 Nirbhaya case had failed, IndiaSpend reported in August 2016.
(Grocchetti is a multimedia journalist and has a BA degree from Napier University, Edinburgh.)
Note: The story has been updated to reflect that the rate of rapes for Jodhpur is calculated per 100,000 population, and not 100,000 women as indicated earlier.
We welcome feedback. Please write to respond@indiaspend.org. We reserve the right to edit responses for language and grammar.
__________________________________________________________________
"Liked this story? Indiaspend.org is a non-profit, and we depend on readers like you to drive our public-interest journalism efforts. Donate Rs 500; Rs 1,000, Rs 2,000."