1,700 Died In Overcrowded Prisons In 2014; 89% Of Natural Causes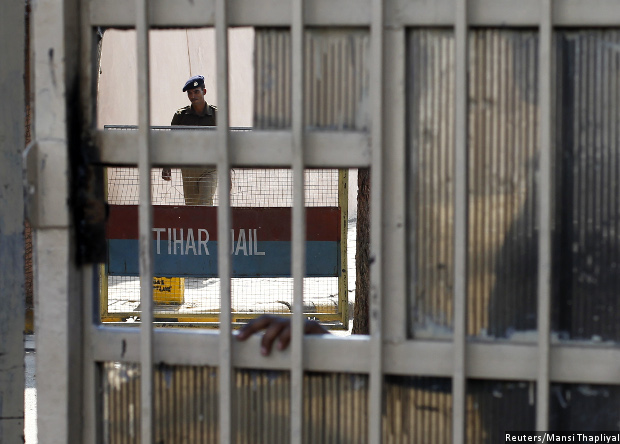 As many as 1,702 prisoners died in jails nationwide in 2014, according to this reply by the ministry of home affairs to the Lok Sabha (Parliament's lower house) in August 2016.
While 1,507 (89%) died of natural causes, 195 (11%) died of unnatural causes, such as "suicide, execution, murder by inmates, deaths due to assault by outside elements, death due to firing, deaths due to negligence/excess by jail personnel and others", said another home ministry's statement released to the Lok Sabha in March 2016.
Deaths in prisons increased 28% between 2011 and 2014, up from 1,332 to 1,702. While 21% more prisoners died of natural causes over four years to 2014, deaths from unnatural causes more than doubled from 88 cases in 2011 to 195 in 2014.
Source: Ministry of Home Affairs
The administration and management of prisons is primarily the responsibility of the state governments.
Prisons in Uttar Pradesh reported more natural deaths (300) than any other state, followed by Punjab (218) and Madhya Pradesh (122).
Over four years to 2014, Uttar Pradesh reported a 6% increase, Punjab a 114% increase and Madhya Pradesh a 47% increase in natural deaths.
Odisha prisons reported a 1,367% increase in unnatural deaths over four years, rising from three in 2011 to 44 in 2014. After Odisha, the largest number of unnatural prison deaths were reported from Uttar Pradesh (23), West Bengal (21) and Karnataka (15) that year.
Tamil Nadu, which lead the unnatural-death ranking in 2011, saw a 67% decline in 2014, from 15 to five.
Indian prisons at 117% of capacity
India's jails held 418,536 prisoners at the end of 2014.
Uttar Pradesh (88,221), Madhya Pradesh (36,433) and Bihar (31,295) had the highest number of prisoners, according to this March 2015 home ministry reply to the Lok Sabha.
India's prisons are 117% over capacity, or almost 62,000 inmates more than they have space for.
Dadra and Nagar Haveli prisons are the most overcrowded, at 231% of capacity, followed by Chhattisgarh (159%), Arunachal Pradesh (127%) and Delhi (122%).
Nagaland's prisons are filled to 69% of capacity, followed by Tripura (58%), Lakshadweep (56%) and Daman and Diu (44%).
Most Indians in prisons abroad in Saudi Arabia
There are 6,804 Indian nationals in foreign prisons, according to this May 2016 answer in the Rajya Sabha, the largest number in Saudi Arabia (1,696), followed by United Arab Emirates (1,143), Nepal (859) and Kuwait (434).
As many as 49 Indian nationals have died in foreign jails since 2013, according to this May 2016 external affairs ministry statement to the Lok Sabha.
More Indians (13) died in Pakistani prisons than any other country; 11 died in Saudi Arabia and six in Bangladesh.
(Grocchetti is a multimedia journalist and has a BA degree from Napier University, Edinburgh.)
We welcome feedback. Please write to respond@indiaspend.org. We reserve the right to edit responses for language and grammar.
__________________________________________________________________
"Liked this story? Indiaspend.org is a non-profit, and we depend on readers like you to drive our public-interest journalism efforts. Donate Rs 500; Rs 1,000, Rs 2,000."