142 Attacks On Journalists Reported Over Two Years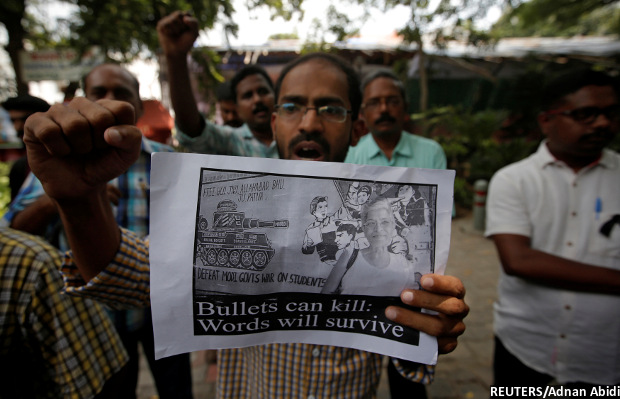 A protester displays a placard during a protest rally against the killing of Gauri Lankesh, an Indian journalist, in New Delhi, India, September 6, 2017.
As Bengaluru editor Gauri Lankesh was murdered on September 5, 2017, 142 attacks against journalists for "grievous hurt" were registered nationwide over two years to 2015, according to the latest available National Crime Records Bureau (NCRB) data.
As many 70 journalists were killed in India over 24 years to 2016, according to the Committee To Protect Journalists, a nonprofit.
As many 73 people were arrested for the 142 attacks, revealed in NCRB data quoted in this reply to the Rajya Sabha (upper house of parliament) by Hansraj Gangaram Ahir, minister of state for home, on July 26, 2017.
Lankesh was killed on September 5, 2017, after attackers fired seven shots at her. Four missed and two hit Lankesh in her chest and one on the forehead, India Today reported on September 6, 2017.
Lankesh was the editor of Gauri Lankesh Patrike a Kannada tabloid and a critic of Hindu right-wing ideologies and organisations.
The NCRB started collecting data on attack on journalists since 2014, the minister said in his reply. Cases were registered for "grievous hurt" under sections 325, 326, 326A & 326B of the Indian Penal Code.
Of 142 cases registered, 114 were reported in 2014 and 28 in 2015.
Uttar Pradesh (UP) registered the most cases (64) over two years but only four persons have been arrested. UP was followed by Madhya Pradesh (26) and Bihar (22). The three states accounted for 79% of all cases registered across the country. Madhya Pradesh reported the most arrests (42): 10 in 2014 and 32 in 2015.
Source: Rajya Sabha NOTE: No cases were registered or persons arrested in other states/union territories. Data for West Bengal was not received.
As many as 70 journalists were killed in India between 1992 and 2016, according to the Committee To Protect Journalists, a nonprofit.
The motives behind killing 40 journalists are confirmed: 27 were murdered and 13 were killed on dangerous assignments.
Since 1992, 28 journalists murdered in India; 96% cases unsolved: https://t.co/YdvdpTGacO #GauriLankesh

— IndiaSpend (@IndiaSpend) 5 September 2017
Since 1992, 55% journalists who were murdered in India covered politics: https://t.co/YdvdpTGacO #GauriLankesh

— IndiaSpend (@IndiaSpend) 5 September 2017
In an incident similar to the shooting of Lankesh, a Mumbai- based journalist Jyotirmoy Dey was killed in June 2011 by men on motorcycles firing several shots. Dey, who covered the underworld, succumbed to five bullet injuries between his chest and head. The trial is still underway.
India was ranked 136 of 180 countries in the 2017 World Press Freedom Index released by Reporters Without Borders (RWB), an advocacy.
"Journalists are increasingly the targets of online smear campaigns by the most radical nationalists who vilify them and even threaten physical reprisals….journalists working for local media outlets are often the targets of violence by soldiers acting with the central government's tacit consent," RWB said in the report.
"The sources of RWB in India are ambiguous, and the sampling is quite random in nature which does not portray a proper and comprehensive picture of freedom of the press in India," Ahir said in his reply to Rajya Sabha.
(Mallapur is an analyst with IndiaSpend.)
We welcome feedback. Please write to respond@indiaspend.org. We reserve the right to edit responses for language and grammar.
__________________________________________________________________
"Liked this story? Indiaspend.org is a non-profit, and we depend on readers like you to drive our public-interest journalism efforts. Donate Rs 500; Rs 1,000, Rs 2,000."