10,932 Companies Default On Provident Funds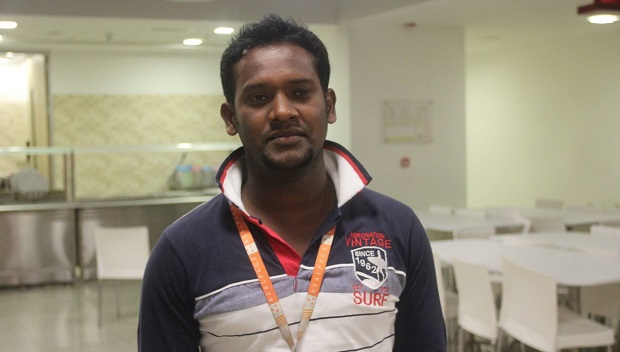 The law prescribes 30 days as the limit to pay provident funds, an employee's rainy day or retirement stash. Sanjaya Kumar has been waiting more than 1,800 days--five years--for the Rs 40,000 that an Odisha company owes his dead father. Numerous emails and complaints to the government organisation responsible for collecting and forwarding provident-fund dues have got no response. Like Kumar, thousands are in a similar predicament nationwide.
It should have taken 30 days for Sanjaya Kumar (27) from Odisha to withdraw his father's provident fund of Rs 40,000, the post-employment, rainy day ore retirement stash that companies must compulsorily deduct from salaries.
Instead, more than 1,825 days have passed since Kumar's father Krushna Chandra (53) died in 2011. "Please help me withdraw PF money, my mother is worried about losing it," said Sanjaya, in a complaint posted on an online forum.
Five years and three written complaints later, Kumar, has received no replies from the Employees' Provident Fund Organisation (EPFO), a government body that receives provident-fund deductions from companies and administers 50 million provident fund accounts nationwide.
Chandra worked in a company called Target Allied Securities Private Limited in Bhubaneswar, Odisha, and though his colleagues got their provident fund, his family did not. Kumar, settled in Hyderabad, said that he has sent "numerous emails"--he's lost count--to his father's employer and the EPFO.
Target Allied Securities Private Limited told IndiaSpend in an email that they have deposited Chandra's provident fund with the EPFO. Chandra's kin, according to the company, has not submitted "the required documents" and that may be causing the delay.
"They're not helping us, how can I go back and forth to Odisha from here?" asked Kumar. "My mother tells about it some times, but I have almost stopped chasing them."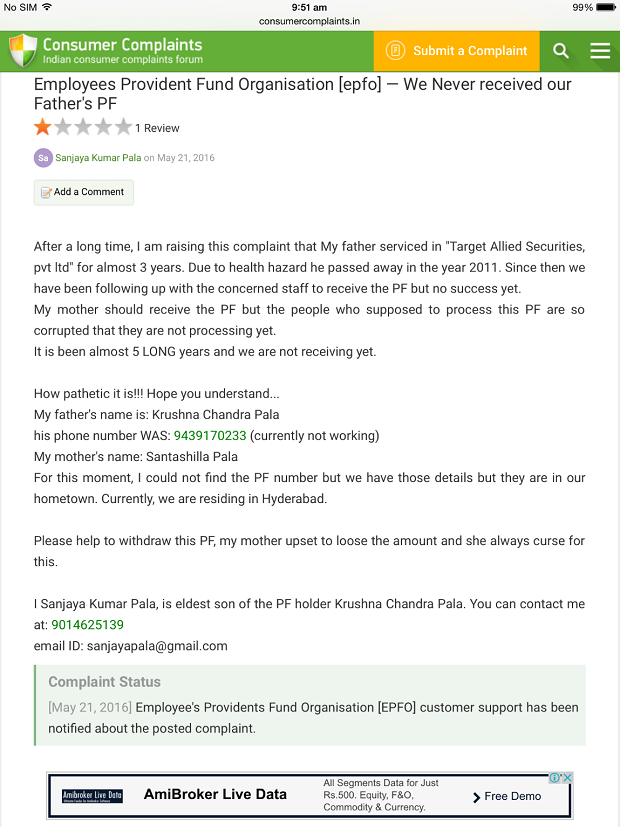 More than 10,000 companies--including 1,195 state-owned--nationwide have defaulted on provident-fund payments: 2,200 companies owe at least Rs 2,200 crore--to the EPFO, the portion of employee salaries they should have deposited.
NOTE: Figures in Rs. lakhs
The numbers of defaulting companies and institutions is growing. There were 10,091 defaulters in 2014-15, rising to 10,932 by December 2015.
Online consumer forums are flooded with complaints like those of Kumar's, as hundreds of employees who have quit or retired from a company are deprived of their provident fund.
"We have received more than 2,000 RTIs (right-to-information request) in the last one-and-a-half years, seeking status of provident-fund refunds and reasons thereof," said Vinoth R, co-founder of OnlineRTI.com, a Bangalore-based advocacy that helps people question the EPFO.
"We get lots of complaints from workers who have been denied their provident fund and also complaints of collusion between EPFO officials and employers," said All-India Trade Union Congress secretary and EPFO trustee D.L. Sachdev.
A detailed questionnaire sent on June 29, 2016, to the Central Provident Fund Commissioner and the Central Vigilance Officer of EPFO and reminders on August 1 went unanswered.
In Budget 2015-16, the government decided to tax a part of provident fund. But widespread nationwide protests--some violent, especially in Bangalore--forced the government to rescind the decision.
The rainy day solution, hobbled by defaulting companies
Provident funds are meant to provide financial security to salaried employees, who must contribute 12% of their monthly salary with the employer contributing 13.6%.
Companies or institutions with more than 19 employees deposit the provident fund of each with the EPFO, which in turn deposits the money in an employee account that earns 8.8% interest from the government, which invests her provident fund in government securities and corporate bonds.
While employees can withdraw the entire amount after retirement or two months after resigning from a job, the EPFO allows partial withdrawals to pay for a home, education, marriage or an illness.
Establishments that deduct contributions from employees' salaries, but do not deposit it with EPFO are termed defaulters.
Tamil Nadu, including Pondicherry, has India's largest number of defaulting companies (2,644), followed by Maharashtra (1,692) and Kerala, including Lakshadweep (1,118).
NOTE: Figures for 2015-16* are up to December 2015
The Airports Authority of India tops the list of defaulting institutions with a Rs-192-crore default, followed by HBL GLOBAL, Mumbai, and Ahluwalia Contracts India Limited, Delhi, with Rs 64.5 crore and 54.5 crore, respectively.
NOTE: Figures in Rs. lakhs
"AAI started remitting the monthly contribution from September 2007. For the retrospective period i.e. from April 1, 1995 (date of formation of AAI) to August 22, 2007, AAI has remitted the pension contribution in respect of employees along with the interest thereon," Rajesh Bhandari, executive director (finance), AAI, told IndiaSpend.
"The regional provident fund office, Delhi considered this period as a default period and levied the charges of Rs 192 crore for the period from April, 1995 to February 2006. The matter was taken up with central office and regional office stating that these charges are not payable by AAI as it pertains to pre-discovery period. However, CPFC/RPFC did not accept the argument of AAI and did not waive off those charges. Left with no other choice, AAI filed a case in High Court of Delhi to obtain a stay order. The next date of hearing in the case is September 30, 2016."
By region, Thiruvananthapuram leads with 247 defaulters, followed by Kolkata with 173 and Bhubaneswar with 115.
Companies that form their own provident-fund trusts for employees are exempt from signing up with the EPFO. In such cases, trustees are selected from company workers.
Defaulting companies must pay a penalty with an interest rate of between 17% and 37%, depending on the period of default.
EPFO set for a Rs 33-crore image makeover, but problems are deeper
The EPFO is set for a Rs 33-crore image makeover, which includes professional social-media management and advertisement in print and broadcast media, Mint reported on July 5, 2016.
But the EPFO'S role as a custodian of employee savings faces deeper problems: it does not tell employees that companies are defaulting until they come to settle; cases waiting for settlement are rising; and corruption with the organisation endures.
The number of EPF cases pending settlement in 2015-16 increased 23% over the previous year. Although 228 police cases were registered, 14,000 inquiries started against defaulting establishments and Rs 3,240 crore was recovered in 2014-15 from defaulters, the EPFO was short of 6,000 employees on March 31, 2015. Fewer employees affect the organisation's ability to enforce provident-fund rules.
EPFO trustee Sachdev said the organisaton was "very slow" dealing with complaints. "When an employee goes to settle his account with the EPFO, only then does he come to know that the company hasn't deposited the amount," he said.
There has been a four-fold increase in cases filed by EPFO to prosecute defaulting employers over the four years ending 2015, from 317 in 2012-13 to 1491 in 2014-15.
NOTE: Figures for 2015-2016* are up to September 2015
As many as 322 corruption cases were ongoing or concluded against erring EPFO officials between 2012–February 2015. Since then, corruption cases have dropped: 167 in 2012, 75 in 2013, 72 in 2014 and 8 till February 2015.
One reason could be that an EPFO executive officer was previously given charge of an area to ensure employers within that jurisdiction did not default.
"Now notices to defaulters are sent from the Head Office, and there is no officer who can be held responsible if the company defaults in payment," said Vivek Kumar, a former EPFO director of vigilance.
Back in Hyderabad, the reasoning makes no difference to Kumar.
The Employees' Provident Fund Organisation (EPFO)
The EPFO, run by the union ministry for labour, handles three social security schemes:
Provident Fund, Pension and Employee Insurance. These schemes are administered through the Employees' Provident Fund Scheme, 1952 (EPF), Employees' Pension Scheme (EPS), 1995, and Employees' Deposit Linked Insurance Scheme, 1976 (EDLI), under which a worker's family can cash in on benefits, if the employee was a member of the scheme at the time of death.
(Babu is a Delhi-based independent journalist and a member of 101Reporters, a pan-India network of grassroots reporters.)
We welcome feedback. Please write to respond@indiaspend.org. We reserve the right to edit responses for language and grammar.
__________________________________________________________________
Liked this story? Indiaspend.org is a non-profit, and we depend on readers like you to drive our public-interest journalism efforts. Donate Rs 500; Rs 1,000, Rs 2,000.