10,000 NGO Registrations Cancelled, Foreign Aid Set To Drop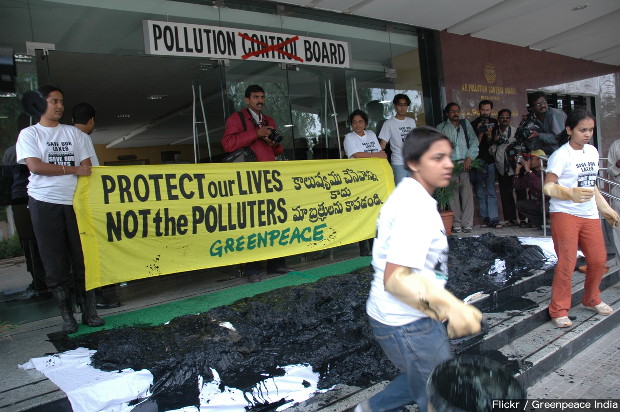 Greenpeace activists dump nearly a ton of toxic sludge from the Asanikunta Lake in Medak District, at the doorstep of the Andhra Pradesh Pollution Control Board in Hyderabad. GreenPeace was one of 10,000 non-government organisations whose registration under the Foreign Contributions Regulation Act registration was cancelled by Prime Minister Narendra Modi's government.
Foreign funding for Indian non-governmental organisations (NGOs) doubled in 2014-15 over the previous year, but with 10,000 NGO registrations cancelled in 2015, foreign contributions are likely to drop, according the latest data on foreign contributions.
Delhi, Tamil Nadu, Andhra Pradesh (unified), Karnataka and Kerala together got 65% of foreign aid coming to India, the data, tabled in the Lok Sabha (lower house of Parliament) on July 26, 2016, revealed.
Of Rs 45,300 crore ($7 billion) in foreign funding to Indian NGOs over four years– 2011-12 to 2014-15— Rs 29,000 crore($ 4.5 billion) was received by organisations in the national capital and these four (five after Telangana) states, an IndiaSpend analysis reveals.
Organisations in Delhi received Rs 10,500 crore ($ 1.6 billion), while each of the five states—Tamil Nadu, Andhra Pradesh, Karnataka, Kerala and Maharashtra—received close to Rs 5,000 crore ($770 million) over the past four years.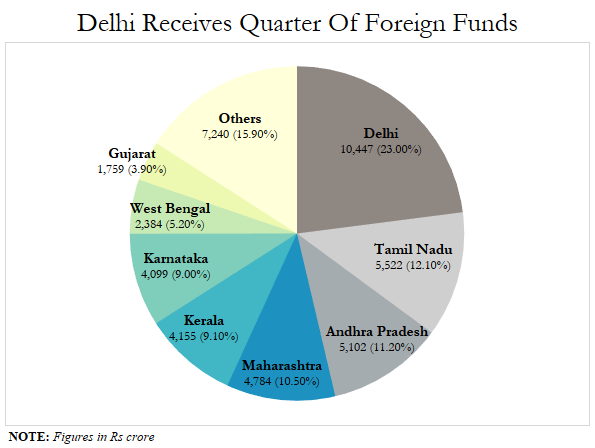 Source: UNSTARRED QUESTION NO. 1603, July 26th 2016, Lok Sabha, figures in Rs crore
There are 33,091 NGOs registered to receive foreign funds—under the Foreign Contributions (Regulation) Act (FCRA)—after the registrations of 10,000 NGOs were cancelled by the Ministry of Home Affairs in 2015.
Among the reasons for cancellation of NGO registrations: Not filing returns, misutilisation of funds and accepting funds for "prohibited activities", which include funding legal costs of bail, writ petitions of Indian NGOs and their activists, and undisclosed payment of salaries by foreign NGOs to foreign activists.
Foreign funding doubled in 2014-15 to Rs 22,137 crore($ 3.4 billion) compared to Rs 12,000 crore ($ 1.8 billion) in 2013-14.
Source: UNSTARRED QUESTION NO. 1603, July 26th 2016, Lok Sabha
Note: For NGOs with contributions more than Rs one crore
Foreign funds to Indian NGOs from 165 countries, most for social sector
India receives foreign contributions from 165 countries, of roughly 200 countries identified by the World Bank.
Health, education and child-welfare together received Rs 4,500 crore ($ 690 million) of the Rs 12,000 crore received in 2011-12, according to our analysis of the 2011-12 annual report of the Foreign Contributions (Regulation) Act, the latest available.
Source: Annual Report of FCRA, 2011-12
While NGOs associated with religious activities collected Rs 870 crore, NGOs with research activities got Rs 539 crore in 2011-12.
International NGOs free to fund in India but only to govt
As many as 109 international organisations, including various branches of the United Nations, World Bank, World Health Organisation, International Monetary Fund, World Trade Organisation and Asian Development Bank, are not treated as a foreign source while funding projects in India.
"The World Bank funding in 2013-14 was $5.2 billion (Rs 33000 crore).This funding goes to the government and not to any NGO,", wrote Prof. Trilochan Sastry of Association for Democratic Reforms (ADR), an advocacy, in this blog post.
A writ petition has been filed in the Delhi High Court by ADR to constitute an independent body to administer enforcement of Foreign Contribution (Regulation) Act, 2010. The case is currently being heard.
(Waghmare is an analyst with IndiaSpend.)
We welcome feedback. Please write to respond@indiaspend.org. We reserve the right to edit responses for language and grammar.
__________________________________________________________________
"Liked this story? Indiaspend.org is a non-profit, and we depend on readers like you to drive our public-interest journalism efforts. Donate Rs 500; Rs 1,000, Rs 2,000."