1 in 4 Delhi Voter Names Need Deletion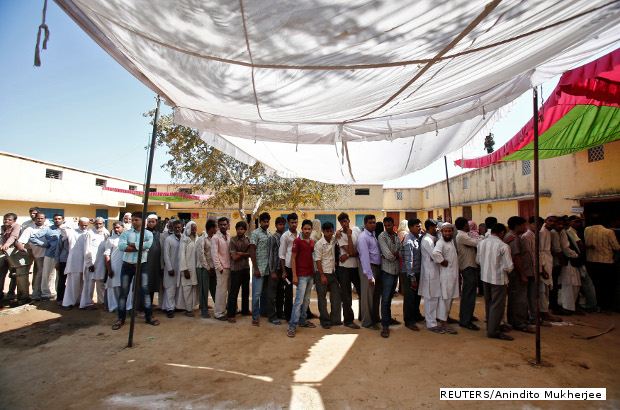 Nearly one in four voters in Delhi is likely to see their names deleted from the voter list, affecting the electoral outcomes of some constituencies that have witnessed close fights during the 2013 assembly elections.
Delhi goes to polls on February 7th and the results will be announced on February 10th.
Proper Urban Electoral Lists (PURE) released by Janagrahaa, a Bangalore-based non-government organisation (NGO) that has been working on voter lists in cities, says that the names of 2.9 million voters out of the total 13 million voters may need to be deleted from the list followed by 1.4 million voters who could not be found.
The revelation is challenging because these voters can turn out to be phantom voters, which may affect victories where margins are low. The survey found only 60% of voter entries to be error-free.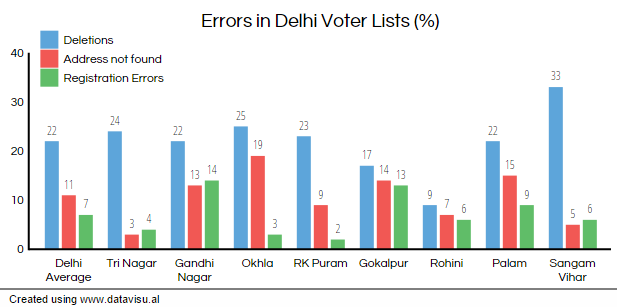 Source: Janaagraha
The study was carried out across eight assembly constituencies and covered over 3,200 entries on the voters list. "While the Rohini assembly constituency had the least error rate at 9%, the other seven ACs had errors ranging from 17% to 33%. Sangam Vihar constituency recorded the highest error rate of 33%," the report said.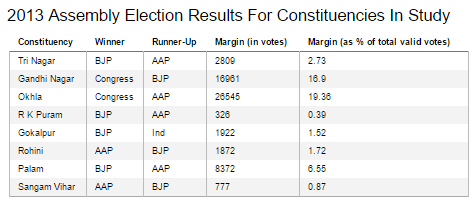 Source: Election Commission, Janaagraha
In six of the eight constituencies, the winning candidates have got less than around 5% more votes cast in their favour. And the errors in the voter lists are as high as 50% in Gandhi Nagar, which is also a constituency with a high victory margin. Another constituency is Okhla with 19% victory margin and 47% error in the list. So, is higher error leading to deflection of (phantom) votes in favour of a particular party in an otherwise multi-pronged contest?
Srikanth Viswanathan, co-ordinator, Janaagraha, said: "Deletion of eligible voter names in the Lok Sabha elections earlier this year, especially in Mumbai, Pune and Nagpur followed by public interest litigations shows that voter list management remains an oft-neglected electoral reform agenda in India. While the issue of additions to voter lists is being addressed, at least to a certain extent through voter registration drives, the issue of deletion has escaped a comprehensive solution."
Major General (Rtd) Prasad, co-ordinator, Janaagraha, added: "The Election Commission of India is one of India's best run public institutions, and has generally been at the forefront of electoral reforms in India. Issues on voter list management persist even in mature democracies. However, given that urban population in India will grow from 400 million today to over 800 million by 2050, the number of changes to voter lists too would be of an order never seen before in a democracy. Voter list management, therefore, needs to be acknowledged and discussed as a crucial electoral reform agenda."
_____________________________________________
"Liked this story? Indiaspend.org is a non-profit, and we depend on readers like you to drive our public-interest journalism efforts. Donate Rs 500; Rs 1,000, Rs 2,000."