Women Outvoted Men in 16 States/UTs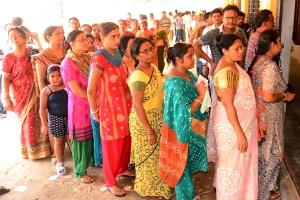 More women are turning out to vote, mostly to elect men it would appear. While there are only 61 women Members of Parliament in the 16th Lok Sabha, women voters turned out in large numbers across the country to exercise their franchise in the just concluded parliamentary elections.
Over 260 million women voters exercised their franchise (turnout of 65.63%) across the country as against 293 million male voters (turnout of 67.09%). The total turnout was 66.4% - 553 million voters as against the total electorate of over 830 million.
So, which states and union territories saw more women than men voting for their candidates? Arunachal Pradesh, Bihar, Chandigarh, Dadra & Nagar Haveli, Daman & Diu, Goa, Himachal Pradesh, Lakshadweep, Manipur, Meghalaya, Odisha, Puducherry, Punjab, Sikkim, Tamil Nadu and Uttarakhand.
Table 1: States In Which More Women Voted Than Men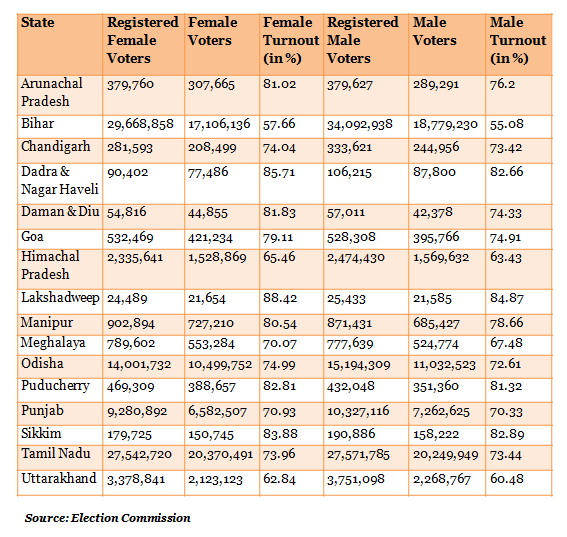 Some myths have been busted here. Kerala, which has the best sex ratio (females per 1,000 males) at 1,084 is absent from the list. The state witnessed polling of only 73.84% among women as against 73.96% among men.
Bihar, which is generally considered pro-men and anti-women, has seen more women voters participate in the poll process. The state witnessed a polling percentage of 57.66 among women as against only 55.08% among men.
Women in the North-East states were active participants in the election process. Arunachal Pradesh, Meghalaya, Sikkim and Manipur saw over 80% women exercise their franchise except Meghalaya where their voting was only 70%.
Let us now look at the states that sent the maximum MPs to the Lok Sabha. IndiaSpend had earlier reported that West Bengal leads the charge here with 14 women MPs followed by Uttar Pradesh (13) and Gujarat (4), Madhya Pradesh (4) and Tamil Nadu (4).
Table 2: West Bengal, Tamil Nadu See High Women Voter Turnout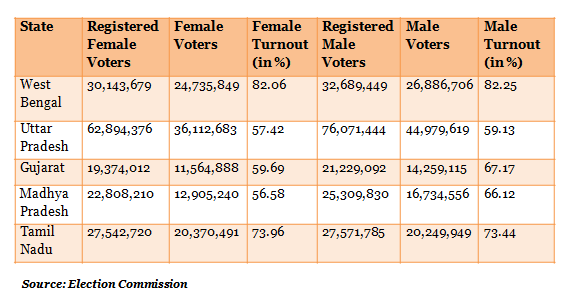 West Bengal saw over 80% women voters (nearly 25 million) vote for their favourite candidates. Uttar Pradesh and Madhya Pradesh saw only 57% women voters use their rights. On the other hand, Tamil Nadu saw nearly 74% women voters vote for their candidates.
So, women do exercise their franchise and it is up to the political system to take up the challenge and offer them the right opportunities. Next step: more tickets to women candidates.