Why A $20-Billion Defence Deal May Be Scrapped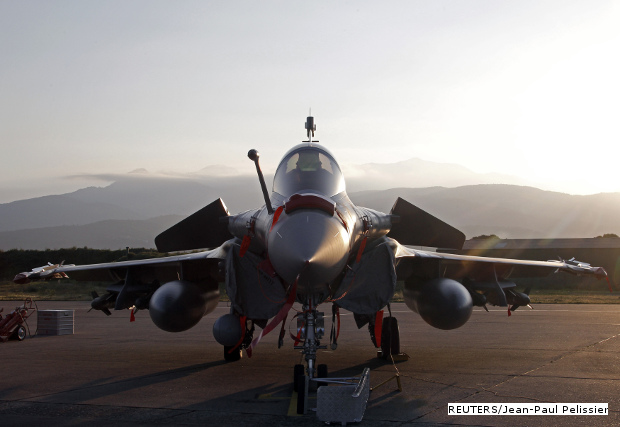 The fighter jet in question, the Rafale from Dassault.
A $20-billion (Rs 1,20,000 crore) defence deal with French aerospace major Dassault may be unravelling, thanks to a change in thinking by Defence Minister Manohar Parrikar.
Parikkar recently hinted that the deal for Rafale medium multi-role combat aircraft (MMRCA), under negotiation with Dassault since 2012, might be scrapped. He further said that additional Sukhoi-30 MKI fighters, built by Hindustan Aeronautics (HAL) at its Nashik plant, could substitute for them.
The Sukhoi-30 MKI is currently India's most advanced air fighter and forms the backbone of its air power. It's also half the current cost of a Rafale. However, delays from HAL have slowed its entry into the Indian Air Force (IAF).
Air Vice Marshal (Rtd) Manmohan Bahadur, Distinguished Fellow at Centre for Air Power Studies, New Delhi, told IndiaSpend the statement of the minister could be taken as a statement of intent.
"A lot of operational issues will have to be taken into account before such a decision is taken," said Bahadur, "the two aircraft are of a different class, requiring different types of infrastructure and aircrew—two for the Sukhoi instead of one for the Rafale, so training requirements double."

Source: Stockholm International Peace Research Institute; news reports
IAF first signed a deal with the Russian government to purchase eight air defence Su-30K and 32 multi-role Su-30 MK aircraft in 1996. IAF bought an additional 10 Su-30 MKs in December 1998.
The original contract signed in 1996 also envisaged the development of new Su-30 MKI aircraft by integrating the Russian Su-30MK with the latest western, Russian and indigenous avionics. These were to be indigenously manufactured by HAL under a licence from Russian defence export agency Rosoboronexport.
India and Russia agreed to the licensed production of 140 Su-30 MKI aircraft, 920 engines and 140 sets of airborne equipment. These aircraft were to be delivered by HAL in four phases by 2017-18. However, in March 2006, the Ministry of Defence advanced the delivery of these aircraft to 2014-15 to counter a sharp fall in combat aircraft available, due to crashes and obsolescence.
The IAF then placed an additional order for 82 aircraft with HAL, taking the total number of indigenously produced aircraft to 222, to be delivered between 2002-03 and 2016-17. No more than 150 aircraft have been delivered.
The central government's auditor, the Comptroller and Auditor General (CAG) was less than impressed, noting delays in technology transfers from Russia.
The delivery schedule of 222 aircraft has been pushed back by two-and-half years to 2019.
Crisis on the frontline
The IAF now has 25 active fighter squadrons (16-18 aircraft each) instead of 42, according to a recent report tabled by the Parliamentary Standing Committee on Defence.
Of these 25 squadrons, 14 use MiG-21 and MiG-27 aircraft, set to retire between 2015 and 2024. The report further states that the IAF requires "at least 45 squadrons to counter a two-front (Pakistan and China) collusive threat". This is why the MMRCA from Dassault and the home-built Tejas light combat aircraft were important.
The MMRCA was first envisaged by IAF in 2000 as a stop-gap arrangement to replace the vintage Mig-21 aircraft, due to delays with the Tejas. In 2007, a Request for Proposal (RFP) was issued for 126 MMRCA at an estimated cost of Rs 42,000 crore ($12 billion).
Since 2012, the defence ministry and Dassault have not been able to close the MMRCA deal. A key reason is that Dassault is unwilling to guarantee the quality of 108 fighters to be manufactured in India.
The second reason is the escalation in costs by 100%. A recent report said that the technology transfer agreement and the Indian assembly line had led to the costs sky-rocketing to around Rs 1,20,000 crore ($20 billion).
As Parrikar said, the cost of a Rafale has now ballooned to twice that of the IAF's primary workhorse, the Sukhoi 30 MKI.
Can Parrikar's Plan B work?
Air Vice Marshal Bahadur feels HAL's track record does not inspire confidence. "HAL will have to raise new infrastructure to take on the numbers required," he said.
The bottom line: the IAF will remain a weakened force unless the jet mess can be sorted out.
_____________________________________________________________
"Liked this story? Indiaspend.org is a non-profit, and we depend on readers like you to drive our public-interest journalism efforts. Donate Rs 500; Rs 1,000, Rs 2,000."