Record Milk Surge In India, But Crisis For Small Dairy Farmers
Small dairy farmers at a milk market in Jaipur. Despite a 27% increase in India's milk production in four years, small farmers and producers are being pushed into debt and out of the milk businesses.
In 2014-15, for the first time, the value of milk produced in India (Rs 4.96 lakh crore or $74 billion) accounted for 20% of the total agricultural output and exceeded the total value of foodgrain (Rs 4.87 lakh crore or $72.6 billion), according to this analysis of government data by Indian Express on October 23, 2017.
However, this boom coexists with a crisis for small dairy farmers. The dairy sector is increasingly dominated by large dairy companies while small farmers and producers are being pushed into debt and out of the milk businesses, according to this 2017 study by Food Sovereignty Alliance (FSA), an advocacy.
This is despite a 27% increase in India's milk production, from 121 million tonnes in 2011-12 to 155 million tonnes in 2015-16, according to government data.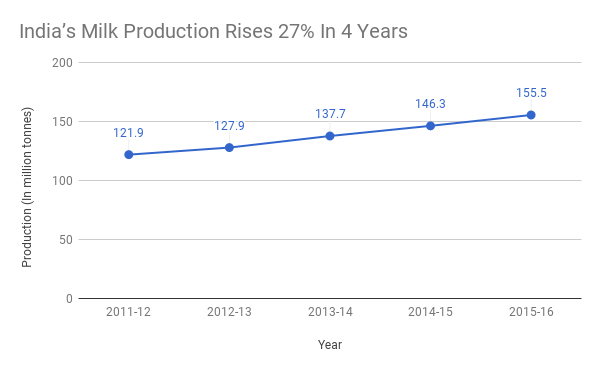 Source: Ministry of Statistics and Programme Implementation
Large multinational companies are competing with each other to reduce the price of milk they sell in cities, squeezing margins for dairy farmers, the FSA study found. The small farmer's role in the business has changed from an entrepreneur to a worker in a large company.
"To keep prices low, while retaining their margins, dairy processors are reducing the procurement prices and volumes of milk from small farmers and producers, which is pushing them into debt and out of the production business," the study said. "Small farmers who are the backbone of India's milk production are being rapidly alienated from their means of production."
"Instead of deciding how much to produce based on local processes and resources, these farmers are being transformed into workers for large companies. This is driving them to adopt completely ecologically unsustainable production strategies, making their environment and lives extremely vulnerable," the study said.
No support or subsidy from government
The crisis can be partly explained by the fact that India's dairy producers receive absolutely no support or subsidies from the government. A similar crisis affects small farmers in the European Union and the US, where subsidies favour large dairy players, said the study.
The FSA study was launched in June 2015, when small farmer members from Chittoor district in Andhra Pradesh and Medak district in Telangana revealed the FSA what was going on.
Based on the investigation, the FSA study made several recommendations. They include:
India must not cut import tariffs on milk and milk products. The government must pressure the EU, the US, Australia and New Zealand withdraw subsidies that distort dairy markets.
Foreign direct investment in animal farming, dairy and dairy processing must be revoked.
The state must guarantee a minimum price for milk sold by small farmers. This price must cover their cost of production and should be executed through public-sector cooperatives (for example, Telangana's Vijaya Dairy recently increased its procurement price by Rs 4 per litre to support milk farmers).
Resources (land, water, air, forests, biodiversity, seeds), agricultural produce and the dairy, meat, eggs and milk sector must be excluded from all bilateral, multilateral, plurilateral and/or regional free trade agreements being negotiated by India with various countries.
Experts believe that states need to formulate policies that will return the focus to cooperatives.
Bigger role for cooperatives
"We need to encourage more cooperatives, with the sole aim of maximising the share of the producer (the small dairy farmer) in the price which is paid by the consumer," said Ramandeep Singh Mann, a farm policy expert. "Additionally, we need to make sure cooperatives are kept free from political interference and are run by professionals."
In Telangana, private dairies and small vendors procure 75% of the milk produced, and cooperative societies purchase only 25% of the milk, the FSA found.
"The state governments have to concentrate on processing milk and milk products. For instance, Uttar Pradesh is the largest producer of milk but it processes only 12% of the milk. If the processing capacity is increased, it will mean better returns for small dairy farmers," said Mann. "States need to formulate policies which will encourage processing of milk, resulting in value addition and then ensure that a percentage from this goes to the dairy farmers."
Milk processing is also important because about half of India's milk, vegetables and fruits are wasted due to the lack of cold storage, as the Business Standard reported on October 24, 2017.
Farmers are reaching out directly to consumers because "bigger federations and companies are procuring milk at extremely low prices", Santhosh D Singh, founder of Bangalore-based Amrutha Dairy Farms, pointed out.
He also seconded FSA's suggestion on subsidies. "The cost of producing milk for the small scale dairy farmer is quite high. And if they sell milk to these companies at the current procurement prices, they are almost doing charity," he said. "I believe there should be some form of support from the government to subsidise the cost of production or increase procurement prices so that the small scale farmers could sustain their businesses."
There is another crisis the industry is facing: Shortage of cattle fodder caused by shrinking pastures. India may have to import milk in four years if it cannot increase fodder supply for its 299 million cattle, as rising pressure on land reduces pastures nationwide, IndiaSpend reported on February 24, 2017.
(Saha is an MA Gender and Development graduate from the Institute of Development Studies, University of Sussex.)
We welcome feedback. Please write to respond@indiaspend.org. We reserve the right to edit responses for language and grammar.