Maoists Acknowledge 'Setback' As Violence Falls 53% In 6 Years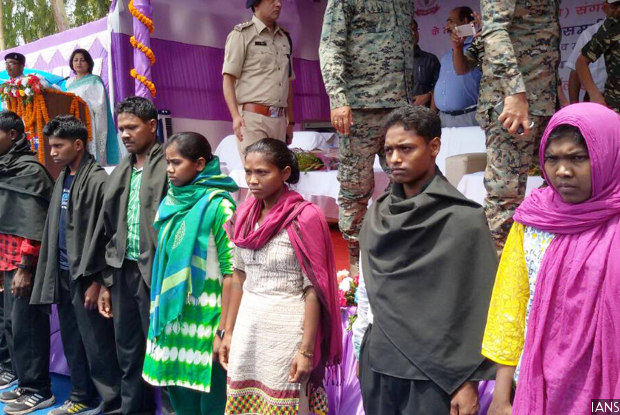 Ten Maoists surrender before police officials in Lohardaga, Jharkhand, in April 2017. The Maoist movement is suffering a setback almost everywhere including its once unshakeable bastion, Dandakaranya, top leadership of Communist Party of India (Maoist) concluded in a February 2017 meeting.
Hyderabad: There has been a 52.6% drop in incidents of Maoist violence between 2010 and 2016, according to an IndiaSpend analysis of ministry of home affairs (MHA) data.
Incidents of Maoist violence fell 22.5% in the first nine months of 2017 compared to the same period last year, according to MHA figures published in September 2017 in an article in Telangana Today, a Hyderabad-based newspaper. Police cases were registered for 625 incidents--compared to 807 in 2016--over this period, from assault and murder to arson.
Source: Ministry of Home Affairs data published in Telangana Today. 2017 figures are as of September 15
In a review meeting held in early 2017, the Communist Party of India (Maoist), which leads the left-wing extremist movement, concluded that its armed struggle was undergoing a "difficult" phase. This was stated in the party resolution that was accessed by K Srinivas Reddy, the editor of Telangana Today.
There are 16 Maoist strongholds across India, and the resolution spoke of "setback" in some, and the movement having become "weak" elsewhere.
This fall in Maoist violence can be explained by a crackdown against left-wing extremist groups. In 2016, police encounters grew 20.5%--from 272 in 2010 to 328 in 2016.
Source: Ministry of Home Affairs data published in Telangana Today. 2017 figures are as of September 15
Between 2010 and 2017, Maoist casualties, surrenders, and arms recovery spiked, hitting a peak in 2016, as per MHA figures. Around 442% more Maoists surrendered in 2016 as compared to 2010. Attacks on the police too fell 75%--from 230 in 2010 to 58 in 2017.
Source: Ministry of Home Affairs data published in Telangana Today. 2017 figures are as of September 15
"This is not to say that there were no deadly raids against security forces by the party's armed wing, the People's Liberation Guerrilla Army (PLGA). They still have military might. But the movement is losing its political force," said Reddy.
Spread halted, existing bastions weaken
The spread of the Maoist movement across India, which grew in the last decade, appears to have been arrested, as per CPI (Maoist) documents. The party's traditional bastions, once considered unshakeable, too have been affected.
The party's central committee oversees the functioning of four regional bureaus--northern, eastern, central, and south-west. These bureaus in turn monitor and coordinate naxalite activity of three panels--the special zonal committees (SZCs), the special area committees (SACs) and the state committees (SCs) or leading committees (LCs).
The central committee's assessment is that in the northern bureau--comprising Punjab, Haryana, Uttarakhand and Uttar Pradesh--the party's grip is "very weak". In the eastern pocket--Bihar, Jharkhand, West Bengal and Assam--it is "weak/(suffering a) setback".
In central areas, the forested Dandakaranya area in central Chhattisgarh, once considered an unbreachable Maoist stronghold, has been declared "difficult" for extreme left wing activities.
Andhra Pradesh, Odisha and Telangana have been categorised as "weak" or "setback". Kerala, Karnataka and Tamil Nadu, states in the party's south-western bureau, are all down to "stagnation with only mass organisation activity".
What to do with an ageing leadership
The Maoist movement in India appears to be facing its biggest challenge from a new quarter--ageing leadership, said another Telangana Today report. Seven of the 19 members of the central committee are above 60 and a few are coping with health issues. Party general secretary Muppala Laxmana Rao, popularly known as Ganapathy, is now 66, and the senior-most leader of the team, Prashant Bose, is 69.
At its February 2017 meeting, the central committee decided to pull 'veterans' at all levels out of the job of leading the movement in the jungles. The party would, however, use their services in different ways and ensure that they were "respected" and "supported" by the rank and file.
"In areas where government offensive is serious and we are unable to protect our leadership, we should send them to villages or urban centres which are unaffected by revolutionary movement," the resolution said. This move to villages and cities would also allow ailing senior leaders to seek medical help, it added.
The party, known for its secrecy, would contact relocated or transferred leaders once in six months, as per the document.
If the party leadership moves into the hands of younger members, even as the CPI(Maoist) suffers a setback across India, it is likely that action against security forces will become more intense, said Reddy.
A version of this story first appeared in Telangana Today, a Hyderabad newspaper.
We welcome feedback. Please write to respond@indiaspend.org. We reserve the right to edit responses for language and grammar.
__________________________________________________________________
"Liked this story? Indiaspend.org is a non-profit, and we depend on readers like you to drive our public-interest journalism efforts. Donate Rs 500; Rs 1,000, Rs 2,000."