Foreign-Student Enrolment In Indian Universities Drops 6% Over 2 Years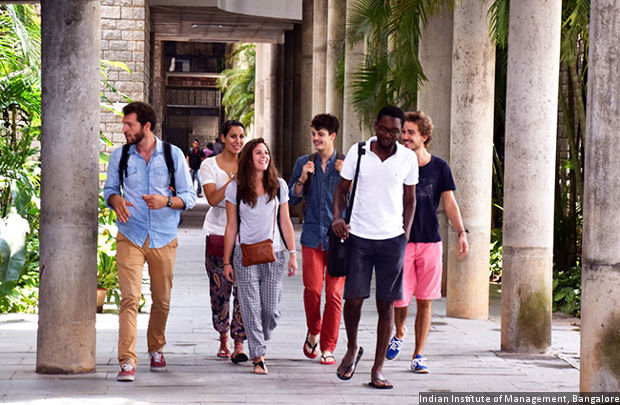 Foreign students at the Indian Institute of Management, Bangalore. The enrolment of foreign students in India declined by 6% over two years, according to government and United Nations data.
About 200,000 Indian students stream out of the country seeking a foreign education, but no more than 31,126 foreign students sought an Indian education in 2013-14, according to ministry of human resource development data quoted in the Times of India. This means the enrolment of foreign students in India declined by 2,030, or 6%, over two years, according to government and United Nations data in this 2014 report.
However, the Times of India said the number of foreign students had risen by 11,000, although it was not clear over what period.
About five million students--almost double the 2.1 million in 2000--studied outside their home countries in 2014. Of these, 2 million were "engaged in language travel", of which two-thirds sought fluency in English, said this 2015 report from ICEF, a global marketing consultant, explaining how higher education, once accessible to a global elite, is now particularly open to the burgeoning middle classes on every continent.
"The governments of the fastest-growing emerging economies are investing heavily in the expansion of their higher education systems; creating scholarships to help their students acquire education abroad--and then bring it back home; and joining in cross-border research partnerships and exchanges that elevate their countries' status, potential for innovation, and influence in the world," the ICEF report said. "It is no coincidence that as a result, developing economies are growing in tandem with international student mobility. And as the balance of world economic and political power shifts, so do patterns of mobility."
China, India, and South Korea are the world's leading sources of international students, the report said. One of every six internationally mobile students is now from China. Together, China, India, and South Korea account for more than a quarter of all students studying outside their countries.
By 2025, India will have the world's largest number of 18- to 22-year-olds seeking higher education, 119 million, an increase of 3.9 million from 2012, while China will have the second largest, 80 million, a decline of about 35 million from 2012, according to this 2016 British Council report, The Shape of International Education to 2025.
India's disadvantage as a magnet for the millions of students seeking an education outside their countries is the lack of higher education institutes of global quality. There is no Indian university in the list of top 200 universities listed in the Times Higher Education World University Rankings, published by a British newspaper. The only Indian institution ranked in the top 300 was the Indian Institute of Science (IISc), placed in the 251 to 300 band (beyond 200, institutions are only banded together).
The number of foreign students in IISc was 1%, compared to 27% in the California Institute of Technology, or Caltech, the world's top-ranked institution, as IndiaSpend reported on July 13, 2016.
We welcome feedback. Please write to respond@indiaspend.org. We reserve the right to edit responses for language and grammar.
__________________________________________________________________
Liked this story? Indiaspend.org is a non-profit, and we depend on readers like you to drive our public-interest journalism efforts. Donate Rs 500; Rs 1,000, Rs 2,000.