Does Gender-Based Government Spend Work?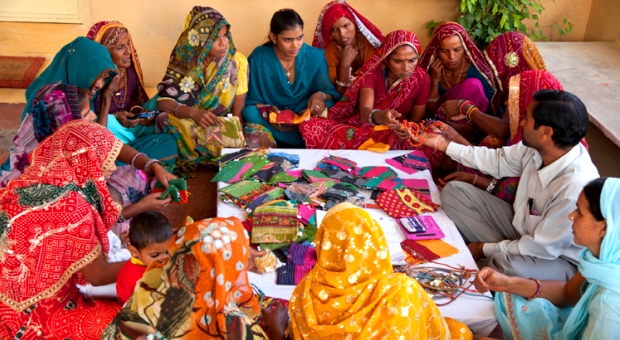 Women constitute 48% of India's population but they lag behind men on many indicators like health, education and economic opportunities. The all-India sex ratio, according to Census 2011 data, is 940 women per 1000 men. While the all-India female literacy rate is 65.4%, Census 2011 also points out that women are increasingly heading households - nearly 26.8 million households across India.
At the same time, there have been concerns about women's safety: crimes against women in the country have risen by 7.1% compared to 2009. Keeping these realities in mind and the fact that the Millennium Development Goals (MDGs) has an explicit focus on gender equality and women empowerment, gender issues warrant special attention in policy making. Figure 1 shows a few indicators:
Figure 1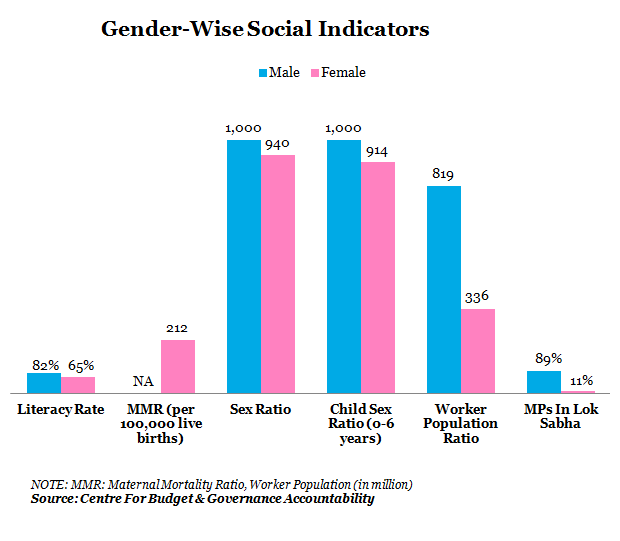 What Is Gender Budgeting?
Gender Budgeting is a process that entails incorporating a gender perspective at all levels and stages of the budgetary process - planning/ policy/ programme formulation, assessment of needs of target groups, allocation of resources, implementation, impact assessment and prioritisation of resources. It is a tool used by governments to hopefully empower women.
Finance Minister P Chidambaram, in his speech while presenting Budget 2013-14, mentioned the word 'women' 45 times! Gender-related programmes saw an allocation of Rs 97,134 crore, which is 5.8% of the total planned expenditure. The number is quite low compared to last year's allocation of nearly 7%. The 'Nirbhaya' fund with an allocation of Rs 1,000 crore in 2013-14, which would seek to empower women and ensure their security, and India's first Women's Bank as a public sector bank with an initial capital of Rs 1,000 crore are some of the few innovative steps taken by the government in the Budget this year. Another notable feature of the Budget is the increase in expenditure on curbing violence against women: the outlay has been increased from Rs 264.43 crore in 2012-13 (RE) to Rs 555.33 crore in 2013-14 (BE).
History of Gender Budgeting
Gender sensitivity was initially featured through the allocation of resources during the Seventh Plan (1987-1992), which started monitoring 27 programmes whose direct beneficiaries were women. This was later carried forward in the Eighth Plan (1992-97), which focused on ensuring flow of funds for women-centered programmes.
The Eleventh Plan (2007- 2012) further enforced the government's commitment to Gender Budgeting and clearly stated that: "Gender equity requires adequate provisions to be made in policies and schemes across ministries and departments." The Eleventh Plan also envisaged the incorporation of Gender Budgeting beyond traditional areas like health, education etc. to so called 'gender neutral' sectors like Transport, Power, Telecommunications, Defense, etc. In addition, the plan document emphasised on engendering important macro-economic policies.
In 2004-05, the government mandated setting up gender budget cells in ministries. By setting up gender budget cells, the government has managed to ensure that each ministry spends some money allocated towards programmes on gender welfare. So far, from 2004 till 2013, almost all ministries have set up gender budget cells. In 2005-06, the government formally presented the first gender budget statement to reflect the quantum of budgetary allocations for women-oriented programmes. The magnitude of budget as reflected in the gender budget Statement is as follows:
Figure 2 (a)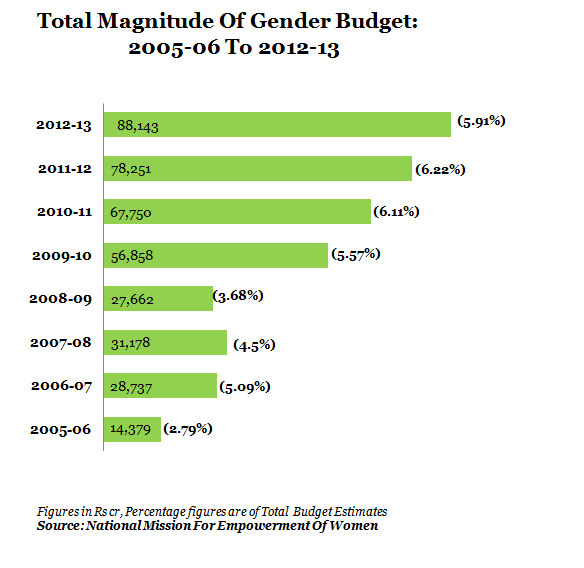 Figure 2 (b)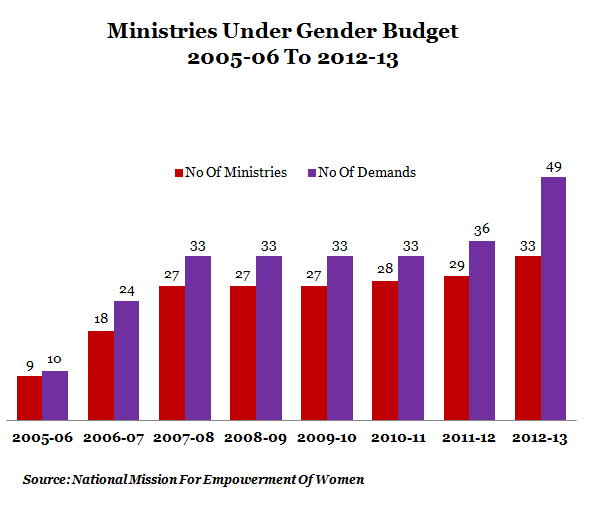 Figure 2 (b) above shows the allocation under gender budgeting for the budgets from 2005-06 to 2012-13. The table shows the number of ministries and their demands that have been put in place by them under the demand for grants. The demands represent the allocations which will be used to by the ministry for a women specific program or at least a program where women can be beneficiaries as well. It can be seen from the table that the number of ministries has increased from 9 in 2005-06 to 33 in 2012-13. The demand for grants under gender budgeting has also increased from 10 to 49 in the same period.
The gender budget for 2013-14 is among the highest allocations so far with Rs 97,134 crore, only next to the ministry of finance and defence. Even though this year nearly 35 ministries put in demand for grants under gender budget statement the following graph shows the gender budget allocations for top 5 different ministries:
Figure 3 (a)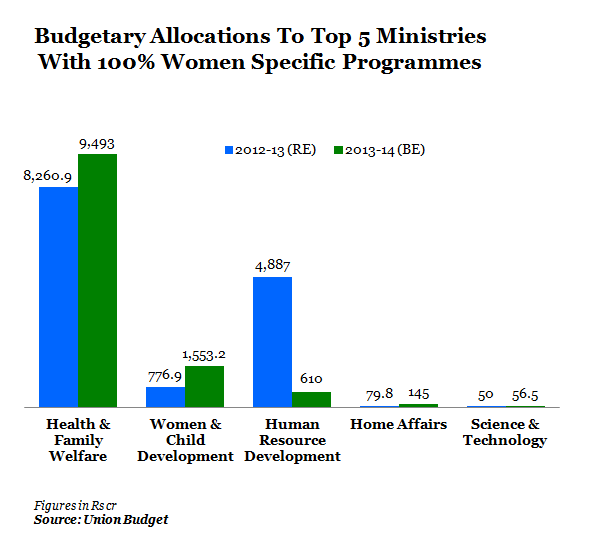 Figure 3 (b)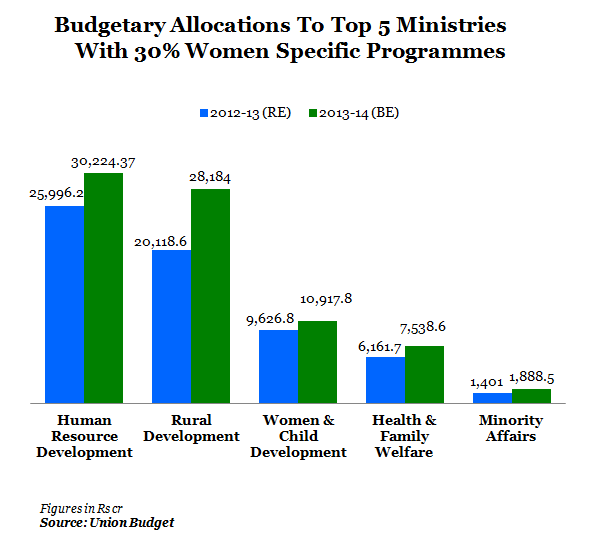 The Ministry of Health and Family Welfare has the highest allocations in 100% women-specific programmes like reproductive and child health [RCH] programme followed by the Ministry of Women and Child Development with programmes like Rajiv Gandhi Scheme for Empowerment of Adolescent Girls (SABLA) with allocation of Rs 520 crore and Indira Gandhi Matritva Sahyog Yojna (IGMSY) with Rs 750 crore. Both these programmes are focused on girl and women nutrition.
Although the Gender Budgeting exercise is meant to empower women by making sure each ministry has allocations made for women, a few fundamental concerns have been raised. Many ministries do not have women-specific programmes and anything remotely benefiting women is clubbed under gender budgeting. Furthermore, utilization of funds meant to benefit women remains unclear…