Despite Low Net Use, India's E-commerce Triples Over Last 5 Years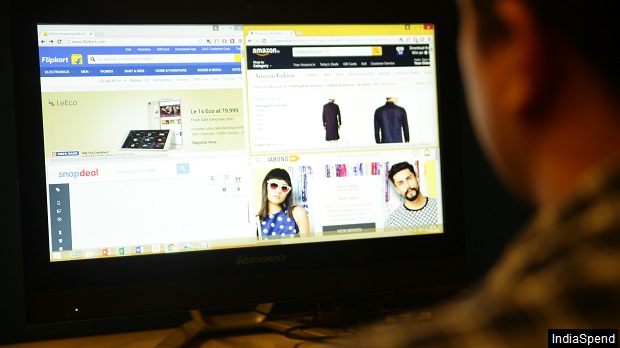 Although India's use of the Internet is lower than many poorer countries, the country's e-commerce sector tripled--or grew by 209% over the last five years--from $4.4 billion (Rs 20,020 crore) in 2010 to $13.6 billion (Rs 83,096 crore) in 2014.
These data were contained in a reply given to the Lok Sabha (lower house of Parliament) in March 2016. Online business was expected to reach $16 billion (Rs 104,000 crore) by the end of 2015.
The e-commerce market in India likely to reach $38 billion (Rs 252,700 crore) in 2016, according to an Associated Chambers of Commerce & Industry of India (ASSOCHAM) report released in January 2016.
The online retail sector in India is expected to be a $1 trillion (Rs 6,60,000 crore) market by 2020, according to this recent report by the Confederation of Indian Industry (CII) and Deloitte, a consultancy. The study indicates that more e-commerce will trigger big innovations in India.
The Goods and Services Tax, once implemented, is expected to boost the growth of e-commerce by simplifying taxation and logistics, said the CII-Deloitte report.
E-Commerce Growth/Projections
Source: LokSabha/ASSOCHAM-Deloitte/Confederation of Indian Industry(CII)-DeloitteNote: * indicates projected figures
Internet penetration across the country is rising, with as many as 354 million internet users (29%) reported as of September 2015. Online shoppers in India have increased from 20 million in 2013 to 39 million in 2015, an increase of 95% over three years.
India's e-commerce market rises despite low Net use
In 2014, only 18 of 100 Indians used the Internet. Compare this with Australia (90%), USA (87%), Japan (86%), Brazil (53%), Vietnam (48.3%) and China (49.3%). Even poorer countries, such as Ghana, had greater internet penetration—18.9 users per 100 people, according to this Mint report.
However, India's Internet penetration grew, as we said, to 29% in 2015, and is expected to reach 462 million (39%) by June 2016.
Similarly, mobile subscriptions in India were 74 per 100 people in 2014, lower than Bangladesh (80), China (92), Indonesia (129) and Vietnam (147).
Mobile internet spend has increased from 54% to 64% from 2014 to 2015, attributed to high-speed 3G and 4G internet connectivity at some of the world's lowest prices, fuelling e-commerce growth.
Despite the rise in broadband and mobile internet users, speed remains a major constraint. The average broadband speed in India is 2 mega bits per second (mbps), ranking 115 globally, IndiaSpend reported. Similarly, the average mobile internet speed is 1.7 mbps, ranking below Thailand, China, Hong Kong and Singapore.
In March this year, the government allowed 100% foreign direct investment in online retail marketplaces--electronic platforms that connect buyer and seller.
India's e-commerce giants battle a survival of the fittest
As competition grows, and international competitors step in, domestic online retailers will struggle, experts predict.
US retailer Amazon became the second-largest online marketplace by shipments in India last month, after domestic rival Flipkart, pushing former number two, Snapdeal, to third place.
Flipkart's growth has virtually stalled since the middle of last year and the leadership team hasn't figured out a way to kick-start sales, according to India Value Fund Advisors partner Haresh Chawla.
"Its gross merchandise volume (GMV)—sales or revenue in online retailing—sold over a given period of time has not grown substantially, which had grown by over 200% per annum for the past three years," Chawla added.
Similarly in the taxi business, multinational Uber is in race with India's Ola, the current domestic-market leader. Last month, Uber claimed it would overtake Ola by market share within 30 days.
Jabong—an online fashion portal—reported a drop in sales and cut losses in 2015 and is now struggling to find a buyer.
"Consumer internet start-ups find it difficult to navigate slowdowns," said Chawla. "Traditional companies usually recover from these cycles. But technology-led companies, simply go bust. They have very little consumer loyalty to start with. Most bribe consumers to grow rapidly and cutback (on profits), causing them to implode."
(Mallapur is an analyst with IndiaSpend.)
Update: The copy has been updated to reflect latest internet penetration figures.
We welcome feedback. Please write to respond@indiaspend.org. We reserve the right to edit responses for language and grammar.
__________________________________________________________________
Liked this story? Indiaspend.org is a non-profit, and we depend on readers like you to drive our public-interest journalism efforts. Donate Rs 500; Rs 1,000, Rs 2,000.