As Violence Rises Five-Fold In 5 Years, UP Friendships, Politics Turn Communal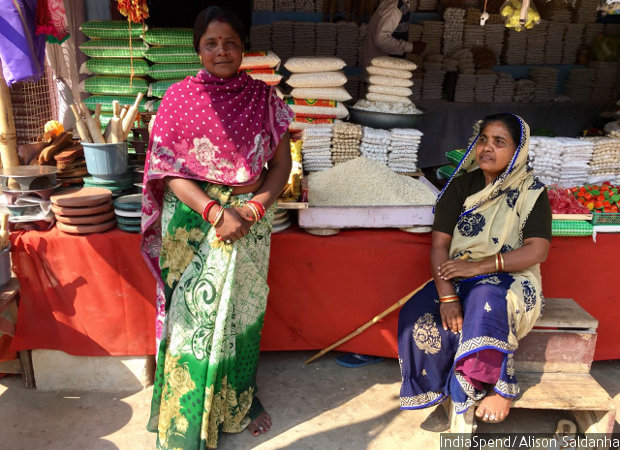 Seema Chaudhari (left) and Khatun Begum at the latter's store in the market outside the Babri Masjid-Ram Janmabhoomi site in Ayodhya, Uttar Pradesh. Begum and Chaudhari are friends, but when it came to politics and religion, schisms emerged, illustrating how religious differences are the foundation of life and politics across Uttar Pradesh.
Ayodhya (Uttar Pradesh): At 5 am, Khatun Begum (50) wakes up in the loft above her pink-walled shop on the banks of the Saryu river, in Faizabad district, Uttar Pradesh (UP). In the soft glow of twilight, she tucks the pallu of her cream silk sari round the waist, wraps a scarf over her head, and spreads out a mat westward towards Mecca. With her arms on her chest, she bows her head in prayer to Allah, while the husband and two children sleep in a little longer.
A feet away, as the sun emerges, Seema Chaudhari (43) grabs a plastic tumbler before the morning puja. As she heads out, Begum catches up with her. Friends for 14 years, the two women groggily make their way to the river, grumbling about the din from last night's neighbourhood wedding.
Begum and Chaudhari live in the main market in the contested arena of the Babri Masjid-Ram Janmabhoomi site, where the destruction of a 16th-century mosque in 1992 sparked some of India's worst nationwide riots. Considered to be one of Hinduism's seven holy centres, the region is now peppered with temples flooded by Hindu devotees. As the legal dispute, which began in 1950, enters its 24th year in the Supreme Court, the saffron-tinted market of 100-odd shops and adjoining homes--selling scarves, prayer beads, toy maces and other religious paraphernalia--make do without regular electricity (since the area is contested), stealing it from outside the market area and using public toilets meant for pilgrims.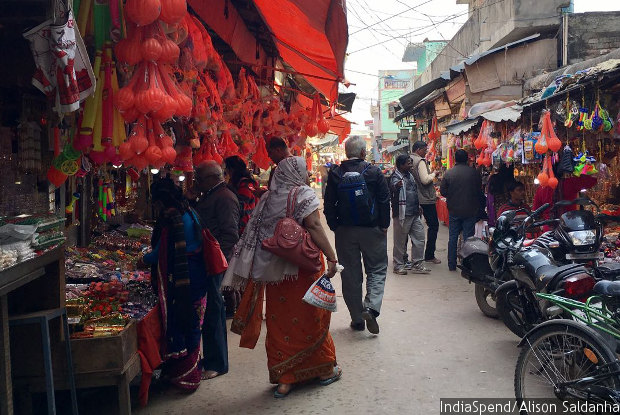 The saffron-tinted market at Ayodhya has 100-odd shops selling scarves, prayer beads, toy maces and other religious paraphernalia.
The availability of electricity, jobs and clean water are top voter concerns in one of India's most backward states, according to a FourthLion-IndiaSpend survey, reported here in February 2017. However, as violence has grown over this decade, the strife has retarded development and citizens appear to find it harder to shrug off mounting tensions between communities, bringing identity politics to the heart of the battle for UP.
As Begum and Chaudhari talked, there was no apparent sign of tension. Cups of chai (tea) surfaced during the lean afternoon hours of the market, as the two friends sat together at one or the other's shop, children in tow, sharing food, recipes and more.
"When you live together for so many years, you're bound to become friends," said Begum, one of the few Muslims in this epicentre of Hindu religiosity. "We share everything--have dinner together, shop together, attend each other's family weddings. The violence is a distant memory."
Her family fled after riots in 1993, but with nowhere to restart life, returned after a month. "When we did (return)," said Begum, "nobody troubled us."
Mask drops from friendship and politics, as UP's schisms are revealed
Begum and Chaudhari are indeed friends, but when talk turned to politics and religion, schisms soon emerged, illustrating how religious differences are the foundation of life and politics across India's most populous state. With its 200 million people, 19% Muslim and 80% Hindu, these differences are exacerbated in the seven-phase, 26-day election--voting for which ends on March 8, 2017--as Prime Minister Narendra Modi embellished his development mantras with sectarian rhetoric.
"This is a Hindu-dominated area; that's why it is so peaceful now," said Chaudhari, who moved to the market in 2003. Begum dismissed her friend's assessment. "Muslim areas are also peaceful," she said.
Chaudhari insisted the neighbourhood will vote exclusively for the Bharatiya Janata Party (BJP), as the ruling national party aggressively champions the Hindutva cause this election season with none of its 370 candidates a Muslim. Quiet thus far, Begum admitted allegiance to the Samajwadi Party (SP), UP's ruling party, known to woo Muslims and Other Backward Classes (OBCs).
Friendships between Hindus and Muslims are not uncommon in UP, but they appear to be rarer than ever in western UP, still recovering from 2013 riots between Jats--a Hindu upper caste--and Muslims in Muzaffarnagar, UP's sugar bowl, which witnessed its most violent Hindu-Muslim clashes since the Babri Masjid was brought down more than 24 years ago.
"We all live together now," said 35-year-old Zainab (she uses only one name), of Kawal, a Muslim-dominated Muzaffarnagar village. On August 27, 2013, two young Jats killed a Muslim from this village for allegedly harassing their sister. Muslims later beat the boys to death, sparking off a wildfire of violence in the region; more than 50,000 Muslims fled their homes and thousands still live in refugee camps.
Zainab's assertion notwithstanding, the tension is apparent as we travelled between Kawal and Malikpura, a Jat-dominated village located a few kilometres ahead. On the day IndiaSpend visited, a 15-year-old boy had just been reported missing. "We realised he is missing late last night when he failed to return from school all day," said Parmila Singh (40), the boy's mother. A constable at her house said colleagues were scouring the countryside. "This isn't the first time he has gone missing," the police officer said, which did not mean the search for him could be delayed, given UP's record of conflagrations from sparks--or rumours.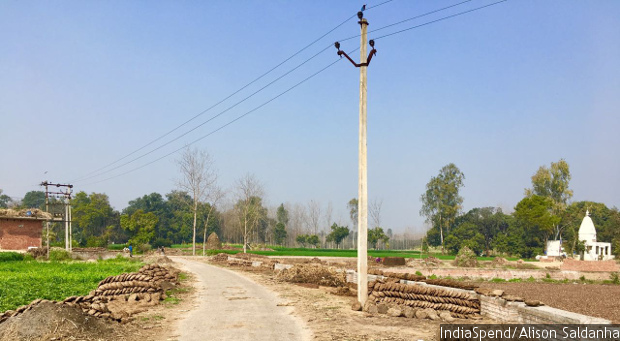 The newly laid detour that separates the Muslim-dominated village of Kawal (left) and the Hindu Jat-dominated village of Malikpura in Muzaffarnagar.
As we moved out of Malikpura, using a newly laid detour that villagers said the BJP had constructed for them to reduce interactions and tensions with Muslims in Kawal, we came across one of 50 paramilitary companies (with 140-150 troopers in each company) stationed in Muzaffarnagar district ahead of the elections.
At a time when UP's biggest concerns centre around education, jobs and healthcare--with the state's indicators being among India's worst (as we reported here, here and here)--the latest data of communal violence explain why UP's politics continues to be driven by religion, caste and identity.
As communal violence soars, BJP has its finger on state's pulse
Between 2010 and 2015, communal violence in Muzaffarnagar rose five-fold, according to data sourced from the office of the director general of police for Uttar Pradesh, by 101reporters.com for IndiaSpend, reflecting a trend of tension evident across 90% of the state. Meerut reported over 200 incidents in 2015.
The BJP's changing election narrative, from development to identity, has been evident in the speeches of Modi, BJP party president Amit Shah (here and here) and numerous other candidates who frequently talk of "love jihad"--the proposition that young Muslim men try to lure Hindu women into marriage and convert them to Islam--terrorism and slaughterhouses, shorthand for Muslims.
Meanwhile, the ruling SP, its ally, the Congress party, and the Bahujan Samaj Party (BSP), play on the apprehensions of minorities and poorer Hindu castes.
In 2010, UP registered nearly 600 crimes of communal violence across its 75 districts. By 2015, the state crime records bureau logged 3,601 such violent incidents. These data, however, do not find a place in the annual National Crime Records Bureau (NCRB) statistics, which are compiled from state reports.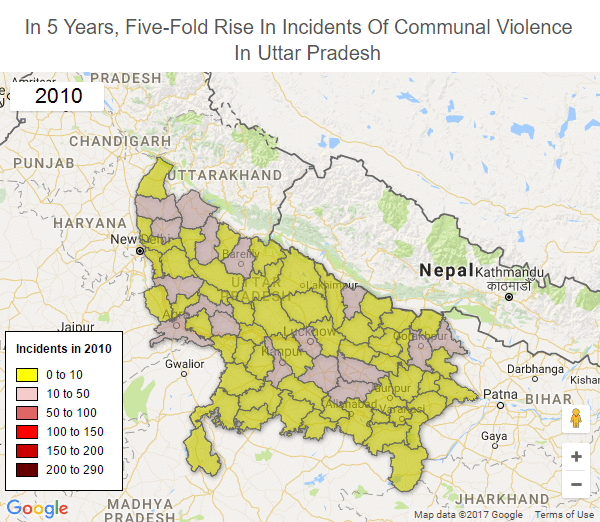 Data sourced from the office of the director general of police, Uttar Pradesh
Until 2014, the NCRB did not categorise riots as communal or otherwise (industrial, agrarian or caste related, for instance). In 2014, when it first had the heading "communal riots", for UP, it listed 51 riots. In comparison, state data for 2014 counted 2802 "communal violence incidents".
UP officials also told IndiaSpend that many communal incidents were "minor"--and mostly started over the assumed need to "protect their women's honour".
"These things are more likely to happen because political parties with vested interests like to appease different communities," Amitabh Thakur, Inspector General for Rules and Manuals told IndiaSpend. "In some parts of Western UP, even a small knock on the cycle can end in a fight between four or five persons."
'Minor incidents' make neighbourhoods, districts and state tense
The scale of these "minor incidents" and their petty triggers, which the state police record but do not pass on to the NCRB, reflect the tensions that run through UP.
"When a small incident occurs, we immediately send our forces in and douse the situation before it is given any chance to explode further," said deputy superintendent SKS Pratap at Jansath police station in Muzaffarnagar, less than 10 km from Kawal. "We don't give netas a chance to exploit it for mileage." His confidence in curbing "small incidents" before they escalate into riots was echoed at other police stations IndiaSpend visited across western and eastern UP.
DSP SKS Pratap: Communal tensions cannot ferment here. We just don't give it a chance. (1/2) pic.twitter.com/sCuiaAFTPq

— Alison (@bexsaldanha) January 31, 2017
The trivial start-stop nature of these incidents belies the significant bearing they tend to have on the psychology of the neighbourhood, district, and state at large.
Over five years, except for eight of 75 districts, communal violence increased across UP.
While Meerut district in western UP, with 234 cases, reported the most incidents, about 130 km to the east, Sambhal district reported the highest rate of increase in violence in five years.
From registering just one incident in 2010, Sambhal district reported 192 cases of communal violence in 2015. Of the 20 districts reporting the largest increase in violence, 14 were located in western UP, according to our analysis. This rise in violence is apparent in villages, towns and cities.
How polarisation fuels politics--and vice versa
We witnessed how the ferment, caused by the steady escalation in communal violence in the run-up to the assembly elections, was not restricted to the nationally known flashpoints of Muzaffarnagar or Ayodhya. From west to east, beneath the thrum of urban life and rural calm, the distrust between Hindu and Muslims is evident--in Ghaziabad, Gautambuddha Nagar, Shamli, Gorakhpur, Varanasi and Lucknow.
In Varanasi, eastern UP, under a blanket of pollution (among India's worst, as we reported in December 2016) smothering the sacred Hindu city, Bablu Singh (42), a restaurant-owner and member of the upper-caste Thakur clan, zeroed quickly into what he regarded as the fundamental issue between Hindus and Muslims: "Gaay hamaari maata hain, aur woh log gaay khaate hain--tho kaise chalega? (The cow is our mother and they eat cow--how can that work?)"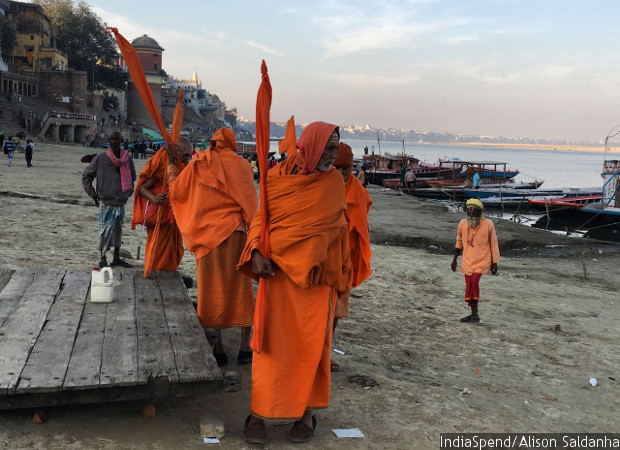 Prayers being offered at Assi Ghat, on the banks of the river Ganga in Varanasi, Uttar Pradesh. From zero incidents of communal violence in 2010, Varanasi was witness to 31 incidents in 2015.
"I myself have only Hindu neighbours," said Singh, pledging with pride his allegiance to Modi, who won his parliamentary seat in 2014 from Varanasi. "We (Hindus and Muslims) live cordially, but we can never be close friends with Muslims. Their lifestyle and culture don't suit us."
Muslims we spoke to said Hindus resented them for climbing up the socioeconomic ladder. "The upper-caste Hindus turn violent because they cannot stand to see us doing even a little better," said Syed Firoz-ul Hasan (52), a sweetshop owner. Abu Saeed, a weaver, said: "They (Hindus) may cut our heads, but we won't let them take charge."
Both communities said they would vote for the party that supported their kind, fearing harassment from the other side if their party lost.
'Everybody loves Muslim victims: One dies, 100 come flocking'
Between rows of threadbare poplar trees bordering golden mustard fields on the Meerut Bypass Road, Kutba village in Muzaffarnagar is shrouded in a thick morning fog. This is the constituency of BJP member of parliament (MP) Sanjeev Balyan, union minister of state for water resources, accused of inciting violence during the 2013 Jat-Muslim riots. There is no doubt who his clan-folk will vote for.
"They helped us a lot during the riots," said Rajeev Saini (36), a farmer. "Had it not been for them, the SP government would have troubled us." Shrugging his shoulders, he claimed Muslims from the village fled of their own accord. "We used to live in harmony--we even attended each other's weddings. They can still come back if they want to."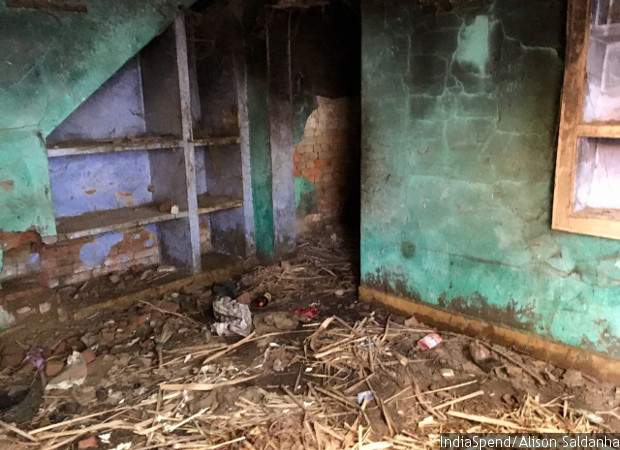 A deserted Muslim-owned house in Kutba village, Muzaffarnagar district. More than 50,000 Muslims fled their homes in the aftermath of the 2013 riots and thousands still live in refugee camps.
Next to him, 67-year-old Bopal Singh Balyan slowly added: "They left out of greed--the Akhilesh (Yadav, the state's chief minister) government was handing out big compensation packages for people who claim to be riot-victims. Why would they want to return?"
In Bishada village--where in 2015 ironsmith Mohammad Akhlaq was lynched to death for allegedly eating beef, which is banned in UP, except for foreigners--the surface calm was quickly dispelled by a 25-year-old man, who did not want to be identified.
"Everybody loves Muslim victims: One dies, 100 people come flocking," he said. "If a Hindu dies--in police custody, that too-- nobody gives a damn."
The BJP does not allay Muslim fears, upper-caste Hindus are comforted
Bishada is a stronghold of the Rashtriya Swayamsevak Sangh (RSS), the BJP's ideological mentor, a right-wing Hindu nationalist organisation banned three times in post-colonial India--the first time in 1948 after the assassination of Mahatma Gandhi.
In the aftermath of the lynching, villagers said, only the national ruling party stood by them. Prior to the start of polling in February 2017, union home minister Rajnath Singh even held a rally here. "This village always votes for BJP--we're the only ones saving Hindustan and we will keep saving it over and over again," the young man said, animatedly.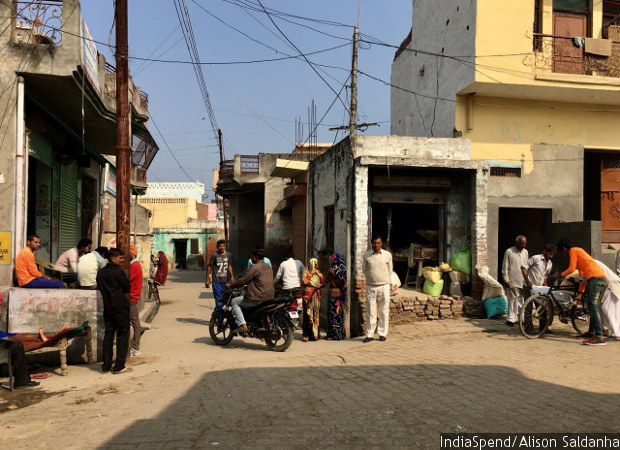 Bishada village in Dadri, Gautambuddha Nagar district, western Uttar Pradesh, where ironsmith Mohammad Akhlaq was lynched to death in 2015 for allegedly eating beef.
A deep resentment lurks here among unemployed youth. Septuagenarian Munnidevi said: "After the (lynching) episode, whenever employers hear the applicant is from Bishada, they don't hire them. If the government cared for us, our children would not loiter here jobless and angry."
In Lucknow, driver Nitin Patel (25), a Hindu moderate and BJP supporter from Sultanpur district, explained the psychology of upper-caste Hindus. "The SP is mainly for the Muslims and OBCs (other backward castes), former chief minister Mayawati's BSP works for Dalits and OBCs," said Patel. "Only the BJP listens to us, so what are we to do?"
The BJP has done little to calm Muslim fears.
"Not a single BJP candidate has come to this area," said Asif Saifi (23), an unemployed man, in Kaila Bhatta, Ghaziabad, a tinderbox of a town, known to explode whenever communal violence is reported elsewhere in UP. "If they cared for our vote, they would have at least given one ticket to a Muslim." The lack of a Muslim candidate was an issue even the BJP's minister Mukhtar Abbas Naqvi, a Muslim from UP, referred to:
https://twitter.com/PTI_News/status/836171479561666560
In the resettlement colonies of riot victims in Kandhla, 56 km west of Muzaffarnagar, home to over 300 rehabilitated Muslim families, there was unanimity in support for the SP. "No other party has bothered to come here and help us in our plight," said 40-year-old Imrana (she uses only one name), a homemaker.
Ateek Ansari, a local reporter in Varanasi, believed speeches by the Prime Minister and his colleagues on "love jihad", cow-protection and Muslim personal law have further scared Muslims. "We feel if we let them win the elections, there will be riots that threaten our very existence," he said. "It's convinced Muslims across UP to think that come what may, we need to stop Modi."
To do so, Ansari said, Muslims must fall back on "negative voting", supporting the strongest contender who could defeat the BJP. While many consider the SP-Congress an obvious choice, this approach is also likely to split the BSP vote.
Meanwhile, there are a few Muslims, such as Naru Ansari (32), a construction-site manager from eastern UP's Gorakhpur--the constituency of BJP MP Yogi Adityanath, head priest of a temple, he echoes a Hindu far-right and, often, openly anti-Muslim agenda--who feel safe voting for the national ruling party. "Yogi Adityanath has been an MP here since 1998," said Naru Ansari. "He protects us. If politicians aren't controversial, how will they stay relevant?"
Back at the Ram Janmabhoomi market in Ayodhya, sitting between puja wares of copper, silver and gold, shopkeeper Sarvankumar Pandey (55) twirled his fingers, as if spinning a ball of fruit. "Have you ever seen an orange?" he asked. "Covered in a thick orange skin, it appears as one whole fruit," said Pandey. "But peel off the leathery rind, and the segments come apart with ease. This is exactly how Hindus and Muslims are in UP."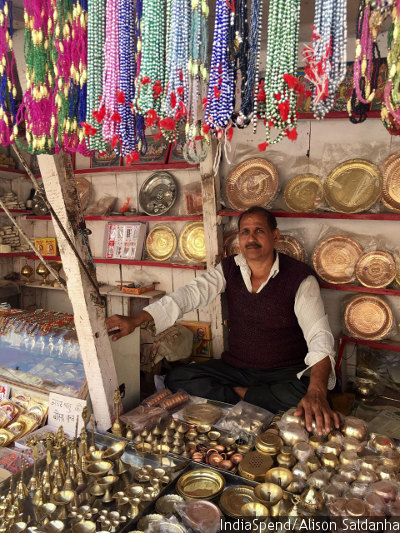 Shopkeeper Sarvankumar Pandey sells puja wares of copper, silver and gold at the Ram Janmabhoomi market in Ayodhya.
These attitudes reveal communalism in UP is not black and white, it is not binary. Our travels revealed that not only is everyone opposed to the other, there are hidden cleavages of castes and sects, splintering the more obvious religious stereotypes.
Shia vs Sunni, complexities of split votes and demonetisation
On the cobbled streets of Old Lucknow, past a majestic 18th century shrine for Shia Muslims, the Bara Imambara complex, we meet the Shias of Hussainabad, a zone regarded as a powderkeg of communal violence--between Shia and Sunni Muslims. The district's entire police force is stationed here during Eid and Muharram, a Shia festival, locals said.
Sitting on red plastic chairs, shaded from the afternoon sun, Afzal Haider (70), Archan Haider (62), and Naushad Ali (60) espoused their unequivocal support for the BJP. "We voted for them in 2014, and our Maulana has asked us to support the party once again this time," said Afzal Haider. "Since they (the BJP) came to power, we have peacefully celebrated Muharram without interference from the Sunnis or the SP government--this is something even Mayawati's BSP government could not do."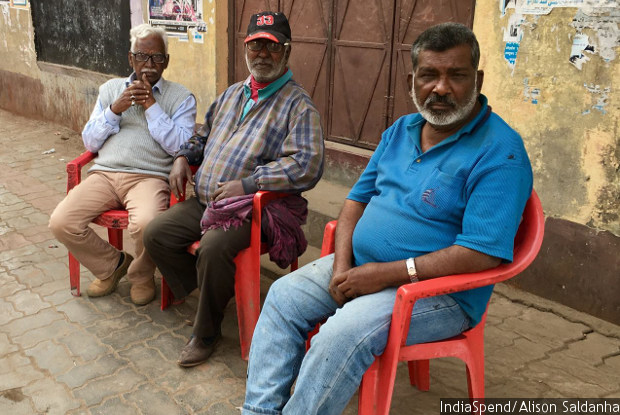 Shia Muslims Archan Haider, Afzal Haider and Naushad Ali in Hussainabad, Old Lucknow, espoused their unequivocal support for the Bharatiya Janata Party.
Younger Shias in Hussainabad said they would vote for the BSP. Students Rahil (19) and Sharif (20) Mirza said they could not forget "the terror inflicted on our people" under Modi's watch in Gujarat in 2002, more relevant to them than riots closer home.
Shias are 10-13% of the world Muslim population, according to this 2009 Pew Research Institute report, and India is said to have the world's second-largest Shia population after Iran.
There are also sub-sect divides to consider, such as those between Barelvis, Deobandis, and Salafis, interwoven with caste differences--a remnant of the Hindu past, prior to conversion centuries ago.
Aligarh city alone has 24 Muslim caste associations, according to historians Christopher Jaffrelot and Laurent Gayer's 2012 book, Muslims in Indian Cities: Trajectories of Marginalisation. These differences play a significant role during elections, they wrote.
This Shia-Sunni divide was clearest during the 2013 Muzaffarnagar riots: Shias said they fought alongside Hindus against the Sunnis.
In a Muslim ambush of Jats riding in on tractors, armed with sticks and scythes, Shias helped Hindus escape. "We saw that if we did not intervene, the Hindus would die," Shah Alam Zaidi (50), a medical practitioner without qualifications--or quack--told IndiaSpend over telephone from the village of Jauli in east Muzaffarnagar. "We hid them in our houses till the violence died down." He added that thereafter--for the first time in "over 200 years"--with the support of Jats, Shias could hold a Muharram procession in the village.
However, the Shias of western UP aren't likely to vote for the BJP this season. Their reasons reflect the disillusionment evident among upper-caste Hindus, the BJP's traditional vote bank.
Modi's demonetisation policy, colloquially referred to as notebandi, pulled out of circulation 86% of India's bank notes, on November 8, 2016, and its effects are still widespread. In this largely rural region bordering the national capital, western UP's farmers are angry. As they wait for the BJP to deliver on the promise of reservations for Jats and Gujjars, the Rashtriya Lok Dal has emerged as a favoured alternative.
"We have always supported the BJP," said farmer Rajeev Kashyap (45) of the Kashyap clan in Kutba, Muzaffarnagar, breaking from the Balyans, who have stayed loyal to the BJP. "But where is the development we were promised?"
UP wants development but strife keeps it backward
UP is one of India's least-developed states, with indicators worse than the national average and, often, among the country's lowest, as IndiaSpend has reported (here and here). Since the 1990s, the gap between UP and other states has widened, as post-liberalisation economic reforms reduced the country's capacity to spread investment across India, wrote Craig Jeffery in his 2014 book, Development Failure and Identity Politics in Uttar Pradesh. "Corporations looking to invest in India tended to set up in states with good records in terms of crime and corruption," wrote Jeffrey. There has been some improvement since the 2000s, but this has mainly been in UP districts that are close to or form a part of the national capital territory of Delhi, India's richest region, by per capita income.
In this scenario of low-development, Muslims are further marginalised, observed both Gayer and Jaffrelot. However, with the 2011 census withholding religious data on development indicators, it is difficult to accurately ascertain the level of inequal development.
The strife in UP has not helped. In countries with violence, economic growth falls, as does access to electricity and the Internet, and the school dropout rate rises, noted this 2017 World Bank report on governance and security.
These trends are evident in UP, and they were particularly clear when we visited refugee camps in Shamli district, western UP. Girls were married early, and women were forced to stay at home for security.
In the refugee camps, 42 months for a ration card that should take 30 days
While some colonies have received enough compensation from the state to start anew, they could not find employment. "Our men don't get work as often as we used to in our old village--people here don't know us so they don't easily employ us," said 32-year-old homemaker Buriya (she uses one name) in the riot-victim colony of Hamza, at Kandhla in Shamli district.
Land prices rose after riot victims received compensation money, and only 1,200 families among many thousand have received ration cards over 42 months, a process that should take less than 30 days.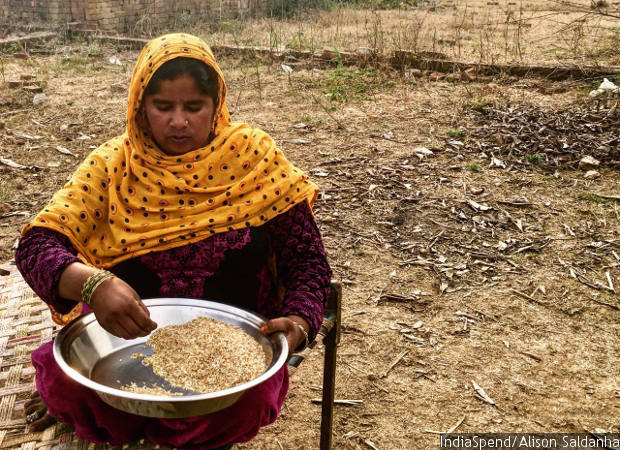 Thirty two-year-old homemaker Buriya, in the riot-victim colony of Hamza, at Kandhla in Shamli district, said it is harder for the displaced Muslims to find work in the resettled areas.
"Officials seem to forget these people have fled their villages," said Akram Akhtar of AFKAR India Foundation, a nonprofit helping Muslim riot-victims. He accused the Hindu-dominated administration of insensitivity. "They stubbornly refuse to cooperate using statements like 'How do we know you're not actually from Pakistan?'"
Despite these problems, victims aren't willing to return to their native villages.
"We sometimes meet our old Hindu neighbours on the road," said Abdul Sattar, who fled Kutba village in Muzaffarnagar after his brother and nephew were killed. "They speak to us nicely and even ask us to come back saying everything is peaceful now, but we won't--shaking hands can't guarantee they won't stab us in the back again."
So, the refugee camps continue without electricity, water supply, and education. "We don't have the himmat (courage) to send our children to school," said Mohammed Ayub Sheikh, whose family fled from the village of Lisarh after the 2013 riots. "We're barely surviving day-to-day."
Back in the market of Ayodhya, shopkeeper Pandey said it was unlikely the area would erupt into another riot, irrespective of the outcome on the temple-mosque legal dispute. "Bhagwan ke naam pe roti chalti hain (In the name of God, we are earning)," he said, confident that residents would not dare let tensions get out of hand--even if outsiders tried to ruffle feathers.
"We don't think that way anymore--we can't afford to," said Pandey. "The last time we suffered so badly, we caught our ears and said, never again."
(Saldanha is an assistant editor with IndiaSpend. Sharma and Johri are members of 101Reporters.com, a pan-India network of grassroots reporters.)
We welcome feedback. Please write to respond@indiaspend.org. We reserve the right to edit responses for language and grammar.
__________________________________________________________________
"Liked this story? Indiaspend.org is a non-profit, and we depend on readers like you to drive our public-interest journalism efforts. Donate Rs 500; Rs 1,000, Rs 2,000."