0 Prosecutions, 22 Years: Why Arunachal Fears Army Law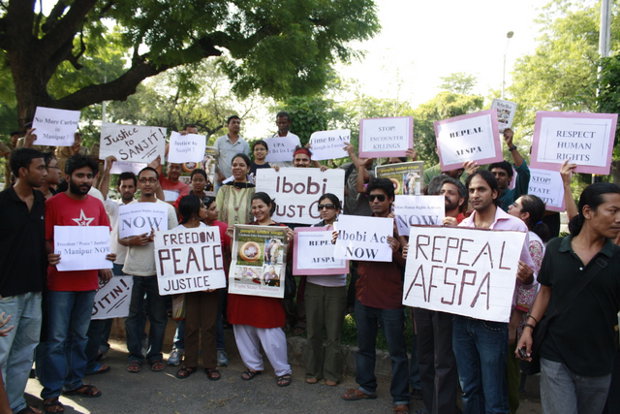 Ten days after a special law protecting army personnel from prosecution was promulgated in new areas of Arunachal Pradesh, 12 soldiers have been accused of groping and sexually harassing three women in the state's most populous district.
The act raises fears of a new cycle of violence in Arunachal—previously witnessed in Jammu and Kashmir, and Manipur—where the Armed Forces Special Powers Act (AFSPA) is now in force in 12 of 14 districts declared "disturbed areas", to help the army combat two major insurgent groups.
Of the 38 requests made to the Centre for prosecution of army personnel between 1991 and 2015, none have been granted; 30 were rejected and eight are under review—one of these for more than two decades—according to an IndiaSpend review of data tabled before Parliament.
The 12 soldiers, as yet unidentified, were alleged to have descended on the village of Lower Taraso in Papumpare district on April 6, 2015, and invaded the home of Techi K, a widow, according to a report in The Arunachal Times.
"They barged into my bedroom. They did not say anything to me but ripped apart the mosquito net and started touching my face and other parts of the body," Techi told The Arunachal Times.
The next invasion allegedly was in a married couple's home. "We were sleeping when the Army entered our room and started to misbehave with my wife," the woman's husband said. "When I protested, they dragged me out of the house. There were 12 of them. They left our compound laughing."
The local police have started investigations after filing first information reports.
AFSPA was previously only in use in three eastern Arunachal districts (Tirap, Changlang and Longding) that share a 20-km border with Assam and Myanmar, both home to a variety of insurgents.
Protests broke out and resentment was apparent in Arunachal after the special law was announced.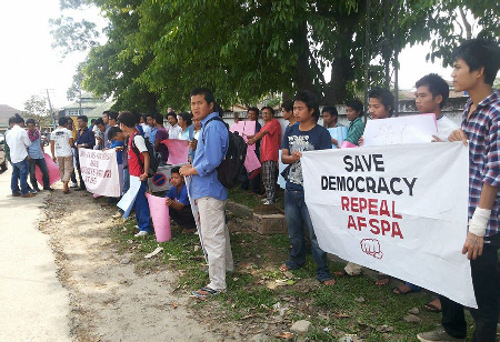 A sit-in against the Armed Forces Special Powers Act outside the District Collector's office, Pasighat. Image Credit: The Arunachal Times
"In the capital (Delhi), a two-star general does not even travel with a PSO (personal security officer). But in AFSPA areas, a captain travels with sirens blazing and an escort vehicle following it (sic) full speed even when he returns from an evening drinking party," wrote Joseph Kuba, regional director of the Indira Gandhi National Open University in the Eastern Sentinel. "The AFSPA only turns the back of the jawans to the enemy. Haven't we learnt any lessons from the shameful 1960s?"
That is an analogy others used, a reference to the fact that AFSPA would turn the army's attention inward instead of outwards toward China. Takam Sanjay, a former member of Parliament, called the imposition of AFSPA "the second blunder after the 1962 war".
There were protests in Itanagar, Arunachal's capital, by hundreds of students under the banner of the All Arunachal Pradesh Students' Union.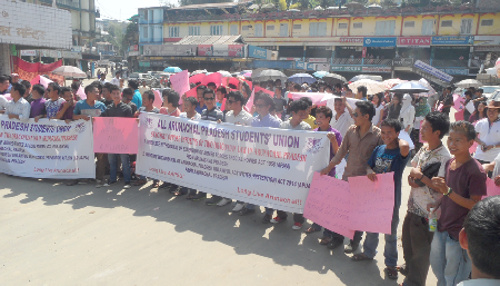 Students in Itanagar protest the promulgation of the Armed Forces Special Powers Act to new areas of Arunachal Pradesh. Image Credit: The Arunachal Times
Prosecution pending—indefinitely: How AFSPA works
AFSPA empowers the governor of the state, or the central government, to declare any part of a state as "disturbed", a region that requires the deployment of armed forces, as this note explains.
AFSPA protects security forces (army, central police forces and state police personnel) from investigation and murder charges in a variety of circumstances, arrest without a warrant and the destruction of property likely to be used as shelters by insurgents.
The sweeping powers that AFSPA grants are frequently criticised. Between 2010-2012, the Indian army received a total of 127 complaints for alleged custodial killings, torture and human rights violations according to data tabled in the Rajya Sabha. As many as 84% of these complaints were from the north-eastern states, and Jammu and Kashmir.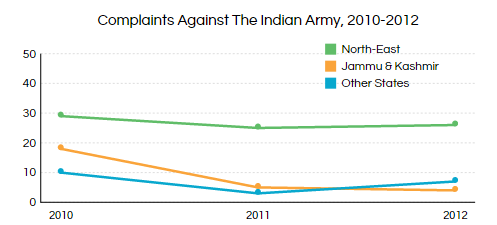 Source: Rajya Sabha
As we said, the Central government has never granted sanction for prosecution.
Data tabled in the Rajya Sabha revealed that of the eight pending requests for prosecution received between June 16, 1991, and February 24, 2015 the oldest, from J&K, is now 22 years old.
"The armed forces view is that AFSPA helps in counter-insurgency operations" said Namrata Goswami, research fellow at Delhi's Institute of Defence Studies and Analyses. "However, the perception of the act in areas where it is imposed is not positive and local perceptions are what should matter in a democracy. So, if the act alienates the local base, it would only lead to more violence, as has been the case in Manipur."
Why has AFSPA been expanded in Arunachal Pradesh?
Arunachal is often cited as a peaceful corner of India's turbulent northeast, but it has lately been used as a haven by an array of insurgent groups from neighbouring states.
On 4 April, 2015, Three soldiers were killed and four others were injured in an ambush by suspected Naga militants in Tirap district in southern Arunachal Pradesh. This could be the immediate reason for AFSPA's promulgation in the state.
Separatist groups, such as Assam's National Democratic Front of Bodoland (Songbijit) or NDFB (S), United Liberation Front of Assam (Independent), the ULFA (I) and the ULFA-Paresh Barua faction, have been using Arunachal Pradesh as a sanctuary and transit area to Myanmar, the home ministry has said.
"There is justification for (the) increase in security in the bordering districts of Arunachal Pradesh, vis-a-vis Assam," said Goswami.
She pointed to infiltration attempts by the ULFA (I) faction led by Paresh Barua and the NDFB (S) into "bordering districts of Arunchal Pradesh in order to carry out attacks on Assam's Sonitpur district, which has witnessed a rise in violence in recent months".
She attributed their presence in Arunachal to police and military pressure in their traditional strongholds.
"Operation All Out", as this offensive is called, is currently underway in Assam, forcing insurgents into quieter Arunachal Pradesh.
Where AFSPA isn't in operation: India's most-violent states
Since the army is not deployed there, AFSPA is not in operation in states wracked by the Maoist insurgency.
Yet, as the following data reveal, the maximum number of security forces have died in Chattisgarh and Jharkhand.
Over the last four years, 330 security force personnel have died in Chattisgarh and Jharkhand. That is 29% more than the northeast and J&K combined over the same period.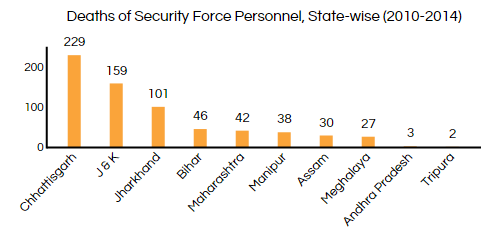 Source: South Asian Terrorism Portal Link 1 and Link 2, Lok Sabha/Data for 2011
Image Credit: Flickr/Joe Athialy
__________________________________________________________________________
"Liked this story? Indiaspend.com is a non-profit, and we depend on readers like you to drive our public-interest journalism efforts. Donate Rs 500; Rs 1,000, Rs 2,000."